Timothy Kirkpatrick's Devtronix Paramount Theatre Organ
Timothy Kirkpatrick bought a Devtronix Paramount a few months back from a friend. It has 7 independent generators and 1 divider, with 160 stop tabs. The 2nd touch needs rebuilding, but it sounds great. He added telephone company type 66B punch-down blocks to interconnect the stops to the crescendo roller.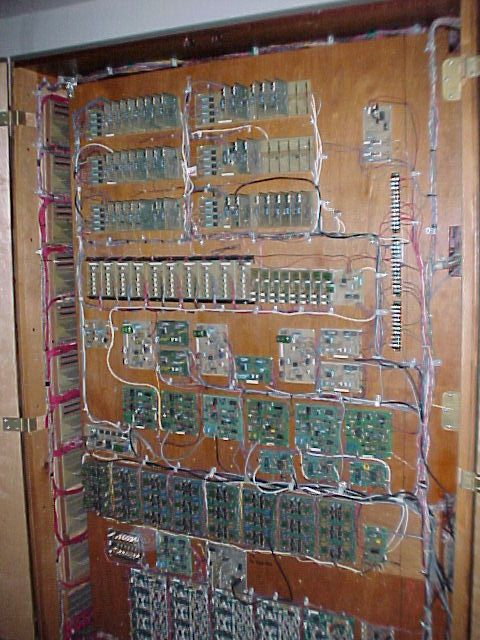 He used 2 400W Radio Shack auto amps for the 8 main audio channels, and 1 25W Crate guitar amp to drive the brass trumpet/post horn. The associated speakers for that channel consist of 1 Radio Shack 12" 3-way spkr cabinet + an EV cell horn. Really honks. The pedal and low manual speaker is a Rodgers lowboy double cabinet saved over when he sold his Rodgers 33E. An EV 18" woofer was substituted for one of the JBL 15". This organ really shakes the floor.
He also has 2 15" 3-way Jensen cabinets and a University 15" 3-way that built in to an old firewood cabinet next to the fireplace. The organ also has a set of Conn 145 floor style pipes on the celeste/vdo channel. The organ came with a Maas-Rowe chime and a Thomas glock in Walnut cabinet. The 7'x4'x2' equipment cabinet has all the amps, gens, keyers, etc + an Alesis Microberb and Roland SC55 Sound Canvas. The SC55 is driven by a Devtronix DMC MIDI controller.
The instrument was purchased from John Fischer, who built the equipment cabinet and mounted/wired all the circuit boards, and was responsible for the outstanding brass trumpet and posthorn.
Tim Kirkpatrick is interested in hearing from other Devtronix organ owners.
-- Timothy P. Kirkpatrick, k6tpk
Northgate Technology Group
tpk@cnunix.com

This page brought to you by:
VintageHammond.Com - We Buy-Sell-Trade Vintage Hammond Organs and Roll or Kari Organ/Vending Machine Moving Dollies Order Roll or Kari Dollies Here