Jackie Porter Memorial Fund Benefit Concert
featuring: Jelani Eddington, Chris Gorsuch and Russ Peck
Jelani Eddington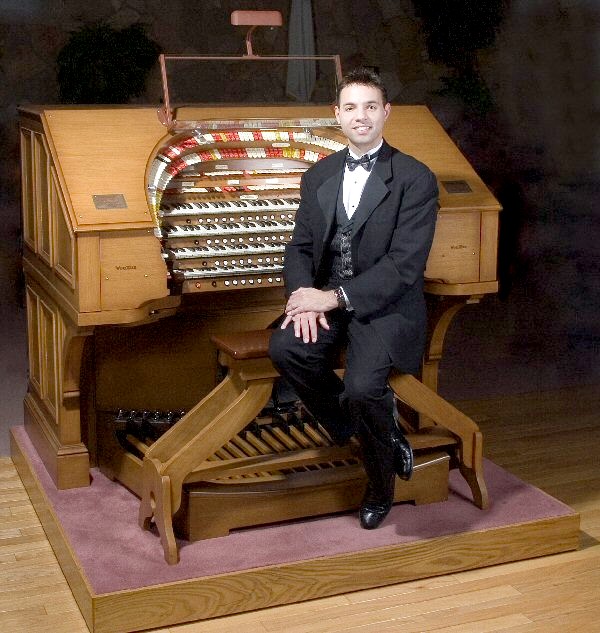 During the years that Jelani Eddington has given concerts, he has easily established himself as one of the most prominent and sought-after artists on the concert circuit. Jelani has performed in most of the major concert venues throughout the United States, has toured extensively abroad, and has received numerous awards and recognitions, including his selection as the 2001 Theatre Organist Of The Year.
Shortly after beginning piano instruction at the age of four, Jelani began studying classical piano under the direction of his grandmother. At the age of eight, a trip to hear the 4-manual 42-rank Wurlitzer theatre pipe organ installed in the Indianapolis, Indiana restaurant, the Paramount Music Palace, introduced Jelani to the sounds of the theatre pipe organ. Soon thereafter, he began to pursue classical organ lessons and ultimately began studying theatre organ under the direction of John Ferguson, whose skills as a theatre organ instructor have been highly acclaimed internationally.
At the age of 13, Jelani won the American Theatre Organ Society's Young Theatre Organist Competition, prevailing over competitors ages 13-21 from the United States, England, Australia, and New Zealand. Jelani remains the youngest competitor ever to win this title. Jelani went on to graduate Magna Cum Laude from Indiana University in 1996, and later received a Juris Doctor degree from the Yale Law School in 1999, after which time he was admitted to practice law in New York State.
During the course of his concert career, Jelani has been featured at numerous national and regional conventions of the American Theatre Organ Society, and has toured extensively throughout the world, including numerous concert appearances in the United States, Canada, Australia, New Zealand, and Europe. In addition to his work as an organist, Jelani has also distinguished himself as a concert pianist, appearing recently as a guest pianist for performances of Edvard Grieg's Piano Concerto in A-Minor, George Gershwin's Rhapsody In Blue, and Leroy Anderson's Piano Concerto in C-Major. In February 2008, Jelani was invited to perform two special performances of Anderson's concerto with the Tulsa Signature Symphony as part of a celebration of Leroy Anderson's centennial.
Jelani has also produced and marketed over 30 theatre organ albums on some of the best-known and most dynamic instruments in the country. In August 2001, the American Theatre Organ Society honored Jelani's extensive career as a concert and recording organist by naming him the 2001 Theatre Organist Of The Year. Jelani retains the distinction of being the youngest-ever recipient of this prestigious honor.
Chris Gorsuch
Chris Gorsuch began formal studies on the organ at age fourteen. He was soon playing for several different churches in his home town of Springfield, Ohio. At the age of twenty, Chris moved to San Diego, California to take a staff position with Organ Power Pizza restaurants equipped with theatre pipe organs. One of the instruments that Chris played was the famed five manual Reginald Foort Travelling Moller Theatre Pipe Organ, now installed at the Pasadena Civic Center.
While playing for the restaurant, Chris became a student of Lyn Larsen. Chris gained invaluable knowledge from Lyn in the areas of registration and phrasing. Many musicians have contributed their influence to Chris's musical style. Music of the Big Band era is a particular favorite, as well as classical, jazz and the music of the 20's and 30's.
Chris also has a fascination with electronics. In 1979, he formed his own company with the purpose of designing and manufacturing electronic systems for pipe and electronic organs. The company has created many new and innovative products. The company has created many new and innovative products including digitally sampled sounds and computer software. Chris is also working closely with Dick Wilcox, creator of the Uniflex 2000 Organ Control System, writing software that provides editing features for song files.
Chris is also a competent pipe voicer and tonal finisher. He feels as much at home in a pipe organ chamber as he does on the bench playing the finished product. He is the tonal finisher of several major instruments in the United States.
Developing new arrangements, concertizing, recording, improving the sound of both electronic and pipe organs, and running a business make for a very interesting life. In all of this, Chris has demonstrated a remarkable capacity to strive for excellence in a demanding profession.
In 2008 the American Theatre Organ Society International awarded Chris Gorsuch the title of Organist of the Year.
Russ Peck
Originally from the San Francisco Bay Area, Russ began piano studies in San Diego in 1965. After studying for about seven years, he heard and fell in love with the sound of the popular Hammond organ. Following much cajoling, Russ's parents purchased a Hammond in 1972, thereafter ending the quietness of their home forever!
In 1974, Russ and three high school colleagues formed a band specializing in popular music of the Twenties through the Fifties, appropriately called "The Young Oldtimers." In an era of electric guitars and loud drums, The Young Oldtimers found more work than they had time for. The Elks clubs, weddings and a host of other venues kept these kids in pocket money throughout their high school years. In addition, all were members of the marching and concert bands (in which Russ played percussion) and the stage band (with Russ sitting in on the piano).
College beckoned and with it came the end of The Young Oldtimers. Attending Whitman College in Walla Walla, Washington, Russ studied classical pipe organ (under a scholarship) with Stanley R. Plummer. His piano and percussion study continued through membership in all of the college bands and orchestras. In the meantime, Russ encountered his first theatre pipe organ and was immediately taken with its unique sound. Although strictly a classical instructor, Professor Plummer could be persuaded to rip off down and dirty versions of big band favorites, much to Russ's delight!
Having found "his instrument," Russ joined the American Theatre Organ Society, San Diego Chapter in 1980, after earning a BA in Psychology at Whitman. Working with the Wurlitzer pipe organ in the California Theatre, Russ honed his craft, both at the console and in the pipe chamber taking part in organ maintenance and presenting silent movie concerts. In addition, he functioned as the projectionist whenever not at the console.
Russ is firmly rooted in San Diego, his house being home to a 1925 Robert-Morton theatre pipe organ, a Hammond RT-3 concert organ, a piano, several accordions, guitars and percussion instruments and loads of other fun musical junk on which he prepares his performances and scores silent films. Russ also helped to install (and he aids in the maintenance of) the Mighty Wurlitzer theatre pipe organ located at Trinity facilities in Spring Valley. Performances on this instrument as well as on the Spreckels Organ in Balboa Park, the organ in Copley Symphony Hall, substitute church work and private venues keep Russ in the public eye.
Working by day as a sound and video engineer (most recently with singer Patti Page), collecting and restoring old electronic equipment (especially Heathkit), operating a ham radio station (KG6CLA), photography and numerous other pursuits help keep Russ off the streets and out of trouble! His parents, a sister and a niece also reside in the San Diego area.