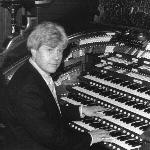 John Ledwon, a native Californian, has been playing the organ since he was 12 years old. His parents purchased him a 3 manual 11 rank Wurlitzer when he was 15 and he has been associated with the theatre pipe organ ever since.
John has toured the United States and Europe on several occasions as a concert artist and at one time had his own weekly radio show where he played the 4 manual 61 rank Robert Morton Theatre/Concert organ in the old Elks Temple. After a 15 year hiatus from the concert circuit to pursue his career in education and to serve both as a director and national president of the American Theatre Organ Society, John is now returning to the concert and recording field.
In the past year he has released five recordings from his personally designed 4 manual 52 rank Wurlitzer theatre organ installed in his Agoura, California home.
Three of these recordings are a set of cassettes containing inspirational music, the fourth,a CD entitled Wurlitzer on Stage and Screen and consists of music by Andrew Lloyd-Webber, John Williams and Leonard Bernstein and the fifth recording, also a CD, entitled "Sounds of Love.This CD includes the most requested love songs in John's 30 year tenure as principle organist at a popular Southern California Wedding Chapel. He figures he has played over 20,000 weddings to date, having started working there when he was 14.
Mr. Ledwon has just returned from a concert tour of New Zealand and Australia and will be featured his own 4/52 instrument during the overture for the national ATOS convention to be held in Los Angeles this June. While he plays pop music from all periods, he favors music that has been composed in the past 30 years. His program will be varied with selections from the 1920's onward to current pop tunes.
---
The Theatre Organ Home Page is happy to offer the John Ledwon Recordings by Mail Order.
Highlighted selections have a .wav file sample you can listen to online by clicking.

Order your copies of John Ledwon's CD's by printing the order form and mailing it with your check or money order to: J. B. L. Productions
28933 Wagon Road
Agoura, California 91301
Telephone: 818-889-8894
---
Beyond the Sunset...Songs of Inspiration
The Latest Release from John Ledwon. John says: "Most of the music on this CD can be classified as popular hymns or Gospel hymns. Also included are a couple of popular Christian music selections from the 60's and 70's that I find particularly inspiring. Having played for a non-denominational church for many years, I have tried to present these selections in the same manner I might have used them in a church service. Some are presented in a manner that would be acceptable for a prelude, communion or other introspective moments of worships while several are treated in the more flamboyant style of the theatre organ. Still others are treated in a light hearted manner, but then, worship needs to occasionally take a break from always taking itself too seriously."
Songs: I Just Feel Something Good Is...(822K), He (1.8M), The Old Rugged Cross (1.7M), Suddenly There's A Valley, When The Roll is Called Up Yonder (1.56M), How Big is God (727K) , Great Is Thy Faithfulness, My Tribute, In the Garden, Amazing Grace, Ave Maria, Because He Lives, Beyond the Sunset, He Touched Me, How Great Thou Art, Jesus is Coming Again, Blessed Assurance, This Ole House, The Lord's Prayer
---
Hooray for Hollywood...and Broadway Too!
Featuring: Hooray for Hollywood, Love Changes Everything from "Aspects of Love", Napolean's Last Charge, Selections from "Stop the World, I Want to Get Off", Papa- Can You Heard Me? from "Yentl", On the Robert E. Lee from "The Jazz Singer", Hello Again from "The Jazz Singer", Kismet, Serenade from "The Student Prince", Master of the House from "Les Miserables", I Could Have Danced All Night from "My Fair Lady"
---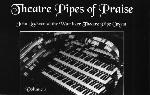 Three Cassettes of Inspirational Music
John Ledwon at the 4/52 Wurlitzer
Theatre Pipes of Praise
Over 2 hours of Inspirational Music

Theatre Pipes of Praise Vol I
The Old Rugged Cross
He
What A Friend We Have In Jesus
Nearer, My God, To Me
Day By Day
He Touched Me
I Cannot Fail the Lord
Suddenly There's A Valley
My Heart Is Filled With Jesus' Love
How Great Thou Art
Theatre Pipes of Praise Vol II
Beyond the Sunset
Thou Art Worthy
Because He Lives
Ave Maria
Amazing Grace
His Eye Is On The Sparrow
Now I Belong To Jesus
In The Garden
Come Holy Spirit
How Big Is God
Great Is Thy Faithfulness
Theatre Pipes of Praise Vol III
I Just Feel Something Good Is About To Happen
My Tribute
I Believe In Miracles
When The Roll Is Called Up Yonder
Sweet, Sweet Spirit
The Lost Chord
Jesus Is Coming Again
He's Everything To Me
Blessed Assurance
He Is The Way, He Is The Truth, He Is The Life
Constantly Abiding
This Ole House
The Lord's Prayer
These cassettes are $9.00 each or $25.00 for the set of three, postpaid

The CDs available are:

Wurlitzer on Stage and Screen
The music of Andrew Lloyd Webber, Leonard Bernstein and John Williams

Includes music from:

Phantom of The Opera (1.07mb)
Jesus Christ Superstar (628kb)
Starlight Express
Joseph and the
Amazing Technicolor Dreamcoat
Evita
Cats
Westside Story (1.03mb)
Star Wars (1.68mb)
E.T.
Raiders of the Lost Ark

and more for a total of 37 selections!

---
Sounds of Love
A collection of twelve popular love songs including:

Love Is A Many-Splendored Thing
Endless Love
A Time For Us
Always And Forever
My Cup Runneth Over
Through The Eyes Of Love
We've Only Just Begun
Love Story
The Twelfth of Never
Lady
For Once In My Life
The Hawaiian Wedding Song

A recording of twelve of the most popular wedding selections as requested during Mr. Ledwon's many years as a wedding chapel organist. Recorded on the 4/52 Wurlitzer installed in his home.

For the order form you can print out, click here.
John Ledwon's Email

This page brought to you by:
VintageHammond.Com - We Buy-Sell-Trade Vintage Hammond Organs and Roll or Kari Organ/Vending Machine Moving Dollies Order Roll or Kari Dollies Here