1997 Designer Dolls
This beauty is dressed in burgndy silk and gold lamé
Designed by Famous designer Baby Bushy, A Bushy Bushy Babe
She wears a fitting burgundy silk full length skirt
which has a elegant flare with accents of golden
roses and silk green leaves. Her blouse compliments
the colors of her skirt with a line of Australian
crystal buttons down the front. Gold embordiery
is throughout this ensemble, giving it that extra
elegance. Her hair is swept in a French twist that
falls to the side which enhances her beauty.
Accessories: rooted eyelashes, shoes, Australian
crystal earrings and necklace.
Item# FD1001...Price: $79.00
---
---
Dressed in an emerald green velvet with a gold lamé
underskirt and trims of green and gold she is truely
stunning. A line of Australian crystals line the
front of her blouse and gathering over her shoulders
is a beautiful golden mesh ribbon. Her hair is swept
up in a pile of stacked curls. Gold embrodiery can
be found throughout this ensemble.
Accessories: Australian crystal earrings and choker,
shoes.
Item# FD1002...Price: $60.00
---
---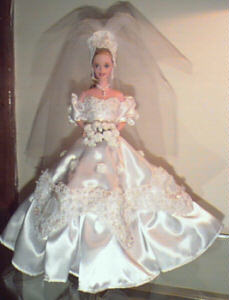 Dressed in a beautiful white satin she is truely a memorable
bride. With a flowing dress and ruffles that accent. Just above
the ruffles the dress is accented in a beautiful white lace with
accents of pearls and shimmering sequins. He blouse is also done
in the same accenting lace. With victorian styled sleeves each has
a rose accent. Her hair is done in a simple, but elegant styled braid
which falls down her back.
Accessories: Earrings, hand ring, pearl necklace, shoes,
bouquet, brush.
Item# fd1003...Price: $110.00
---
---
This page brought to you by:
VintageHammond.Com - We Buy-Sell-Trade Vintage Hammond Organs and Roll or Kari Organ/Vending Machine Moving Dollies Order Roll or Kari Dollies Here