The Wurlitzer Factory as it stands in 1996

The Theatre Organ is a distinctly American musical instrument, so many of which have been lost to the ages. These Photos are recent pictures of the now long-closed Wurlitzer Factory in North Tonawanda, NY

Factory Photos courtesy of

Jeff Cushing of Ann Arbor, MI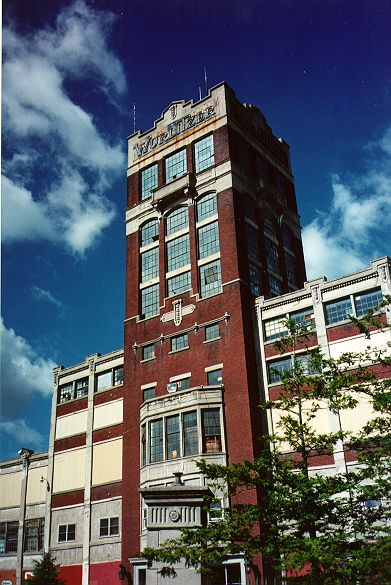 Interesting Trivia from a Home Page Reader:
Delivery-Date: Mon, 12 Jan 98 04:03:07 GMT
From: "Kevin Barry" - kbarry@olm1.com
To:jkz@theatreorgans.com

J Kautz-
I pass the old factory regularly on Niagara Falls Boulevard. It is now home to a dozen or so small businesses. It is also sadly run down looking. Some quick facts for you:
1.)North Tonawanda is one of the twin cities, The City of Tonawanda and North Tonawanda. North Tonawanda is north of the Erie Canal (now known as the New York State Barge Canal).
2.) The Wurlitzer plant produced bomb fuses during W.W.II.
3.) The Allan Herschel Carousel Factory and Museum in North Tonawanda is restoring a Wurlitzer Band Organ for the museums carousel.
4.) One of the best Wurlitzer Theater Organs I have seen/heard is at the recently restored Riviera Theater in North Tonawanda. I believe it has been MIDI-fied. They have weekly concerts.
5.)The Schlicker Organ Co., maker of fine pipe organs, is in Tonawanda ( Town of Tonawanda, another Tonawanda just to make it more confusing!).
6.) Here's the one to impress any Wurlitzer buff- on the rear of the Wurlitzer factory, you can see what was the original building, inscribed in the stone it says " DeKlist Organ Co." This was the company Wurlitzer bought to get into the organ business!
Hope you enjoyed the trivia. If interested I can forward Wurlitzer information/history as I come across it.
Best Regards,
Kevin Barry
Tonawanda, NY
This page brought to you by:
VintageHammond.Com - We Buy-Sell-Trade Vintage Hammond Organs and Roll or Kari Organ/Vending Machine Moving Dollies Order Roll or Kari Dollies Here