The Hammond Grounds
Audio Samples
Unless otherwise noted, all samples are MP3
---


Download these players to listen to the Audio Samples
Check out the Hammond Grounds Real Jukebox skin!!!
Save to the Real Jukebox skins directory, most likely:
C:\Program Files\Real\RealJukebox\skins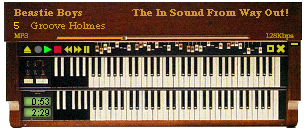 ---
Real Audio Samples
---
---
MP3 Samples
Note: these are posted to help spread the word about this great music. Please buy the artists' music so they may be compensated for their talent and efforts.

Larry Young with Pharoah Sanders & James Blood Ulmer - Lawrence of Newark (Perception, 1973)


If the person who owns the rights to this recording is listening, PLEASE PLEASE PLEASE release this on CD!!!

Suicide - Suicide (Red Star, 1977)


The first Punk band? This sounds a lot like Kraftwerk meets Joy Division.

James Booker - Live at Tipitina's (Private recording, 1977)


Thank you for this tape!

Various Artists - Pure 4 - Who Got De Funk? (Pure/Virgin France, 1993)


This CD is a gem! If you can find it, it will be on your heavy rotation shelf...

Zoobombs - Welcome Back Zoobombs (Emperor Norton, 1998)


Funky hard rock from a slammin' Japanese band.

Beastie Boys - The In Sound From Way Out! (Capitol, 1996)


This CD is a collection of interludes from Beastie Boys CDs: NO VOCALS! GREAT STUFF!!!

Reuben Wilson - Organ Donor (Jazzateria, 1998) @ Jazzateria (Real Audio)
Props to Preston Powell for backing Reuben!

Injun Joe - "Someone" (Real Audio - 1.82MB - 3:10)
Remember this from the first Blindfold Test (soon to be back)?
---
---
---