Richard "Groove" Holmes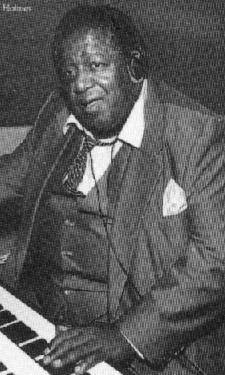 ---
The name says it all. This man knew how to groove with both hands and feet. He acknowledged himself that in the world of organ players, there was Jimmy Smith and then all the rest; but he (humbly!) considered himself to be at the top of the rest. IMO, there was Smith, Groove, Patton, Young, then all the rest. But when it comes to funking it up, Groove had no match. He's influenced by sax players, like a lot of organ players.

He recorded some very nice "straight" Jazz sessions with Ben Webster, Gene Ammons, Houston Person, and Paul Chambers (renowned bass player). But he also recorded some of the funkiest shit I have ever heard. He teamed up with Jimmy McGriff for some organ battles on the Groove Merchant label, and recorded for Muse from 1977 to 1989 with, among others, Person and Melvin Sparks.

I suggest picking up Blue Note's compilation Blue Break Beats Vol. 1 for, among other greats, the first track "Grooving With Mr. G." from his Comin' On Home LP (import CD only). Also, his Nightglider album was reissued this year by a French label (MusiDisc 500632). Tracks 1, 2, and 5 are the kind of tunes that will make a skeleton dig out of his/her grave and get down to the groove, and basically the reason why I'm writing this. Damn is that funky! The bass and percussion (conga) are cookin'. They didn't list the personnel, so if anyone has any info, PLEASE e-mail me, thanks! This 1975 album is produced by Horace Ott, who also recorded Joey DeFrancesco in the 90's.
---
Discography

                        Somethin Special                ?       Pacific Jazz
                        After Hours                     1961    Pacific Jazz
  (B.Webster/L.McCann)  Groove                          1961    Pacific Jazz
  (Gene Ammons)         Groovin' With Jug               1961    Pacific Jazz
                        Tell It Like It Is              1961    Pacific Jazz
                        Somethin' Special               1962    Pacific Jazz
                        Book of the Blues               1964    Warner Bros.
                        Soul Message                    1965    Prestige
                        Living Soul                     1966    Prestige
  (Boogaloo Joe Jones)  Spicy                           1966    Prestige
                        Super Soul                      1967    Prestige
  (T.Edwards/P.Chambers)Get Up And Get It!              1967    Prestige
  (Ben Dixon)           Soul Power                      1967    Prestige
                        Bowl of Soul                    1967    Loma/Warner
                        See See Rider                   1968    Prestige
                        The Groover                     1968    Prestige
  (Rusty Bryant)        That Healin' Feelin'            1968    Prestige
                        Onsaya joy                      ?       Flying Dutchman
                        Six Million Dollar Man          ?       Flying Dutchman
                        Swedish Lullaby                 ?       Sison
  (Weldon Irvine)       Comin' on Home                  1971    Blue Note
                        American Pie                    1972    Groove Merch.
                        Double Exposure                 1973    LRC
                        New Groove                      ?       Groove Merchant
                        X-77                            ?       World Pacific
  & Ernie Watts         Come Together                   ?       World Pacific
  (Eddie Daniels)       Groovin' with Groove            ?       LRC
                        Night Glider                    1973    Musidisc
                        Groovin' and Spoonin'           1974    Olympic
  (Houston Person)      Good Vibrations                 1977    Muse
  (Idris Muhammad)      Shippin' Out                    1977    Muse
  (Houston Person)      Broadway                        1980    Muse
  (Houston Person)      Blues All Day Long              1988    Muse
  (Houston Person)      Hot Tat                         1989    Muse

Bostic, Earl
  "Groove" Holmes       Jazz As I Feel It               1963    King

Jackson, Willis
  "Groove" Holmes       Ya Understand Me? (Live)        1980    Muse

McGriff, Jimmy
  "Groove" Holmes       Come Together                   1973    Groove Merch.
  "Groove" Holmes       Giants of the Organ in Concert  1973    Groove Merch.
  Dbl LP of previous 2! Supa Cookin'                    1975    Groove Merch.

Wilson, Gerald
  "Groove" Holmes       You Better Believe It           1961    Pacific Jazz

Witherspoon, Jimmy
  "Groove" Holmes       Sings The Blues                 1961    Crown/Muse
  Bert Kendrix          Evenin' Blues                   1963    Prestige
  Paul Griffin          Blues Around The Clock          1963    Prestige
  w/ "Groove" (Odetta)  As Blue As They Can Be          1991    RTV

---