Ethel Smith: Weird Organ Lady or Mondo Organista?
By Matthew Brown and Elizabeth Galand (This article originally appeared in Cool and Strange Music! Magazine, issue 18, pp. 16-19- Photos added by theatreorgans.com)

Organist, pianist, guitarist, percussionist, singer, composer, movie/stage actress, radio/nightclub personality, ethnomusicologist, linguist, publisher, pedagogue - it's hard to find a single word to describe Ethel Smith. Unlike today's one-trick ponies and one-hit wonders, she could simply do it all. Given such extraordinary talents, it is hardly surprising that she rubbed shoulders with superstars such as Bing Crosby, Frank Sinatra, Esther Williams, Xavier Cugat, and Desi Arnaz, as well as statesmen and writers, such as Cordell Hull and Fanny Hurst. She was a genuine polymath; they just don't make 'em like her anymore.

We don't know much about Ethel Smith's formative years. She was born in Pittsburgh, Pennsylvania to parents Max Goldsmith and Elizabeth ("Betty") Bober. Although she publicly gave her birthdate as November 22, 1910, she was actually born in 1902 - exactly 40 years before another aficionado of the Leslie - Jimi Hendrix. Growing up in Pittsburgh, Miss Smith became adept at three of her lifelong passions - music, languages, and golf. Golf was learned on Pittsburgh's municipal links at the age of sixteen. Organ studies began with Dr. Caspar Koch, Organist to the City of Pittsburgh, Professor at the Carnegie Institute of Technology (now Carnegie Mellon University), and author of many pedagogical works. Miss Smith also studied German, French, and Spanish at Carnegie Tech, although records show that she never formally enrolled or obtained a degree. After college, she became the first woman to ever play in the pit orchestra for a Shubert show - the touring production of Romberg's "The Student Prince," which took her on a 28-week tour of the United States.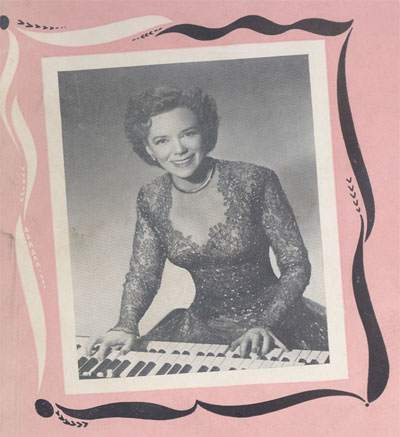 Two events dramatically changed the subsequent course of Ethel Smith's career. In 1935 the Hammond Corporation produced its first electric organ. The instrument revolutionized the keyboard genre by combining the fast action of the piano with the timbral resources of the organ. Miss Smith spotted her first Hammond while accompanying a singer in a Hollywood studio. According to her, "I just ran my fingers over [the organ] and said 'That's for me!'" (New York Times, May 16, 1943). Soon she was so proficient that she was able to pick up gigs in and around Hollywood, and even played on local radio broadcasts. An astute Hammond dealer discovered her and, seeing obvious marketing potential, allowed her to take an instrument to Florida, where she had landed an engagement accompanying a trio at a small Bavarian restaurant. She was paid $15 dollars a week and all the Sauerbraten she could eat (Motion Picture Magazine, August 1945).
The second event also occurred around 1935. On a pleasure trip to Cuba, Miss Smith encountered Latin music on location; she immediately caught the bug and started to make regular trips to the Caribbean and South/Central America. She toured the region as head of the entertainment group on the ship carrying the American delegates to the 8th Pan-American Conference led by Cordell Hull, Secretary of State under Franklin D. Roosevelt and winner of the Nobel Peace Prize. But it wasn't all work and no play for Miss Smith. As she later recalled:
For a while I became a regular tropical hep chick. I stuck my nose into every smoky cabaret that boasted a native orchestra. Whenever they let me I'd sit in with the boys for a little Latin jam session. That way it didn't take long to collect a trunk load of authentic and out of the way rhythms and melodies - including such lush and sultry-sounding ones as charareras, milongas, bambucos, pasillos, guarachas, habaneras, and, of course, the traditional sambas, rhumbas and congas. (Souvenir Album, Decca A-565, 1947.)
Audiences clearly resonated with Miss Smith and dubbed her "Empress of the Hammond."
By 1941, Miss Smith's stock was on the rise as she took over from Eddie Duchin at the infamous Copacabana Casino in Rio de Janeiro. We don't know whether she knew Lola and her trademark yellow feathers or whether she witnessed the fatal shooting, but Miss Smith could certainly merengue and cha-cha-cha with the best of them. In March 1942, towards the end of her seven-month stint at the Copa, Miss Smith was noticed by an American Tobacco Company executive. ATC, with its Lucky Strike cigarettes, was the sponsor of the popular weekly radio show "Your Hit Parade," broadcast from New York City. When the executive's entertainment-purchasing boss looked for an exponent of Latin American rhythms, he remembered her. He called the Copa, but Miss Smith had already returned to the States. Someone else mentioned seeing just such an organist at the Iridium Room of New York's lavish St. Regis Hotel. The executive rushed round, only to discover that she was indeed the same organist he had seen in Rio. In fact, Miss Smith's trio had been playing there since April 1942 (switching to the Viennese Roof during the summer), delighting fans like Andre Kostelanetz, who dropped in one evening to see what all the fuss was about. He left with a copy of "Tico-Tico" so that he could make his own arrangement (Motion Picture Magazine, August 1945). According to Abel Green's review, the trio earned high marks for "dancapation" and was "plenty O.K. with the Brazilian sambas, maxixes, and the usual - Viennese waltz and kindred sets" (Variety, April 22, 1942).
Miss Smith finished her engagement at the St. Regis and began playing for "Your Hit Parade" on February 12, 1943. There, she arranged popular songs and performed with such luminaries as Bing Crosby and Frank Sinatra. But she lasted only one year before Hollywood beckoned. Little wonder - on the heels of FDR's "Good Neighbor Policy," film studios were eager to showcase the most recent Latin music craze. In 1944, Ethel Smith appeared with Xavier Cugat and Harry James in the musical numbers for Bathing Beauty, her first feature for MGM. In the film, Esther Williams starred as the swimming instructor at the all-girl "Victoria College." Red Skelton played her fiancÚ, a tunesmith ready to give up Hollywood for his amphibious sweetheart. Ethel Smith played a comic cameo as an "Assistant Music Professor." In her big scene, some of the girls burst into her office. She is seated at the organ. They beg her to play. With dainty grace, wearing an impeccable peacock-blue cocktail dress and adorned with jewels, Miss Smith removes her wire-rimmed spectacles and lets rip with "By the Waters of Minnetonka" and "Tico-Tico." (An orchestra is cleverly concealed somewhere in the office.) Her perfectly coifed hair never musses, her beatific smile never wavers, and her spike-heeled feet never get sore as her whole body dances over the instrument. In "Tico-Tico," she even plays the organ with one hand and a large tambourine with the other. The girls get into the mood as they beat on bongos and tom-toms that just happen to be lying around. Miss Smith reappears at the end of Bathing Beauty, playing alongside Harry James at a benefit show. During the performance of "Loch Lomond/I'll Take the High Note," Miss Smith is wheeled onstage while playing the Hammond. She eventually gets caught up in the revelry and does a high line kick as well as any Rockette!
Like many Hollywood stars, Miss Smith did her part to entertain the boys during WWII. She performed "Moonlight Bay" with Bing Crosby on the "Kraft Music Hall" (November 9, 1944), a show distributed to the soldiers through the War Department. Her collaborations with Bing didn't end there: they also recorded four numbers for Decca - "Just a Prayer Away" and "My Mother's Waltz" in 1944 (along with the Ken Darby Singers and Victor Young Orchestra); and "Sweetest Story Ever Told" and "Mighty Lak' a Rose" in 1945 (along with the Song Spinners and Lehman Engel Orchestra).
Other films followed Bathing Beauty as audiences clamored for more of Miss Smith, who by then had her hands insured by Lloyd's for $500,000 (Motion Picture Magazine, August 1945). 1945 saw George White's Scandals (which paired Miss Smith with Gene Krupa for her musical numbers) and Twice Blessed. 1946 brought Easy to Wed, again with Esther Williams, and Cuban Pete, which its star, Desi Arnaz, deemed a "B minus" movie (D. Arnaz, A Book, NY: Warner, 1976). In 1948, Miss Smith made an appearance in the Disney feature Melody Time, where she starred with Donald Duck, JosÚ (Joe) Carioca, and the Aracuan Bird. Dressed like Carmen Miranda - minus the fruit plate - Miss Smith appears in person at the Hammond swirling inside a brandy snifter. She breaks into "Blame it on the Samba," with her pretty pumps prancing on the pedals. We also get to watch her dance and play the bongos in this number! Towards the end of the sequence, the Hammond is blown up by her feathered friends, but magically reassembles itself without Miss Smith missing a beat. Unfortunately, her face was not to be seen again on screen for another twenty years.
At the height of her film career, Miss Smith's personal life took a turn for the worse. Claiming abandonment in 1947, Ethel Smith filed papers to divorce Ralph Bellamy, her husband of merely two years. Drinking heavily, often locking himself in his room, and eventually walking out of their Parc Vend˘me apartment (at 350 W. 57th St.), the star of such classics as His Girl Friday (1941) and Rosemary's Baby (1968) apparently couldn't cope with the attention heaped upon his vivacious and virtuosic wife. He claimed she was possessive, demanding that he be home fifteen minutes after the curtain fell on the Broadway play in which he was appearing. Bellamy was Miss Smith's second failed marriage; an early marriage to a Mr. Spiro had ended in divorce before 1940.
In later years, Miss Smith continued to perform and play golf. Her company, Ethel Smith Music Corp., which she founded in the mid 1940s, continued to publish highly successful arrangements of popular tunes and instructional books for the Hammond, not to mention the occasional oddity such as "Ethel Smith's Latin American Rhythms for Percussion Instruments" (1951) and her Hammond arrangements of Fritz Kreisler's virtuosic violin pieces (1953). Her company also ran a "Hits of the Month" plan, in which subscribers were treated to a glamour shot of Miss Smith and 4 or 5 tunes arranged for the Hammond. The Hansen Music Corp. in Miami now holds the rights for this material. Miss Smith's records were also extremely successful: she produced over 20 albums in all, mostly with Decca. In addition, she developed a topnotch nightclub act in which she played the organ, sang, played percussion and guitar, told jokes, and even demonstrated the mechanics of the Hammond. She played "Pops" concerts with orchestras in Paris, London, Milan, Boston, Cleveland, and Indianapolis. In the 1960s, Miss Smith took a renewed interest in acting. Specializing in small character roles, she capitalized on her keen ear for dialects. She performed in off-Broadway productions, such as a musical version of Tom Jones in 1969. Miss Smith eventually returned to the big screen to play a small role in C'mon, Let's Live a Little, starring Bobby Vee and Jackie DeShannon. As Bobby Vee's Aunt Ethel, she wore Mondrian-patterned go-go boots while singing with a hillbilly twang and playing guitar in the country (!) song "Way Back Home."
Although she never remarried and never had children, Miss Smith lived a full life in Manhattan. She entertained her friends, who included the novelist Fanny Hurst, the New York Journal-American "Voice of Broadway" columnist Louis Sobol, and the singer Arthur Tracy (whose 1937 recording of "Pennies from Heaven" was featured in Steve Martin's 1981 movie of the same name). In the mid 1970s she moved south to Palm Beach, Florida. With her apartment at Worth Avenue and Ocean Boulevard mere blocks from the Everglades Golf Course, Miss Smith continued to golf and even played the occasional concert for friends and visiting celebrities. She hated interviews and people who brought up her "Tico-Tico" days. Ethel Smith died of a progressive illness at 4:55 a.m. on May 10, 1996. At her request, no memorial service was held.
Looking back at Ethel Smith's musical legacy, two things stand out: her remarkable technique and her vivid imagination. As a player, she insisted that technical prowess was just as important for playing popular music as it was for classical, though she admitted that high heels would not be appropriate for playing Bach. In an interview with Etude magazine (May 1947), Miss Smith stressed the need for clarity in articulation and accuracy in rhythm: "The lightest touch suffices, and the rhythmic effects resulting from even this lightest touch, are so sharp that they reflect in the entire body." She added, "It's hard to sit still as you guide a developing phrase or a rising crescendo and you feel that you are experiencing complete physical expression." To see what she meant, just catch her performances of "Tico-Tico" in Bathing Beauty or "Blame it on the Samba" in Melody Time!
Ethel Smith was also concerned with sound quality. As she explained in another interview for Etude (May 1944), "The Hammond organist mixes tone color on a musical palette much in the manner of a painter in oils. He is not limited to ready-mixed colors." In fact, no one has ever made the Hammond sound quite like her. To some extent, this is due to her careful choice of organ stops and draw bars. Compare, for example, the shimmering pentatonic washes in "By the Waters of Minnetonka" (Bathing Beauty/Galloping Fingers) with the stark, other-worldly sound of "Firebird Blues" (Bouquet of the Blues) or the gnarly distortion of "Ethel Meets the Count" (Many Moods of Ethel Smith). She was particularly imaginative in recreating orchestral sounds and claimed that when arranging an instrumental piece for the organ she would "phrase as a flutist or clarinetist would" (Etude, May 1947). But Miss Smith's unique sound also depended upon her exceptional skills at transcription. In particular, she avoided clunky block chords preferring instead parallel thirds or other polyphonic devices. Take a listen to the ingenious countermelodies in "Brazil" (Many Moods of Ethel Smith/Latin from Manhattan). Using classical techniques, she even layered the same tune on top of itself to create her own "Fugue in Blue" (Bouquet of the Blues). The results were stunning; she was able to create full and fluid sounds without sacrificing her wonderful sense of color and rhythmic vitality. And that's why she was heralded by the Latin American press as "La Organista Mas Famoso del Mundo!"
The authors wish to thank David Higgs (Professor of Organ) and many others at the Eastman School of Music, David Ziolkowski, Luke Hammond (Rochester Public Library), the doormen at the Parc Vend˘me, the staff at the St. Regis Hotel, the guards at 119 W. 57th St. (former home of Ethel Smith Music Corp.), Carnegie Mellon University, theatreorgans.com, the Florida Department of Vital Records, and Dana Countryman, editor of Cool and Strange Music! Magazine.
(c) 2000 Matthew Brown and Elizabeth Galand
---
This Page Sponsored by:


Click on logo to go to Vintageorgans.com