The map shows the junction site and the quarry line


The branch junction to the quarry


Ennstone Thistle Quarry sign. This quarry was served from a short branch near Longhaven


The railway bridge at Longhaven. Looking towards the main road, with Boddam off to the right. Right: From the road bridge looking down on the loop that went into the quarry. Just ahead on the left
you can see the indent where the track entered a cutting towards the quarry but which has been back-filled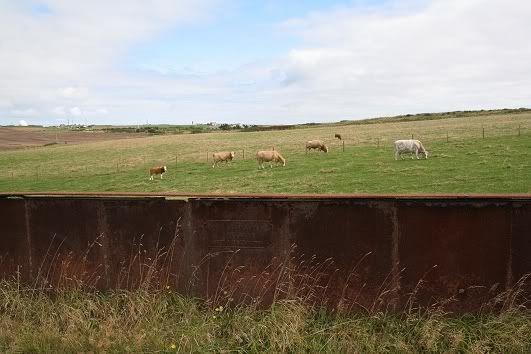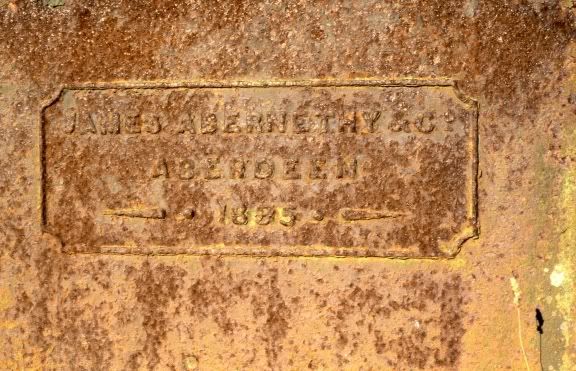 The view towards Longhaven and Boddam from the road bridge. The railway has been back-filled and cattle graze above the trackbed.
Right: The bridge maker's name plate (James Abernethy & Co. Aberdeen, 1895)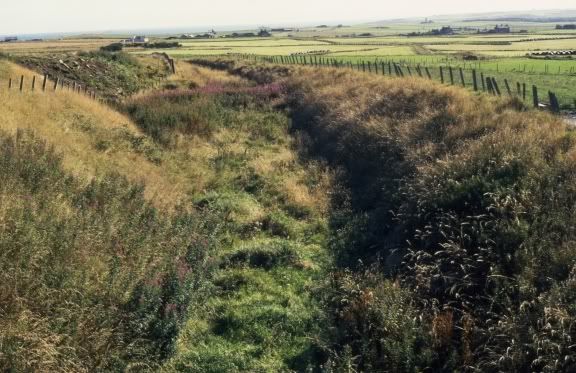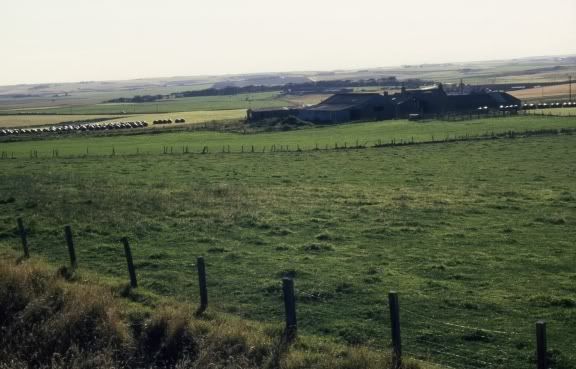 In this view the site of the quarry loop and spur can just be made out on the left. Right: The railway fencing at the loop cutting. Looking towards Cruden Bay

The railway bridge by the quarry junction. The trackbed is back-filled beyond the bridge. Longhaven Station was about 3/4 of a mile to the north.
Right: The bridge from trackbed level, looking towards Boddam with the infilled trackbed

A wider view showing the narrowing of the trackbed from the quarry loop. Right: Opposite view. The quarry line branched off to the left. The railway fence marks the opening of the cutting, while the
main trackbed runs towards Cruden Bay. It would be interesting to learn if there had been a signalbox here to control the branch, or if it operated from a groundframe. If a ground frame it would have
operated from the key on the single-line token, which would have locked and unlocked the points. I remember using this method over at Esselmont on the Fraserburgh branch ,when we turned back
from there on one turn. The train would be mixed enroute and most likely leave the wagons on the loop and enter the quarry either as a light engine or with empty stone wagons and return with the
loaded wagons and reform the train at this loop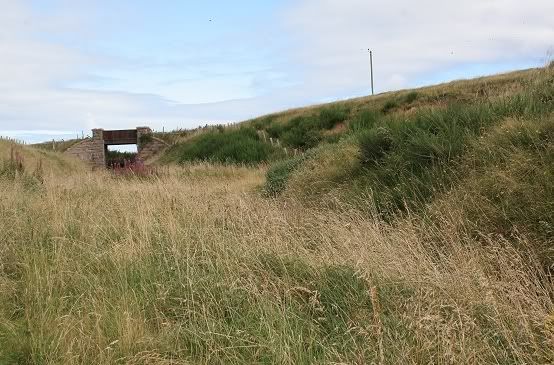 Another view showing how the quarry line came in from the right

.

The well defined trackbed runs towards Bullar's O' Buchan Halt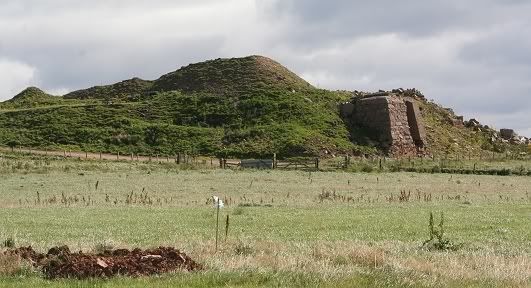 The Radar Dome at Boddam appears closer than it really is. Right: The quarry line came in from the extreme right and entered the quarry by the stone structure. This is now the man road into the
quarry. It was at this point that I was able to walk across the field to the quarry trackbed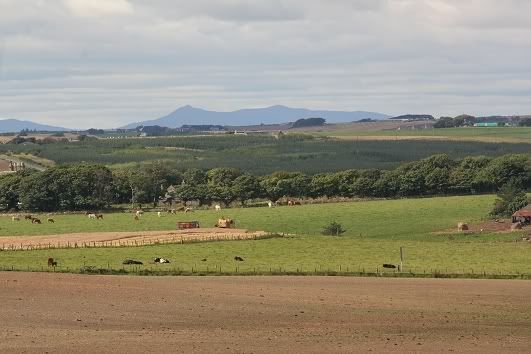 A fine 'telephoto' view from the quarry line, with Benachie in the background. The quarry trackbed looking towards the junction with the mainline

This is the entrance into the quarry. I would guess that the road has been raised since railway days as it looks a bit steep for railway use.
Right: It would be interesting to learn what this building was used for. A chimney, perhaps!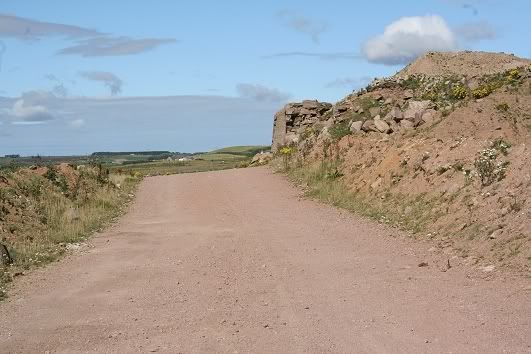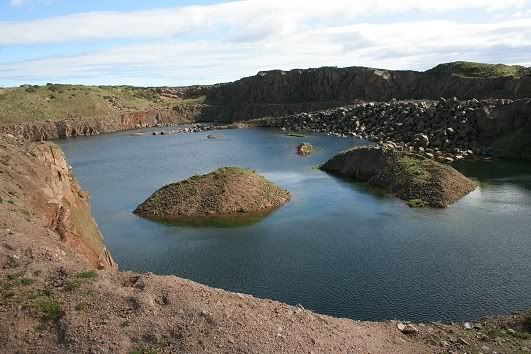 The old trackbed, looking towards the junction, where trains arrived and departed. According to Alan Sangster's book 'The Story and Tales Of The Buchan Line' there were two sidings within the quarry.
Right: I was surprised to find such a large quarry. It has obvioulsy been well used over the years. I wonder what great Buchan structures were built or dressed from this stone! Having said that,
I believe the Trafalgar Square fountains are made from granite from this quarry!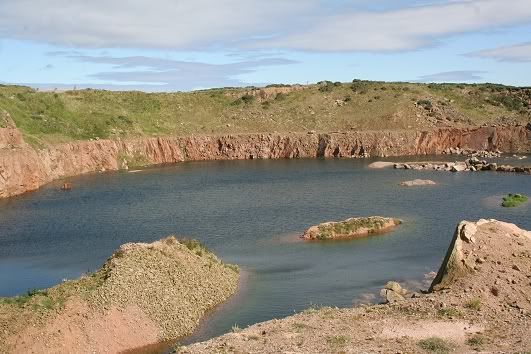 The pink shade of Buchan granite certainly shows up. Is this where 'Nessie' holes up for the winter!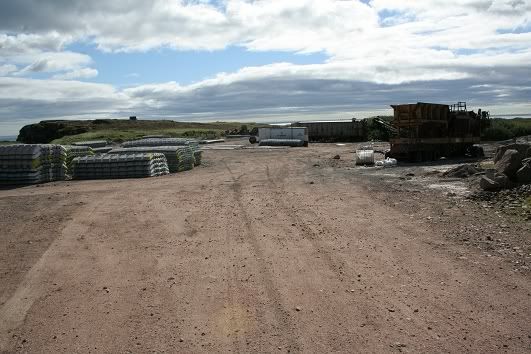 This would have been the sight of the railway sidings. Right: Two lines with a head shunt and points would have allowed the locomotive to run around the train. I was told that the owner isn't keen on
trespassers therefore, I didn't venture any further than the pile of concrete slabs and departed as soon as I got my pictures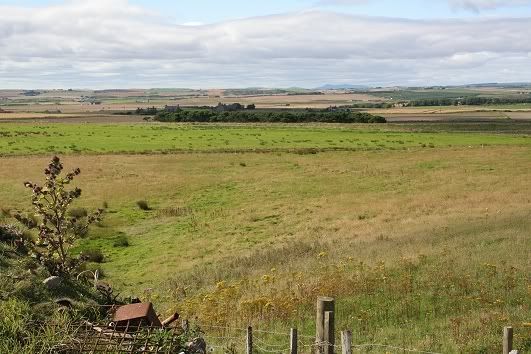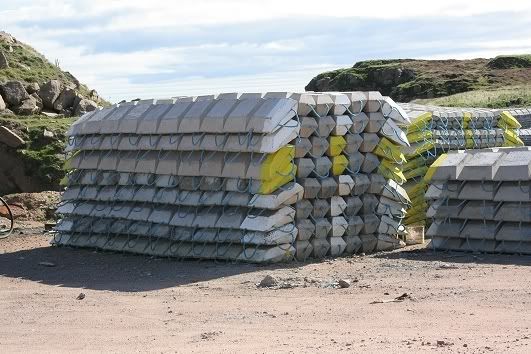 From the quarry a wideangle view shows the embankment of the mainline running in front of the line of trees, towards Cruden Bay. This is the field I walked across from the trackbed to reach the quarry
and back again. Right: Another surprise! All the maps I have seen show the quarry as unused but these very new blocks prove that there is still work going on, albeit they are concrete rather than
granite. They appear to be Tunnel linings! Unless someone can prove otherwise! Surely, not a tunnel to Norway!
October 2009: My thanks to Steve Lamb, who emailed details of concrete blocks, above....

The concrete blocks decribed in your photos at Longhaven Quarry are called Concrete Mattresses for the Subsea Industry. They are used for covering new layed pipelines on the seabed especially close to wellheads.
They are lowered from a vessel at surface by the use of a special lifting beam. The two outside edges are lifted on the ship to make a shape like a letter "U" and the whole shooting match is lowered to directly to come
in line with the pipework then lowered fully covering the pipe equally either side. The divers then release the Polyprop loops and the beam in lifted to surface again to begin the whole prosses again. If you notice the
outside blocks have tapered edges this is to allow any fishing nets or Trawl system to glide over any protected pipework etc. They normally come in 6 x 3 x .15m 6 x 3 x .2m Sizes and weigh about 3-5 Ton each.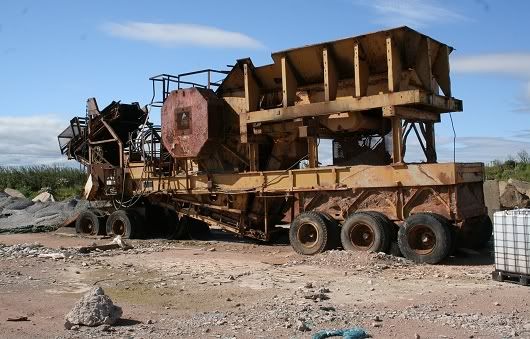 This old fuel tank appears to be still in use. This stone crusher hasn't been used for some time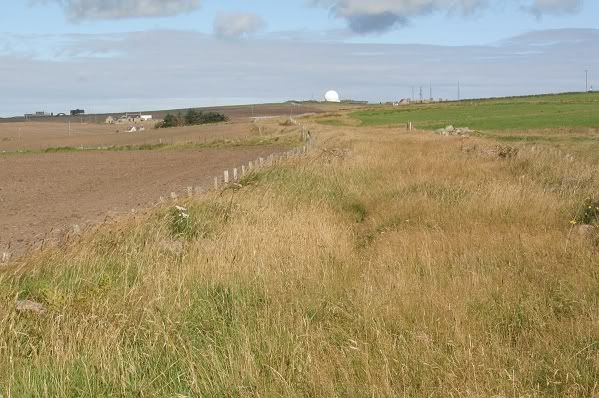 Back on the main trackbed. Looking towards Boddam