FRANK PUGNO
By
Bill Reid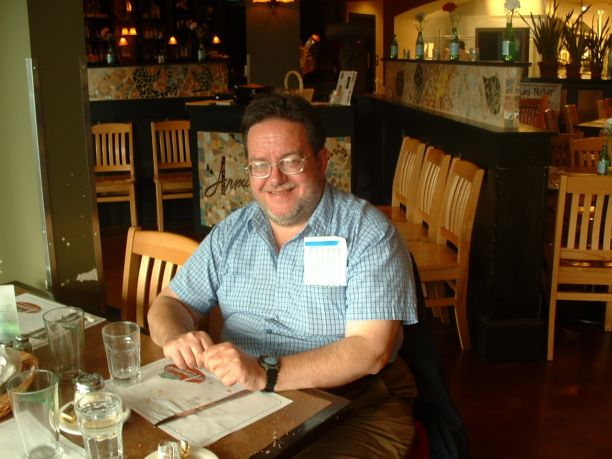 At Cafe in Elmhurst, Chicago. 23rd Oct. 2003
This is how I shall remember Frank. It was taken at a cafe on the east side of Elmhurst station on the META line from Chicago to Oswego, during one of our visits sharing each other's interest in train spotting. Each time I visted
Chicago for the Ken Griffin Dedication Shows we had one afternoon out together, mostly to train spot but also to enjoy a good chat and learn about each other. We met due to our interest in Ken but came from unite different
backgrounds and of course Countries and it was intersting to learn these differences. He also showed me around the center of Chicago talking about places he knew and especially where Ken Griffin played.
One of the things about Frank was that no matter how he was feeling he always managed to smile and have a laugh. He was great company. We shared many emails discussing many subjects and most days there was one or two
of his cut& paste jokes to raise a smile or two. Indeed, there was one waiting for me when I returned home last week after being away from home for three weeks but which sadly included an email from Diana telling me that Frank
had died. We hadn't exchanged many emails of late but received his joke emails and it was a real shock to learn that he had died while I was away.
I still enjoy the video he sent me of playing the Sanfillipo Wurlitzer organ which I knew gave him a ot of pleasure as well as to the many visitors to that event. Frank also appears on the video of the very first Ken Griffin Dedication
Show back in 2002. I can still play these NTSC tapes but woud like to get them converted to DVD discs but my combined VCR/DVD recorder will not allow me to copy NTSC tapes to our PAL TV system. It would be nice too if
we could have selections from that show up on the web site. Some of you will have the audio CD versions I made of the show with Frank, Eric and Kurt.
Here are a set of photographs, most of which appear in the web site pages but with one or two that may have not been seen befre. I add these here so that we shall always be able to see Frank and by way of thanking and
remembering him for his friendship and for the active part he took in sharing his enjoyment of Ken with us through these pages and in his excellent ----- of Ken at our Dedication Shows.

Oct. 2006 Oct. 2005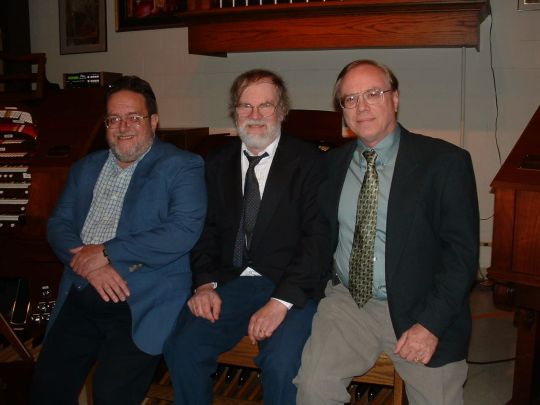 Oct. 2005. Frank, with Eric Larson and Don Downin. Beautiful Soud, Chicago. Oct. 2006. Frank at his local church Hammond Organ.

Eric & Frank play a duet with a Ken Griffin overdub. At the first Dedicatioin Show at the Lincoln
Center, Chicago. Oct. 2003.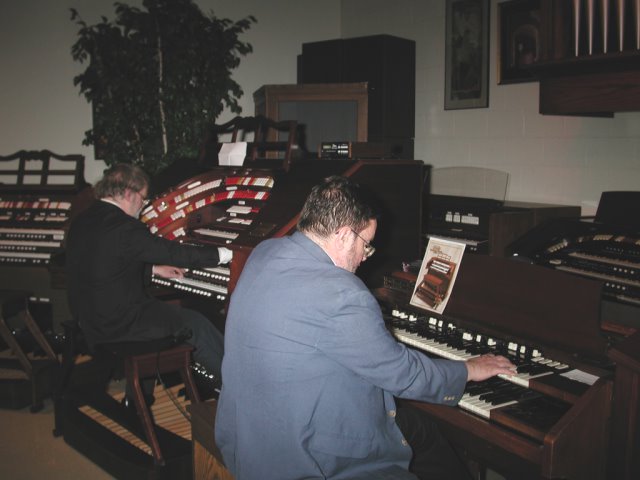 At the Beautiful Sound, Chcago. Oct. 2003. Oct. 2006.

At the Beautiful Sound, Chicago. Oct.2003 At Beautiful Sound, Chicago. Oct. 2006.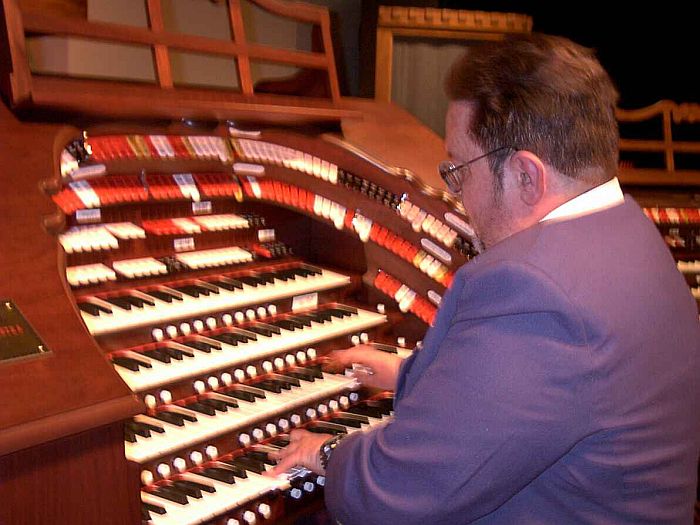 At Beautiful Sound, Chcago. Oct. 2003. Oct. 2006.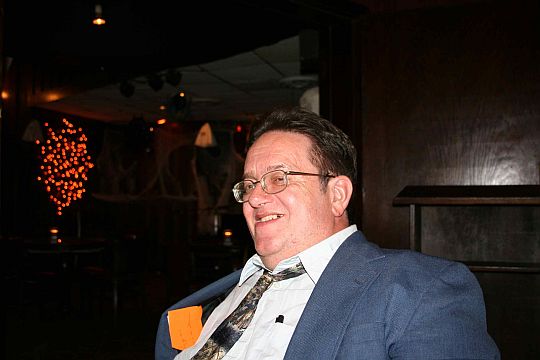 Oct. 2006

The first Dedication Show at the Lincoln Center, Chicago on the 30th of September 2002. with Kirby Griffin, Bill Reid, Eric Larson,
Kurt Armsden and Frank far right. A brilliant show, with fond memories.
"Fair well dear friend. I hope that you are playing beautiful organ music to a heavenly audiance".
======================================================

I had the pleasure of meeting Frank's father, at the dedication show in 2003. He died within a year of so of this time.
=================================