KIMBALL ORGANS
by Frank Pugno
(New Sept. 2007)
William Wallace Kimball founded the Kimball Organ Company in Chicago in 1857, manufacturing reed and pipe organs. He developed portable pipe organs that used
three ranks of free reeds to replace the longer pedal pipes. Kimball also did one of the rebuildings of the great Mormon Tabernacle organ in Salt Lake City, Utah. In the silent
film era, Kimball built many theatre pipe organs and they may still be heard across the land. Of course, we all know Kimball for its line of fine pianos and they also manufacture
furniture. Pipe organ manufacture ceased in 1942. In 1959, Kimball was purchased by the Jasper Corporation and moved to Jasper, Indiana. The name was changed to the
Kimball Piano and Organ Company in 1961.
In 1961, Kimball came out with its first electronic, or rather electric, organs. These instruments used a photo-electric cell generator amplified with vacuum tubes,
and were not successful. The tone was deplorable! A few years later, they went to all transistor technology and made a mark in the home market.
Kimball carried a full line of organs from the small one-manual Swinger 80 to the full-featured console Xanadu. The instruments had good sounding flutes or tibias,
a very realistic reed section, very articulate percussion stops and was one of the first to develop the symphonic-type string tones with built in celesting. The mainstream tones
could have been voiced better and the diapason was terrible (several home organ manufactures missed the boat on that one). The built-in Leslie gave the tibias a true theatre
organ sound. The Entertainer was a division of stops that included one-finger chords, Swinger-Bass, Solo Chord and other Easy-Play features.
In 1979, the Conn Organ Corporation went out of business, but Conn still continues to make band instruments to this day. Kimball bought the organ corporation
almost immediately and manufactured organs under both the Kimball and Conn names. You can tell a Conn organ made by Kimball because the thumb pistons on Conn were
round. Kimball replaced them with square ones. The Starbrite, Starmaker, Strummer and 3-manual theatre Model 653 were the Conn models introduced by Kimball to the
best of my knowledge.
Kimball stopped making organs in 1983 and pianos in 1996, but continues to make their line of furniture and fixtures, as well as piano cabinets for other companies.
Swinger 80 Sensation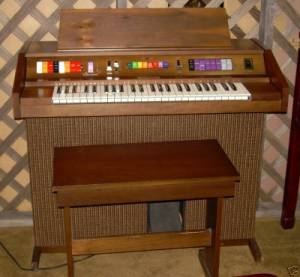 L-70 Temptation Xanadu