LOCOMOTIVES I'VE WORKERD ON
Joined the railways at Kittybrewster Depot, Aberdeen in May 1963.
Moved to Didcot Depot in September 1964.
Moved to Oxford Depot in 1965 then back to Didcot due to initial
Second depot choice becoming available. Moved back to Didcot
same year under social movement.

Gained driving job at Marylebone, Depot, London in June 1974.
Moved back to Didcot Depot in 1981.
Moved under redundancy to Reading Depot in 1982.
Moved back to Didcot in 1983/4 until retirement in 2005.

The first locos that I worked on were the NBL (Glasgow) built Class 61 Diesel Electric'sbetwen 1958 & 1960.
Here one is standing by the goods shed at Peterhead in 1964. They had German Man engines with
controls by English Electric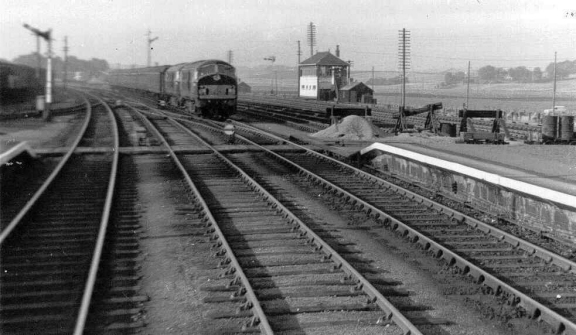 I took this shot of a pair of NBL 61's arriving at Inverurie station from Inverness in 1964. The signal and track
passing the signalbox is that of the Oldmeldrum branch, which was still used by a daily goods train. Taken
from the cab of the Class 61 we were working an Aberdeen to Elgin via Craigellachie passenger train in 1964.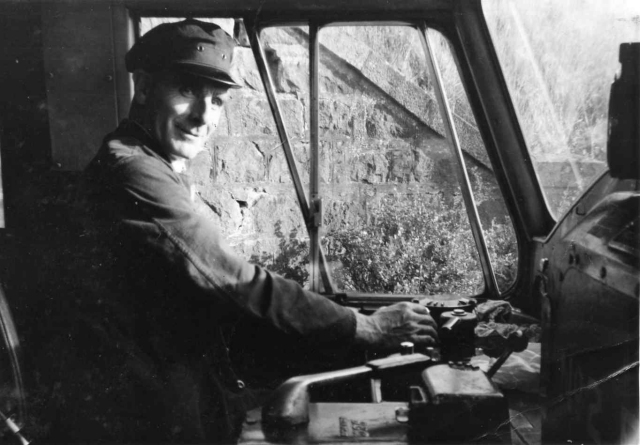 The only photo I know of inside a NBL 61 cab. Kittybrewster driver, Jim Strachan at the control of the passenger
train mentioned above as we passed Kennethmont in 1964.

BR Class 53xx diesel elctric's, later became Class 26's and 27's. They had Sulzer engines.
Photographed on the 'sanding' road at Kittybrewster depot in 1963.

BR Class 8000 built diesel electric's by English Electric. Photographed at Moss End Yard in the 80's.
I don't have any photgraphs of these while working at Kittybrewster.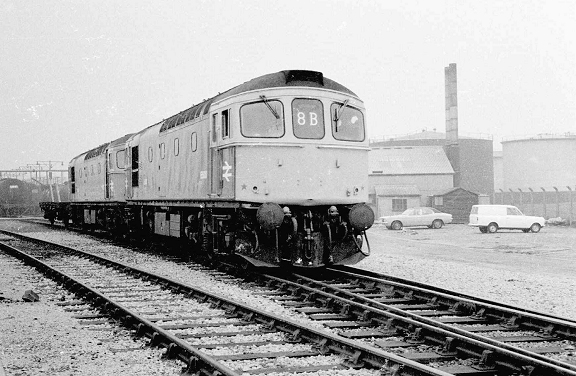 A pair of BR Class 65 diesel electric locos. Similar to the Class 53's. At Bromford Bridge, Birmingham in 1967.
Mostly based at Southern Region depots but found themselves in other regions.

Didcot driver Ron Durman and guard Dai Davis. Sadly both gone now. We were waiting for the Bitumin tanks to
be emptied at Bromford Bridge to work back southwards. 1967.

BR Class 63xxx diesel hydraulic. NBL (Glasgow) built. Between 1959 & 1962. Same bodies and engines as the NBL Class 61's but with
hydraulic drive and General Electric controls. They weren't a patch on their diesel electric sisters. But then niether Class lasted beyond the 70's.

Both photos taken at Hampstead Norris on the Ex Didcot, Newbury & Southampton railway. During the dismantling of the Didcot to Newbury
section in 1967

Swindon built Class 95 diesel hydraulic loco with Voith transmission. A more powerful shunting loco built to replace
the English Electric Type 350shunter, seen on the left. While being able to run up to 40 mph and on goods trips and
parcel trains they were never successful and had a very short life. They are only seen today, as here, on the
preserved railways. Taken at Loughborough Central in the 90's. This loco shows the original BR colour scheme.

A real workhorse. BR Class 350 English Electric diesel electric shunter. Built from the 30's and into the50's.
There were dozens of them throughout the railway system and they are stll going today. Many found use on
preserved railways, while a good number still work under privatisation. I took this shot from the driver's mess room.
at Aberdeen station just by the old footbridge from Windmill Brae to the Green in 1964. This site is now under the
Trinity Shopping Center and where you catch taxis within the station today..

A Class 350 shunter in the latter 80's. I was waiting for the Didcot North Yard control signal to take the loco to
Oxford depot for servicing. The 350's became Class 08 and 09 in the 70's.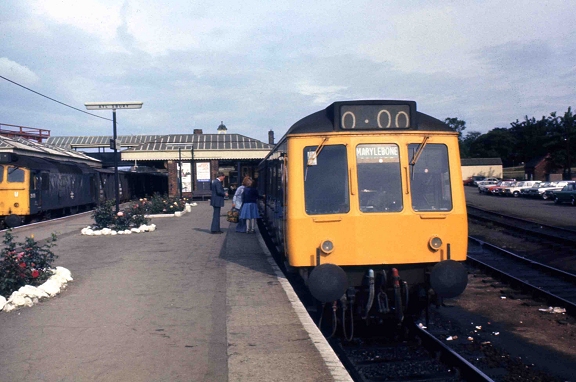 There were numerous types of Diesel Multiple Units. Above is a Class 100, which were used on the Marylebone-Aylesbury,
High Wycombe and Banbury services. They were none-corredoor stock with no toilets. They stopped all stations most
of the time and it was considered that toilets were not neccessary. Tell that to the driver when they were caught short
over the long sections! Taken at Aylesbury in 1979 while waiting to depart with the 16.10 to Marylebone. A Class 25
stands at the Up Main platform during parcel duties from Bletchley to Paddington.

On a Class 104. Taken by a colleague between Aylesbury and Wendover in 1979. These units usually ran as
four cars but worked up to 12 coaches during peak hours.

BR Class 47 diesel electric locomotive. Built by Brush of Loughborough with their own controls but a Swiss Sulzer
engine. Steam had just been done away with and brand new Class 47's took on express and heavy freight work.
The old steam uniform remained in use until the early 70's when nice blue uniforms were supplied. This was
taken at Eastleigh Goods Yard in 1966.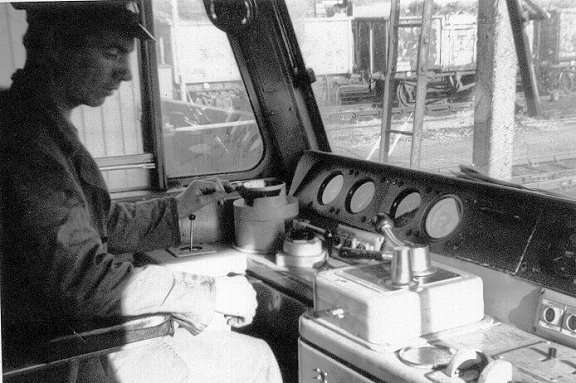 Enjoying one of earliest turns at the controls, with a careful eye kept on me by my driver. We just arrived at
Eastleigh Goods Yard in 1965. My cap still sported the Scottish Region blue BR Sauceage badge.
I kept the badge for many years but it managed to get lost.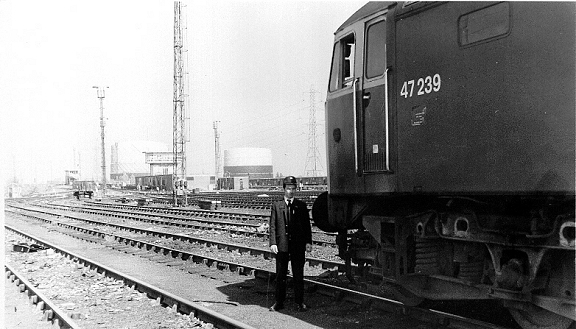 With A Class 47 Diesel Electric Locomotive. At Temple Mills hump yard, Stratford, East London in the 80's

Class 47 Control Desk.

Swindon Built BR Class 800 Diesel Hydraulic. Introduced in 1958. Later Class 42. Known as the 'Warships',
which names they carried. 2 x Man engines or 2 x Maybach engines. German locos built under licence.
I caught this double-headed pair on the Royal train while at Oxford station in 1966

BR Class 52. On a Western Region Diesel Hydraulic locomotive at Bletchley in 1973. German Maybach engines
built at Swindon under licensce. Introduced between 1961 & 1964. Powerful machines that could have pulled
a house out of the ground.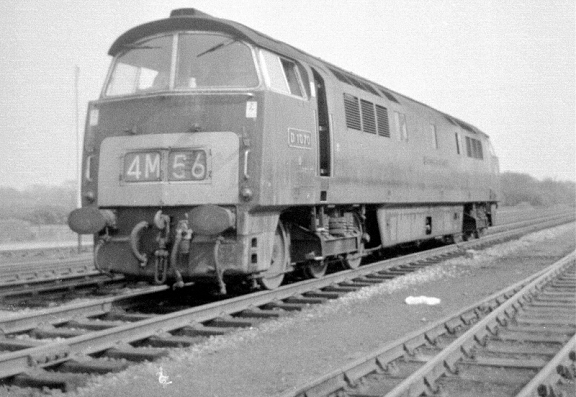 BR Western Hydraulic D 1070 at Calvert sidings in 1966. Calvert is on the old Great Central Railway and the line
north from here to Rugby Central station was being dismantled at this time. We worked a daily Cardiff to Calvert
Brick Works train and here we are resting up waiting for the loaded wagons to come out of the brick works. The
works had their own small four-wheeled diesel locos that had been converted from steam to diesel mechanical.

BR Class 35 Hymak diesel hydraulic locomotive. Built by Beyer Peacock with Maybach engines and Voith transmission.
Between 1961 & 1964. The Western Hydraulics (above) were in fact two Hymak engines placed back to back. This was
the first Hymak to be preserved and it stands in the Ex Didcot Steam Depot in the 70's, which had been taken over by
the Great Western Society.
=================================================================

BR Class 31. Built between 1957 and 1962. By Brush of Loughborough with Mirlees engines,
which were replaced in the 70's with English Electric engines. The photo above was taken at
Didcot station while on driver's route training duties, between Didcot and Bescot, near
Wolverhampton in 1980.

In charge of a Class 31 loco at Didcot Power Station in 1981

The driving desk of a BR Class 31 Diesel Electric Locomotive. The controls were by Brush of Loughborough, as for 47's.
The photo waqs taken at Didcot station while waiting to work a parcel/newspaper train up to Paddington station in the 80's
==============================================================

37114 at Didcot Sidings. 1990's.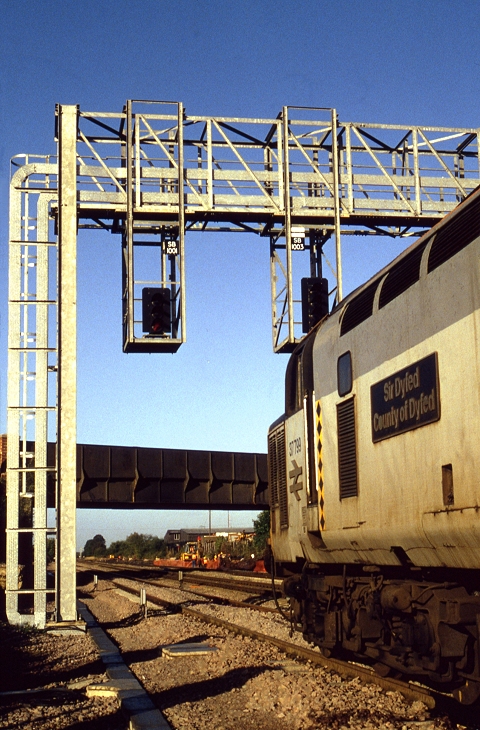 37744 'Sir Dyfed County Of Dyfed' Challow Down Loop. 2000's

37's at Hallen's Marsh Junction 1990's
==========================================================

With a BR Class 58 diesel Electric Locomotive in the 80's. Taken at Theale in Berkshire where a naming ceremony was
taking place on behalf of the Blue Circle Cement Company. Ruston-Paxman engines. The first 30 were built in Roumania.

The compressor room on the Class 58. This room contains two large compressors and the 'Triple-Pump',
which distributes cooling water, Lubricating Oil and fuel, syncronised to the locomotives performance via the engine govoner.

BR Class 58 Diesel Electric Locomotive. Introduced in 1983. Above: Seen at Didcot Power Station 1980's

Class 58 Cab. Built at Brush, Loughborough with Ruston-Paxman engines.

First BR loco to be built with separate control panals where the driver sat between the controller
and the braking controls. This made the controls very easy to reach as they were side by side.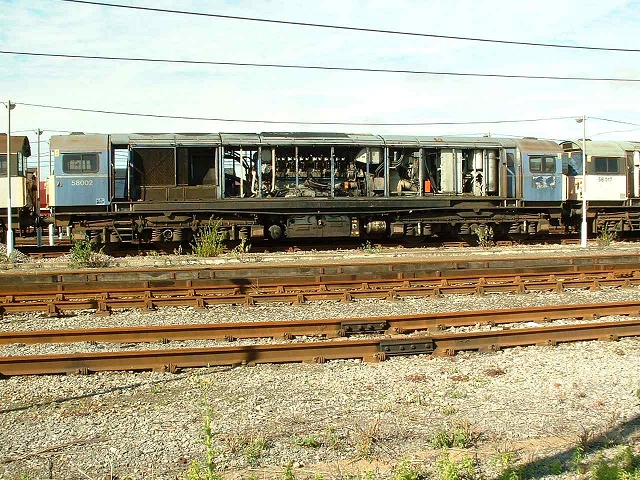 A Class 58 at Eastleigh in 2004. It may look as if it is being scrapped but was being fully refurbished to work on the French Railways.
All the locos seen here were sent over and all returned after the project involved with building new high-speed lines in France.

Showing the size of the pistons and the fuel injectors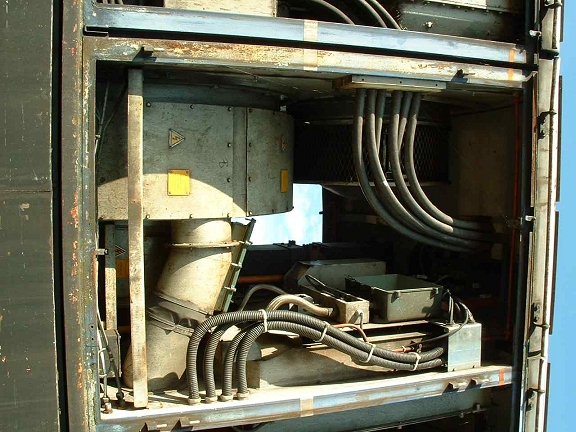 On the left is a traction motor blower plus the thick cables used to feed the traction motors.
They are coming from the main generator.

From the opposite side. From left to right are the Air compressors and distributers, Electric
control panals and the back end of the generator itself.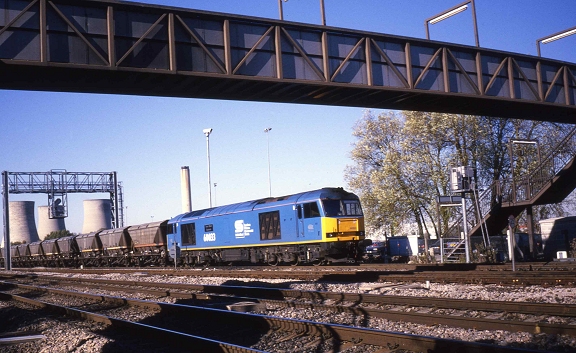 BR Class 60. Built between 1989–1993 by Brush of Loughborough with Mirlees engines @ 3,100 Horse Power.
Cab layout was as for the Class 58's. Above, 60033 stands on the Up Goods line at Didcot station waiting a
fresh crew to take the train into Didcot Power Station. I took this photo at the end of my shift.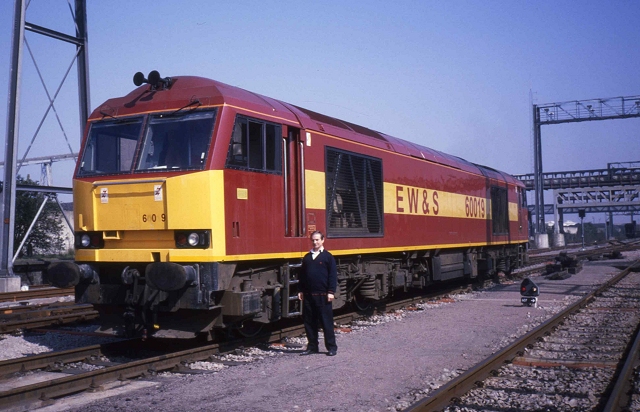 At Avonmouth Coal Concentrtation Depot in 1990. Waiting to attach to a newly loaded coal train to work to
Didcot Power Station. Along with the Class 47's the Class 60's were my favourite engines. The engine is in the new
English, Welsh & Scottish Railways (EWS) colours. The colour scheme is based upon Wisconsin Central's
colours as they bought over BR freight at privatisation. A good number of the locos were named after Scottish
mountains and had nameplates in the proper Gaidhlig spelling.

North American Class 66 Diesel electric locomotive. Waiting to enter Didcot Power Station in 2003.
Built between 1998-2008. Cab layout is virtually the same as for the Class 58's and 60's. However, they had American
driver controls. As they are rigththand drive the control panal was revered for lefthand driving,which meant that
driver had to push the control handle forward to power up when the normal was to pull the handle back.
It took a little time to adjust to the 'American Way'.

On a power station coal train. Taken while waiting for the hoppers to empty and the signal to carry on. These 3,000 tonn trains
are emptied at 0.5 mph. Normally all in one go but at busy times the hoppers get filled up and these waiting times would ocurr.
The shute seen here carries the coal from the main heap and is sent to the furnace house (on the right) where the coal is
powderised before being force-blown into the burners.

Taken at Marchwood , Hampshire on an MOD working in 2000