George Cardinal Mundelein Auditorium Theatre Organ
At The Seminary of University of St. Mary of the Lake, Mundelein, Il

Photo scanned from Post Card and supplied by Jon C. Habermaas
This 4/19 Howell-WurliTzer Organ is located in the auditorium of the seminary at University of St. Mary of the Lake in Mundelein, Il. The University web page lists the auditorium as having a fully equipped stage, projection equipment and a theatre pipe organ. The organ was originally a 14 rank Pete Howell organ when installed in the Al Carney radio studio in Chicago. The organ was acquired at the request of Cardinal Mundelein in 1934 for installation in the new seminary auditorium. The Ebony WurliTzer console is from the Chicago Theatre and was the console which rode on the orchestra's lift and was played by Jesse Crawford when performing duets with his wife Helen. The organ is now 19 ranks, 10 ranks of WurliTzer pipework, 7 ranks recently added through the addition of most of the WGN organ, recently donated to the seminary by the Tribune Company. The remaining pipework is from Kimball, Gottfried and Schopps. The organ is maintained for the seminary by CATOE and is used for student programs and is heard publicly several times a year for shows presented by CATOE and JATOE.
For any possible program information check out the Current Theatre Organ Installation Database and type in:"IL" in state block and "Mundelein" in City block and click on Search Icon.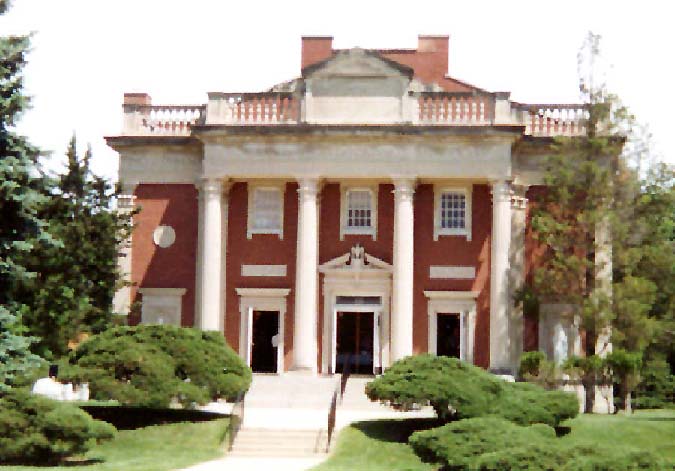 CARDINAL GEORGE MUNDELEIN MEMORIAL AUDITORIUM
University St. Mary of the Lake, Mundelein, Illinois
MUNDELEIN CHAMBER ANALYSIS
SOLO
MAIN
BRASS TRUMPET *
ORCHESTRAL OBOE
TIBIA CLAUSA
SAXAPHONE
POSTHORN
DIAPASON
VOX HUMANA*
16' CONCERT FLUTE *
KRUMET
16' VIOLIN (KIMBALL)
VIOL CELESTE (KIMBALL)
TIBIA CLAUSA*
FOUNDATION
PERCUSSION (UNEXPRESSED)
16' DIAPASON
QUINTADENA
OBOE HORN16'
CLARINET
TUBA HORN *
VIOLIN*
VIOLIN CELESTE
DEAGAN VIBRA-HARP*
XYLOPHONE
GLOCKENSPIEL
CHIMES
TAMBOURINE
CASTANETS
SNARE DRUM I
SNARE DRUM 11
BASS DRUM
WOOD BLOCK
SLEIGH BELLS
TAP CYMBAL
BRUSH CYMBAL
CRASH CYMBAL
BALWIN GRAND PIANO**
(IN ORCHESTRA PIT)
NOTES: (*) denotes the WurliTzer portion which was in the WGN studios and donated
by the Tribune Company to the seminary. Originally as 2/7 (OPUS 2025)
it was installed in the WGN studio located in the DRAKE HOTEL. When the
WGN building was built the organ was enlarged to a 3/10 by the W.W.Kimball
with 3 additional Kimball ranks. The Kimball portion of the organ was not
retained for the auditorium installation.
(**) The Baldwin Grand piano playable from the organ console was donated by
WLS-TV to the seminary.
16' Diaphone, Clarinet & Dog house are electronic pedal extensions with
speakers located in the Foundation chamber.


There's no place like home