The Wicks Pipe Organ
by Michael Laird
Here are some pictures I took of the 2-manual 19-rank Wicks pipe organ in the War Memorial Chapel at Bob Jones University in Greenville, SC. This organ is one of several instruments that I used to practice on when I was there as a student. Despite this instrument's small size, it is quite versatile, and is used in both solo and accompanimental roles.

Here is a shot of the front of the chapel, showing the organ pipes on the right and left. The console is tucked away on the right-hand side. The large painting in the center is part of a collection of religious paintings by Benjamin West that decorates the walls of the chapel. This painting, The Ascension of Our Lord, depicts the ascension of Jesus after His resurrection.

This picture shows the 2 manual console with the pipes of the Great division visible in the background. The compact console is placed on an easily moveable platform, since this chapel is used for a wide variety of musical programs. In this photo, the console has been moved to the center of the stage, in front of the large painting seen above.


Here we see the 4' Nachthorn (an open flute stop) of the Great division. This stop is located on the right-hand side, in front of one of the Pedal ranks and the Swell division chamber.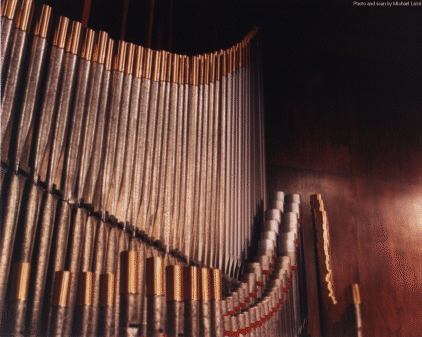 Here we see façade pipes from the Great and Pedal divisions. These are located in front of the left-hand pipe chamber.


---
Return to the pipe organ home page
"...Praise [the Lord] with stringed instruments and organs." -- Psalm 150:4
These pictures are copyright 1990 by Michael Laird; all rights reserved. Permission is granted to use these photographs for personal and non-commercial use.