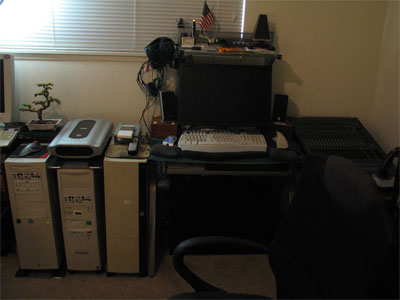 The Webmaster's Desk at Walnut Hill Productions.
Delilah, the righthand-most unit of the three computer towers pictured above, is the main data server for CoyoteNET Digital System Solutions in Ridgecrest, California. She is a massive machine with 1240GB of storage on six IDE hard drives. This computer was one year in the making, having a great deal of research devoted to the final design which is in its forth major revision and upgrade.

The original office of Walnut Hill Productions.
It started life in August of 2001 as a Windows98 computer built inside a Superpower Polaris tower, serving as the music workstation in the early days of Walnut Hill Productions. Later, it was moved to the server room at CoyoteNET Digital System Solutions to use as a file server for the machines that were serviced there. The system got an Dynamax server tower in 2003 with redundant power supplies. Today, it is once again in the possession of Walnut Hill Productions and is everything from a repository for software installers to a multimedia powerhouse for audio tracking and post-edit production in the multitrack domain as well as video streaming and editing.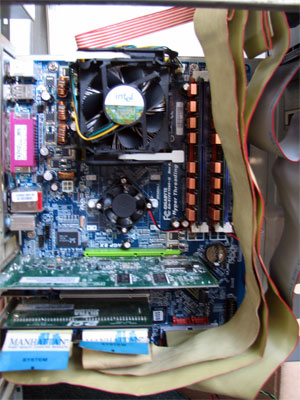 Main Data Server with the system side shroud removed.
Pictured above is the system board of this huge machine, made by Gigabyte Technologies. Note the heat sinks on the memory modules and the many drive cables running up to the six hard drives to the right of the Intel core. Delilah is operated by Richard Mogridge, the Head Nerd at CoyoteNET and Executive Producer for Walnut Hill Productions.
System Specification

The system board for the Main Data Server.
System is seven years old as of August 30, 2008
Platform: Microsoft Windows Server 2003 Enterprise Edition SP2 with Internet Explorer 7
Productivity: Sonic Foundry SoundForge6, Twelve Tones Sonar 2, Waves Platinum, Nero 6
Office suite: Micrisift Office 2003 Professional Edition, Adobe CS2, PSP7
Security: AVG 7.5 Network Edition, Diskeeper Enterprise, many debugging tools
Case: DynaMax Beige 14-Bay Full Tower on casters with lockable media door
Power: Two Hot-Swap Redundant Enerex 500-Watt ATX P4 smart supplies in cage
Fans: 3 120mm Intake, 4 80mm Exhaust, 2 40mm Bridge Coolers, 65mm CPU Cooler.
Cables: 2 36inch Manhattin ATA 133, 2 24inch Manhattin ATA 133, 12inch Manhattin Floppy.
Mother: Gigabyte Technologies P4 Titan GA-8IPE1000 based on Intel technology
Process: Intel Pentium4D 400MHz FSB 478 FPGA dual core at 3GHz
Chipset: Intel 865PERL with 4MB Award Modular BIOS and Winbond sensors
Memory: 4 Centon PC3400 1024MB DDR DIMMs with copper heatsinks
Primary Master: Western Digital 250GB WD2500JB 7200RPM ATA 133
Primary Slave: Western Digital 250GB WD2500JB 7200RPM ATA 133
Secondary Master: Toshiba 56/16/8/24X ATAPI UDMA 33 CD/DVD Burner
Secondary Slave: Sony 60/16X UDMA 33 ATAPI CD/DVD Reader
RAID Control: Silicon Logic Medley with dual ATA 133 IDE ports
RAID Primary Master: Western Digital 250GB WD2500JB 7200RPM ATA 133
RAID Primary Slave: Western Digital 250GB WD2500JB 7200RPM ATA 133
RAID Secondary Master: Seagate 120GB Barracuda 7200RPM ATA 133
RAID Secondary Slave: Seagate 120GB Barracuda 7200RPM ATA 133
SATA Primary: Unpopulated - reserved for Western Digital 1TB drive
SATA Secondary: Unpopulated - reserved for Western Digital 1TB drive
Video: ATI Radeon X1650 AGP 8X 512MB DDRAM2 with SVGA, DVI and SVHS outputs
Television: ATI PCI TVWonder SVGA with NTSC Video Capture and Dolby sound
PCI Audio: Creative Labs SoundBlaster Live! 5.1 Dolby Digital with SPDIF out
Onboard Audio: Realtek AC97 codec with 5.1 Dolby Digital and SPDIF out
Modem: 3comm 56K PCI Lucent Winmodem with voice, data and fax
LAN: Realtek onboard 1000MIP/s with self booting ROM
Display: Sony 23inch Flat Panel Widescreen LCD with a 1920x1280 maximum resolution
Speakers: Logitech Z2300 2.1 with 8inch woofer and 2.5inch satellites, 200 watts RMS
Keyboard: Microsoft Full-size Natural PS/2
Mouse: Logitech MarbleFX Trackball PS/2 or USB
Uninteruptable Power Supply: APC 1500VA Smart UPS on USB 2.0 data link to server
Size of Tower: Width=9 Inches, Height=29 Inches Depth=22 Inches
Weight of Tower=75 Pounds
Size of Battery: Width=7 Inches, Height=11 Inches Depth=15 Inches
Weight of Battery=45 Pounds
Total System Current Draw: Volts=120, Amperes=2, Watts=250
Total Runtime on Fully Charged Battery=1 Hour under Full Load
Cost of System=$6,500.00