In this section of Walnut Hill, we expound on the world of Richard Mogridge, also known as the Bone Doctor. Richard is the webmaster of the Walnut Hill Productions website.
There are seven pages to explore in this section, containing the many things this crusty old professor enjoys. Hover your mouse over the pictures above to find out what they are. Click on a thumbnail to go to the page you want to visit. Hit your backspace key to return to this page.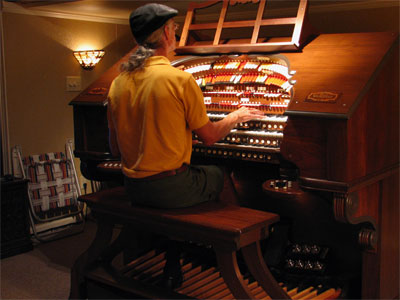 The Bone Doctor at the console of the 3/45 Mighty Walker
Digital Theatre Organ at the Doug Powers Residence.

The regular Walnut Hill Organist is Richard Mogridge, a. k. a., the Bone Doctor. He was born in Maryville, Tennessee in 1956. He grew up in Townsend, and graduated from nearby Walland High School in 1974. This was the year that he got his first electronic organ, a Conn 312 Prelude spinet instrument, which even today, still plays when he visits his father in Maryville, Tennessee.

He got his Electronic Specialist Degree from the Tennessee Institute of Electronics of Knoxville in 1975. His First Class Commercial Broadcast Licence was obtained from the Professional Academy of Broadcasting in 1976, also located in Knoxville.

Shortly after graduation, Richard went to work in the record industry as an audio engineer. In the years that followed, he got to do sessions and play many live shows with a multitude of groups doing all kinds of music. He helped build several recording studios and learned a great deal about record production. He got to travel all over the United States and Canada as well as the Cayman Islands. During these years, he wrote over 500 songs and collected over 1,000 records.

Richard came from a musical family. His father, William Edwin Mogridge, Senior, is a multi-talented musician who can sing very well and plays the banjo, fiddle, mandolin and the mountain dulcimer. Richard's eldest brother, William Edwin Mogridge, Junior, is just like Pappy in his talent, but is quite a bit more refined in modern music.

Both of these men are strong Bluegrass enthusiasts and have a ton of classic old time mountain music in their songlists.

Although Richard's mother, the late Mary Naomi Perkins Mogridge, was not a player, she loved to listen to music and would request songs for Richard to learn. She was also a great critic. This is how he got his love for the Theatre Pipe Organ. Mom loved that stuff with a passion.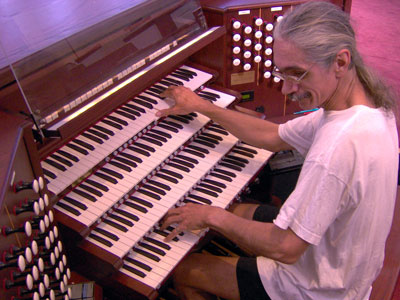 The Bone Doctor at the console of the 4/93 Rodgers/Ruffatti/Wicks
Church Pipe Organ installed at the First United Methodist Church in Clearwater, Florida.
Richard's travels took him far and wide as he persued his musical profession. After completing is education and working in the recording industry for a few years, he traveled across the country playing live shows. When his 19-year long marriage came to an end, he wound up in Clearwater, Florida where he learned a great deal about the King of Instruments first hand with his friend, Tom Hoehn.
Things went well in Florida for a year but then it was time to move again, and the Bone Doctor found himself heading west to be with a lady in northern California that he had known for four years. When things fell apart in that relationship, he headed south to the high desert to be with another great friend, Fred Willis, the founding father of Walnut Hill Productions.
Richard stayed with Fred, after relocating to Ridgecrest in February of 2007. Fred's health failed him in May and he has not been home since. The current turn of events says he probably never will. During the time Richard has been in Ridgecrest, he has made close friends with Mister Todd next door. Todd attended the Poor Man's Pipe Organ Convention in May, just before Fred fell ill. In September of 2007, Richard became roommates with Mister Todd, relocating the office of operations there as well until larger facilities can be found.
Today, the Bone Doctor is heavily involved with the Theatre Pipe Organ world as a member of the American Theatre Organ Sociaety, the webmaster of this website and the owner of three newsgroups on Yahoo!: the East Tennessee Tech Pool, Walnut Hill Virtual Theatre Pipe Organ, and the Theatre Organ Academy. He is also moderator of Theatre Organ SoundFonts.
Richard is President of the Walnut Hill Organ Club and an active member of the Ridgecrest Organ Club. He is also involved in the planning of the Ridgecrest Performing Arts Center, a facility now under developement that he hopes will one day host a Mighty WurliTzer Theatre Pipe Organ.