Uncle Milt's Pipe Organ Pizza Company
Vancouver, Washington

Click on any image for a larger version
The instrument in this building got its start as the three-manual, 13-rank Wurlitzer 235 at the Orpheum Theater in Seattle, Washington. After it was removed from the theater by a Seattle purchaser, it remained in storage for several years until it was obtained by "Uncle" Milt Kieffer for installation in his planned pizza restaurant in Vancouver.
The Organ was moved to Uncle Milt's in 1979, and as it grew to its present 18 ranks, so did its need for a larger console. Conveniently, the instrument at Portland's (Oregon) Organ Grinder Restaurant had also outgrown its original three-manual console. This console, originally from the Oriental Theatre in Portland, Oregon, was a natural choice for the organ at Uncle Milt's Pipe Organ Pizza.
Imitative voices in this instrument include: Concert Flute, Brass Trumpet, Brass Saxophone, Viol d'Orchestre and Celeste, two Vox Humanas, Salicional, Kinura, Clarinet, Orchestral Oboe, Oboe Horn, Open Diapason, Horn Diapason, two Tibias, Tuba, and English Post Horn. The 18 ranks of pipework encompass 1,362 pipes.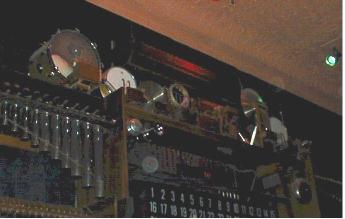 Percussion and sound effects include: Xylophone, Chimes, Chrysoglott, Glockenspiel, Piano, Harp, Marimba, Castanets, Wood Block, Tambourine, Triangle, and various horns, whistles, cymbals, and drums.
A ten-horsepower blower supplies the air that operates all departments of the organ.
The organ is played daily for restaurant patrons, and has been featured in many concerts by both local and visiting theatre organists. Pictured here is Lew Williams in concert on 9 May 1998.