Gary Bieck's "Wurlygrin"
Gary is shown here at the Wurlitzer console. This particular console was originally installed in the Sheboygan Theatre, Sheboygan, WI. Just barely visible behind the console is the roll player which Gary built from an old Player Piano mechanism.
The Toy Counter is mounted in a small recessed area above and behind the console. Just below it, the chrysoglott is mounted to the wall.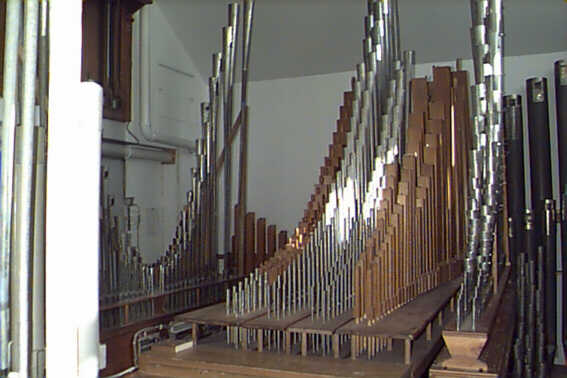 Most of the pipework is Wangerin, with some Wurlitzer and Barton ranks as well. The Shades can be seen in the upper left hand corner.
The Chamber is quite spacious, and everything is easily accessible for easy maintainence.
The pipework is displayed behind the music room window, the player piano to the right plays from the console. The opening for the shades is above the window.
---
Please email Gary Bieck with questions and comments about the installation.
This page created by Kurt Schlieter and last updated May 8, 1999
There's No Place Like Home
This page brought to you by:
VintageHammond.Com - We Buy-Sell-Trade Vintage Hammond Organs and Roll or Kari Organ/Vending Machine Moving Dollies Order Roll or Kari Dollies Here