Wurlitzer Organ Trust of Auckland
Hollywood Cinema, Avondale, Auckland
New Zealand
Pops On Pipes Concert Reviews
The Hollywood Wurlitzer pipe organ
Celebrates 25 years with UK Organist Robert Wolfe
Sunday November 4, 2007
Review from "Pipes & Percussion" – Newsletter for the "Friends of the Wurlitzer".


          WOLFE on WURLITZER – MEMORIES OF A GREAT SHOW!
It was the Trust's greatest desire that the organ's 25th Anniversary concert be "entertaining and memorable" – and I'm sure you will agree it was certainly that and a whole lot more!  We had a sell out show to welcome Robert – the only empty seats had been for invited guests who did not show-up, sadly we could have sold these to the handful of door sales who we had to turn away. 
Reflecting on the event, I penned the following for Robert's Fan Club Newsletter…..
"Late in 2006, the Trust began brain-storming plans for the celebration of the organ's 25th year at the Hollywood Cinema, but it seemed we all had one name in our minds… wouldn't it be great to have Robert Wolfe back again, to really "make it a party!!"
Regarded as one of the most popular organists to entertain at the Hollywood, we all recalled the dramatic response to Robert's first tour in 1989, his return in 1990 and again in 1992.  After a few phone calls and emails with Robert's Manager David Cates, the wheels were set in motion, and with a total cost of NZ$9500 to put the show on, the Trust had some earnest fund-raising to do. 
The Avondale Community Board of Auckland City was quick to respond with a grant of NZD$3000 and one of the local businesses, Sibun's Funeral Directors & Advisors who have provided financial support for several of our "big ticket" shows, also came up with a grant to help the cause.  However, we really had little to fear, for the Auckland public had not forgotten the golden haired youngster who back in 1989 put the WOW factor into theatre organ entertainment with a style hitherto unseen in this country before.  And boy, did they love him for it!
By the concert day, Sunday November 4, 2007, there were only 15 seats left and these were quickly snapped up by the early-birds who waited patiently for opening time.
For Robert it was a lightning visit, he and David Cates flew in on the Saturday afternoon, the show was on Sunday, and they flew out back home on the Monday!
I could hardly contain myself when we got Robert to the theatre late Saturday afternoon so he could reacquaint himself with the Hollywood Wurli.  Within a few short minutes those magic sounds, so very much "Robert", were tumbling out of the organ chambers and I admit at a couple of stages to feeling my eyes well up at the thought of this long-held dream of mine to get Robert Wolfe back to play the refurbished Wurlitzer, finally being realised.
On Sunday at to a "FULL HOUSE", the console rose very aptly to the strains of That's Entertainment - a perfect opener to an afternoon FULL of entertainment. 
We were treated to an ever-popular March Medley, the music of Ivor Novello and Ketelby, Highland Cathedral, Wind Beneath my Wings…… to name a few. These were interspersed with Quickstep medleys all given that wonderful Robert Wolfe treatment!
Oh! What a joy for me to see and hear Robert actually enjoying his time at the Hollywood Wurlitzer, it responding to everything he asked of it – a far cry from his previous visits where he battled with the instrument's inherent failings in a bid to make music on it.
Interval saw David Cates "ravaged" by eager buyers of the selection of CDs and DVDs that were brought along on the trip.  It was amazing to hear stories from some of our audience, who had been phoned up by relatives and friends in Britain, who having seen Robert in his recent shows where he mentioned his forthcoming trip to NZ – told their NZ friends that they must NOT miss seeing Robert at the Hollywood, and so here they were – and loving it!
         (Photo courtesy FOTW member Mrs Vi Duff)
<![if !vml]>
<![endif]>The second half just flew by and included some video clips which Robert accompanied, such as scenes from the movie The Dambusters with Robert playing that inspiring theme! 
Sadly, after over two hours of uplifting music and entertainment Robert brought the program to a dramatic end with his legendary Storm at Sea complete with video footage of a real whopper of a storm!  This had never been tried at the Hollywood before, and the organ gave a phenomenal account of itself through the "height of the storm" and sang its heart out at the conclusion with Eternal Father Strong to Save. 
Once the spectacular ovation from the audience had settled down, Robert gave his thanks to all concerned in bringing the show together, and concluded with For all we know, we may never meet again! …and then of course, Happy Birthday and Congratulations to the Hollywood Wurlitzer for 25 glorious years!
I probably do not need to tell you what came next – but yes – it was the fiery Tiger Rag!  For Robert not to play this, his party piece, at a show, it would be like a Simon & Garfunkel concert without Bridge Over Troubled Water - there would be a riot!!
But not to disappoint, our audience were whipped into frenzy and I never thought Robert could race up and down those keyboards as fast as he did on this one, until finally he took the console down very appropriately to Beside the Seaside and Here's to the Next Time!
Then….. it was all over!  A year's planning gone in as many hours – but oh what memories we have of a truly joyous celebration of a great achievement and of musical entertainment.
It would be true to say that the last ten or so years have been the most stable and secure for the ex-Regent Wurlitzer, we can only hope and pray that she sees 50 years at the Hollywood – and what a celebration THAT will be!!"
---
We also received email messages of congratulations from many of you; the one below from Graham McBain is typical of the positive effect Robert's show had on all of us….
"Congratulations to you and all your associates on a spectacular concert on Sunday - Robert Wolfe seemed in fine form with flying fingers and hands moving in a blur to produce great music in a style that is surely unique (I don't know how you describe that "crossed-leg" pedal technique)! Certainly I have never heard some of the sounds that he coaxed out of the Wurlitzer and his absolute mastery of the instrument was plain for all to see.
I was struck also by the charm of his introductions and by his pleasantness when I spoke to him at the intermission - so much talent wrapped up in such a nice package, and humble as well!"                 ____________________________
<![if !vml]>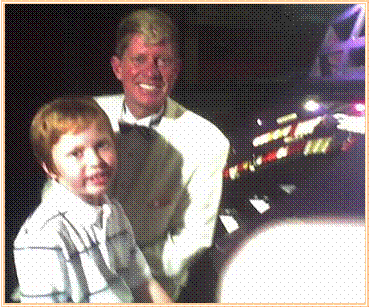 <![endif]>The Trust is also thrilled to see younger people attending our shows, during the last year, young 9 year old Campbell Crawford and his family have joined our "Friends of the Wurlitzer". 
Campbell has really developed a love for the Wurlitzer, attending all the shows presented during the latter part of the year and it is so nice to note how our recent artists, Donna Parker and Robert Wolfe, have been so encouraging of Campbell's interest.
Photo: The Crawford Family
---
| Return to the WOTA Homepage |