The story begins back in the late 1920s, just as the heyday of the silent motion picture was ending. Despite the clumsiness of the Vitaphone system, which utilized 33.3 r.p.m. records synchronized with film motion, Al Jolson's 1927 release The Jazz Singer was symbolic of an era that ended abruptly.


Within the few years following the film's release, movie theaters across the country were quickly becoming wired for sound. Obviously no longer a fad, theaters quickly fired their orchestras, and dramatically reduced their stage crews as the mighty pipe organs that had enhanced the moods depicted on the screen were suddenly found to be superfluous. Numerous theaters stopped making payments on their already working organs, and the same crews that had spent years installing these instruments were suddenly being told to repossess them. Those that remained playing did so only for intermissions or special occasions.

Most of the 7,000 instruments built to accompany silent films eventually became the unwilling victims of an unhappy fate. Many of the unlucky ones went down with the theaters themselves, as they too, became the victims of changing times, changing tastes, or changing neighborhoods. Some organs were stripped of their metal during the emergency recycling efforts of World War II to support domestic weapons production. Others were merely thrown out with the trash, as the space they occupied was deemed more valuable than the instruments themselves. Many of those that survived into more modern times were picked clean of their more valuable parts, while the remainder were left to an uncertain, but usually unpleasant fate. A large number were simply forgotten in their lofts, and were sadly ruined over time by unknown, unrepaired roof leaks.


The lucky ones survived with varying degrees of success. During the Great Depression, many churches were only too happy to accept donation of these low-mileage pipe organs for their own type of use, despite the fundamental incongruity of a theatrically voiced cinema organ in a church. One can only imagine that it was justified as a symbol of a triumph of good over evil, but whatever the reason, many organs from that era did survive and remain playing today in churches across the land.

A notable group of organs was lucky enough to merely slumber peacefully within the walls of the theaters that survived, awaiting removal to an appreciative new home, or, in the rarest, but best of all cases, a second life exactly where their first had taken place, after a well-deserved rest.

Posing amidst the growing rubble from demolition of New York City's famed Roxy Theater, actress Gloria Swanson wistfully remembers happier times.

A rarely documented chapter of this unique type of instrument is that of the radio broadcast organ. While not great in number, their impact cannot be dismissed when one considers the many thousands, often millions of people who, in an era when radio was king, could be listening to any given broadcast. Bill Bunch, of Balcom & Vaughn Organ Builders, is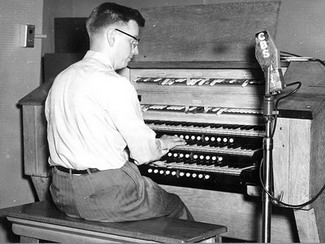 shown here at the CBS Radio Studio organ. In the 1920s and early '30s, virtually every major radio station in the country made use of a studio pipe organ for radio dramas, dramatic readings, or the solo performance.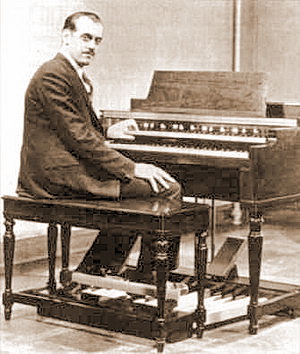 That is, until Laurens Hammond introduced his Model A electric organ in 1935. It created all sorts of new sonic possibilities, was virtually maintenance-free, and best of all for tiny radio stations, could be made portable and moved from studio to studio or easily into storage. Once again, sad news for the pipe organs which, more often than not, suffered a similar fate as their siblings in movie theaters. However, there was a small, but significant group of these pipe organs that ironically provided music for, of all things, the film studios, who used them primarily for scoring and recording purposes. Up until very recently, these film studio organs were often used as background music for films, even sometimes with an orchestra. That era has sadly ended. Synthesizers and pianos are the accompaniment instruments of choice for film makers these days, with occasional use of a real symphony orchestra in major films.

The Rudolph Wurlitzer Company was an American company started in Cincinnati, Ohio in 1853 by German immigrant and business man Rudolph Wurlitzer. The company originally imported stringed, woodwind, and brass instruments from Germany for resale in the United States.

Wurlitzer's initial success was due largely to sales of musical instruments to the U.S. military. In 1880 the company began manufacturing pianos. Eventually the company relocated to a larger plant site in North Tonawanda, New York, near Buffalo, and started making fairground and band organs, orchestrions, and nickelodeons. Wurlitzer introduced their first theater pipe organ in 1910.


The Wurlitzer Company, with its imposing office tower rising above the main entrance, dominated the theater organ scene, selling a total of some 2,300 organs during the period between 1914 and 1942, representing nearly 40% of the overall market.





During the peak of their production in 1926, an average of one pipe organ per day was produced, a truly remarkable achievement in productivity. The purpose of the "unit orchestras" as they were called, was to emulate orchestral instruments, percussions and traps of a real theater orchestra.

Philosophically, this concept differed greatly from that of the traditional church organ, which depends on
a group of ensemble-based voices that can best be described as tones and balances developed over the centuries through trial and error. Their job is to accompany choirs, congregational singing and occasional solos. Consequently few voices are shared between organs. In terms of their ability to accompany a silent movie, the scope of the traditional church organ would be extremely limited.

It was in March 1929 that Wurlitzer built and shipped their Opus 2035 to the Famous Players-Lasky Studio on the lot of Paramount Pictures in Hollywood. The three-manual, nineteen-rank instrument was installed on the scoring sound stage by the revered James H. Nuttall, who was also responsible for its design and tonal regulation. Unfortunately, it saw only intermittent use before being carefully removed, crated, and placed into storage in 1931. It remained there for eleven years.

In 1942, during WWII, the Wurlitzer was sold to San Francisco radio station KGO where it was installed in their new radio studio by San Francisco organ man Charlie Hershman.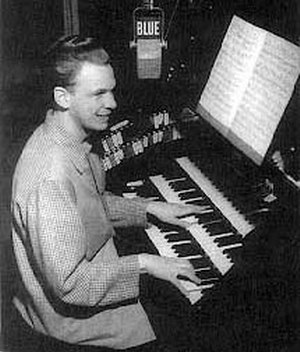 Many prominent organists performed on the instrument during its stay in the Bay Area, including the legendary George Wright, shown here while serving as staff organist at KGO, now KNBC.

It is believed that the Solo String pipes were substituted during this period, but it is unclear whether it was the work of George Wright during his tenure, or Nuttall when the organ was installed.

After years of service, the instrument fell into disuse and was removed in 1952 to make room for a new television studio. It was at this time that Richard Simonton acquired this organ.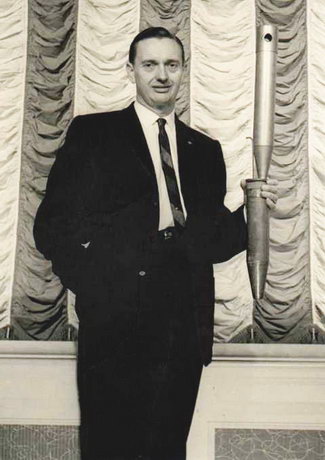 Richard C. "Dick" Simonton (right) is perhaps most well-known and remembered for fostering the creation of the American Association of Theater Organ Enthusiasts in 1955, now the American Theater Organ Society (ATOS). He had been bitten by the theater organ bug in his youth, while growing up in the Seattle area.

While still quite young, his interest led to employment with Balcom & Vaughn, a well-known regional organ builder, and his intense curiosity in pipe organs eventually led him to the field of electronics.

Although Simonton had the distinction of purchasing what is acknowledged to be the last Kimball pipe organ to leave the factory in 1945, it was a church-style instrument, and he still yearned for the sound he loved most, the sound of the theater pipe organ. Dick is pictured here holding the 16' C pipe from the rare four rank "Wurlitzer Vox Chorus" (below), one of only four known to survive, installed originally in Seattle's Coliseum Theater.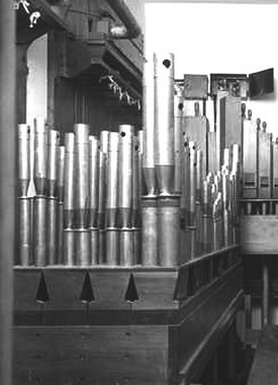 Simonton started to research what it would take to install a successful theater instrument in a private residence, and had a new house designed and built to hold one. The process of design and construction of the organ began in 1953, and it was at this time that Wurlitzer Opus 2035, the KNBC instrument, was acquired. Almost immediately, additions to the organ began, coming primarily from Opus 1732, a 3-manual, 8-rank Wurlitzer (3/8) that had been installed at Treasure Island, San Francisco, for the Pacific Exposition of 1939-40.

There were other additions that came most notably from two other Wurlitzers, Opus 170 in the Coliseum Theater in Seattle, and Opus 186 in the Million-Dollar Theater in Los Angeles. Still further additions to the organ included outstanding examples of pipework by other builders, including Hope-Jones, Marr & Colton, Robert-Morton and E.M. Skinner. Simonton was fortunate that he was able to acquire additional voices for the instrument when he did, at a time when such pipework was still readily available, and at reasonable prices. It would be very difficult to do this again today.


Once again, this charmed instrument attracted the organ luminaries. Two famous organists collaborated on the design of the instrument. Gordon Kibbee chose the pipe voices that would be in the organ and drew up the original Specification. However, Kibbee's stop list was too extensive to physically fit on the console, Simonton called in the celebrated Jesse Crawford to fine-tune the Specification that was ultimately used. Crawford directed some of the organ's tonal regulation, but it was Kibbee who made most of the important tonal decisions.


In the pipe chamber, tonal matters were first attended to by former Wurlitzer tonal finisher Ross Evans, who by then had retired and was living in Florida. Toward the end of this process, Crawford happened by to check progress and played it briefly. Among other concerns, both Crawford and Kibbee felt the tremolos were not adjusted properly, so they set about to utilize the skillful talents of noted voicer and organ technician Henry Pope, who was not easily persuaded to do the work. Pope, by this time, was comfortably employed full-time as a piano and organ technician at NBC. After a period of wooing, Pope reluctantly agreed to come in on weekends. Reportedly, there was a bit of friction between Crawford and Pope during this process. Crawford wanted to finish the instrument and start recording, while Pope, with the deliberate sense of a craftsman, wanted to take his time.


Ironically, Pope performed this same task on the recording organ belonging to the famous theater organist Buddy Cole, who also resided in North Hollywood. The youthful Buddy Cole is pictured here.

Gordon Kibbee remained involved with the Simonton Wurlitzer for the entire forty-years that the instrument resided in the "Bijou Theater" located on the lower level of the Simonton residence, and later made other desired alterations and modifications. The completed organ was a four-manual instrument controlling thirty-six ranks of pipes, which, in spite of tight quarters, delivered a refined theater sound in the environs of the Bijou.

The "Simonton Wurlitzer Grande" began speaking in 1960, and after an extended period of refinement, Jesse Crawford began recording on it at some point in 1962. Just weeks before he was to have come out of retirement to play the opening concert for the first national convention of the ATOS in 1963, Jesse Crawford suddenly died of a heart attack. In total, Crawford recorded and released two LPs on the Bijou Wurlitzer, "In A Monastery Garden" and "Golden Opera Favorites," demonstrating to all that he was still eminently capable of producing inspiring, exciting, inventive music, right to the end. At the time of his death, another LP was in the works featuring Crawford at the Bijou to be titled "Roses of Picardy." The LP recording was never issued, but presumably, the tapes lay dormant in the Decca archives.

Others who recorded the Bijou Wurlitzer over the years to follow included Gaylord Carter and Chris Elliott. Bob Hunter recorded one album at the Bijou for the Pipe Organ Plus series, adding pipe organ to a 54-piece orchestra conducted by Monty Kelly, and recorded previously in a Hollywood studio. Hunter's album was never released in the United States, but it was published in England on the Marble Arch label as "Passport to Romance". Incidentally, Hunter's real name was used, not Georges Montalba, or one of the several other aliases which Hunter occasionally used.

For several years, Dick Simonton's Bijou was the theater organ and silent film mecca of the Los Angeles area. The Saturday Night Group lasted for at least 15 years during Simonton's lifetime, and casually for 5 years before that. Saturday evening, there would be a concert or film, or both, presented at the Simonton home, always free of charge, and open to organ and film aficionados.


The Bijou Theater was often filled to its capacity of 63 guests. Gordon Kibbee usually presided over the big Wurlitzer which was well maintained by Stephen Ross. Occasionally, other area organists would take the bench for at least part of these semi-formal events, including Gaylord Carter, Korla Pandit and Buddy Cole. Since Simonton and his children had connections to the major studios, it was not unusual for a film that had not been shown in decades to be presented at the home theater. Noted film stars from another age, including Olivia DeHaviland and Harold Lloyd would attend, as well as directors such as King Vidor and several technical veterans.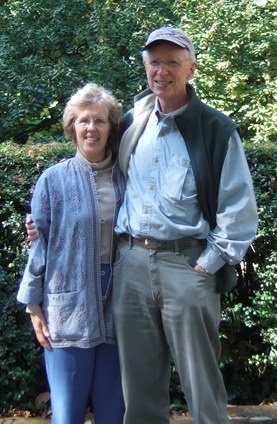 In 1993, Mildred and Jack Hardman of Great Falls, Virginia, who had been seeking an instrument for their newly constructed home studio, bought and removed the famed organ. It would undergo a thorough restoration and be installed in the purpose built studio carefully designed to enhance the instrument's sound with the natural acoustical reverberation, so essential to organ music.

The three years prior to the purchase of the Bijou Wurlitzer had been fraught with frustration for the Hardmans. Unable to find a suitable instrument, Jack began to think that he would have to assemble an organ from orphaned parts. To this end, he had already acquired an original Wurlitzer four-manual console from Jasper Sanfilippo of Barrington Hills, Illinois, which had controlled the first organ installed in the music room of Jasper's home. This console had originally seen use in the Riviera Theater in Omaha, Nebraska, controlling Wurlitzer Opus 1571. It had been restored several years prior by pizza mogul Bill Brown of Phoenix, Arizona, for his "Organ Stop Pizza" restaurant in Tucson.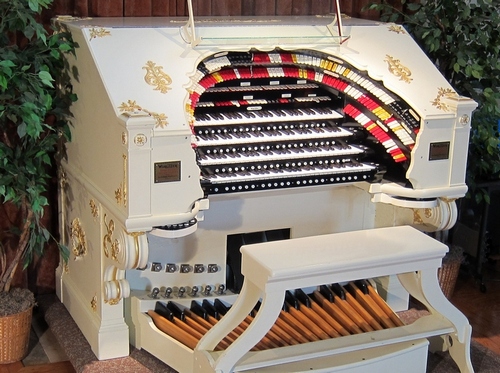 Four manual consoles are rare and special. Of the roughly 2300 organs Wurlitzer built, only about 93 theater organs were equipped with four manual consoles. The first was for Opus 63, in 1915, for the Isis Theater in Denver, and the last three were shipped as a package to Rockefeller Center in New York City in 1932; one for Opus 2178, the Centre Theater, and for their last and largest, the famous twin consoles at the famous Radio City Music Hall, Opus 2179, controlling fifty-eight ranks, which are still regularly played for the public today.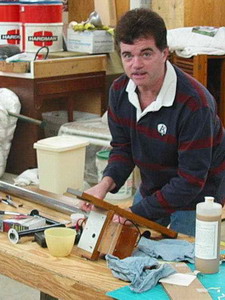 Under the direction of Ohio organ expert Clark Wilson, the former Simonton Wurlitzer Grande underwent a total restoration in Great Falls, VA, following the slightly revised Specification and Console Stop List devised by concert theater organist Simon
Gledhill, London. The instrument has since taken on its new life as the Hardman Studio Wurlitzer. The organ as installed has been altered with the addition of a few new voices and careful substitution of others. Among them was a Tuba Mirabilis, and a Viol d'Orchestre, along with a matching Viol Celeste from Wurlitzer Opus 2101, originally installed in Boston's Metropolitan Theater in 1930. Vintage Wurlitzer Solo Strings were acquired from two different sources to replace the redundant Morton Salicional pipes. While the Bijou could not contain the lowest octave of the 16' Tibia Clausa, a set was purchased from Charles Kegg in Ohio for use in Great Falls, where there is ample wind and space, and a need for the powerful bass pipes. The Quintadena Celeste was replaced by a more useful Concert Flute Celeste, and a replacement for the missing Chrysoglott metal bar harp was located in California.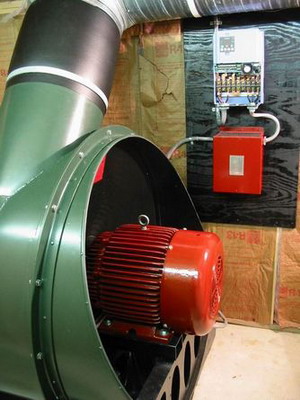 The original 15 hp high speed Spencer blower has been replaced by a 3 stage low speed 25 hp machine needed to provide the higher static wind pressure and volume demands of Simon Gledhill's Specification for the instrument. As it stands, the Hardman Studio Wurlitzer utilizes a gold leaf decorated painted four-manual console controlling thirty-eight ranks of pipes, making it similar in size to the famous New York Paramount and Fox Theater Wurlitzers of Brooklyn, Detroit, St. Louis and San Francisco.

Noted theater organ experts Clark Wilson, Simon Gledhill, John Struve, Harold Wright, Don Phipps, Brad McClincy, Ken Crome, Brant Duddy, and Allen Miller have been involved at different times in the design, restoration, installation and tonal finishing processes of the Hardman Studio Wurlitzer. This final and very time consuming tonal finishing process was accomplished by Clark Wilson Associates. It is the metaphoric icing on the cake for any pipe organ. Each and every pipe was carefully evaluated and adjusted where necessary to insure correct tone quality, volume, speech, speed, and ultimately tuning.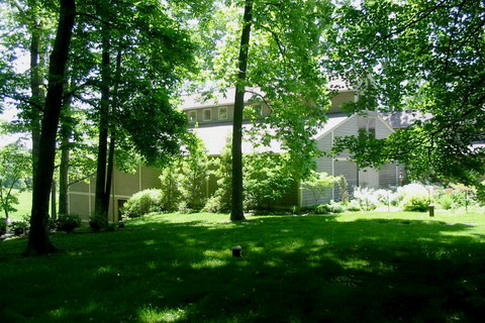 Today, this Wurlitzer organ's charmed life moves forward as the tradition of musical luminaries and unique circumstances continues in the Hardman home studio for others to appreciate and enjoy.

A growing list of extraordinary concert organists is bringing joy and wonder to all who experience this beautiful instrument in Great Falls.

What follows is a narrated pictorial review of the removal, relocation, restoration, and installation of this Wurlitzer theater organ, with special attention to the many people who helped us complete the project. We particularly wish to recognize those individuals with our sincere thanks for their help making it all happen. Yes, it was a lot of work, but also a lot of fun!



The Hardmans wish to thank Scott Smith of Lansing, MI, for researching and writing this history of their Wurlitzer Organ