Arlington Theatre, Santa Barbara, California
4/27 Robert-Morton
This is the console of the great 4 manual, 27 rank Robert-Morton Theatre Pipe Organ of the Arlington Theatre, Santa Barbara, CA

The organ is originally from Loew's Jersey City. It is one of several called "Wonder Mortons", an allusion to a group of "wonder theatres" but erroneously attributed to the attributes of the organs, which were indeed impressive for their 23 ranks. This series of Morton organs are probably among the most Wurlitzer-like in their selection of ranks and unification. In fact, the stop layout of this one (of course quite modified from the original, and controled by Devtronix) is very easy to deal with. The console recently underwent some extensive work to get rid of wind leaks and to fit the straight rail with new Syndynes and 8 more tabs. Also, new photointerrupters were used for the top rail to replace contacts, and new wiring was installed.

This organ will be presented for the first Encore day of the ATOS National convention in Pasadena Ca (July 5th, open to the public, I believe).

The chambers are placed on the side walls of the long and deep room, entirely in the audience area (except for the unenclosed "percussion shelf" which is at procenium left).

There are two main chambers, Main 1 and Main 2 with Main 2 being the furthest back into the auditorium (about 1/3 of the length back). The swell shades open towards the rear of the auditorium, so the sound at the console is somewhat indirect.

SPECIFICATIONS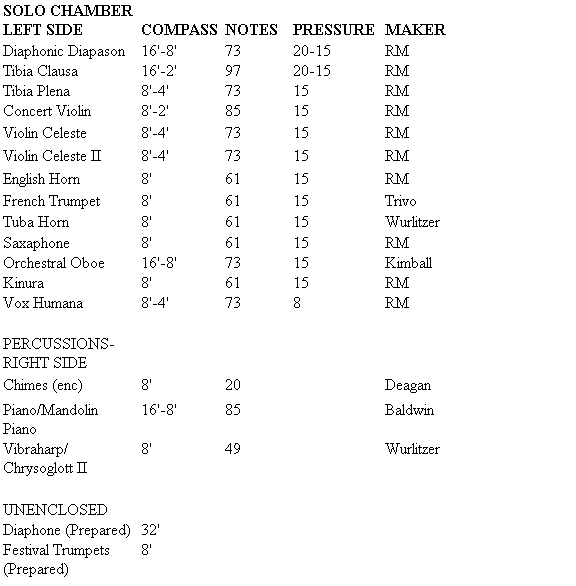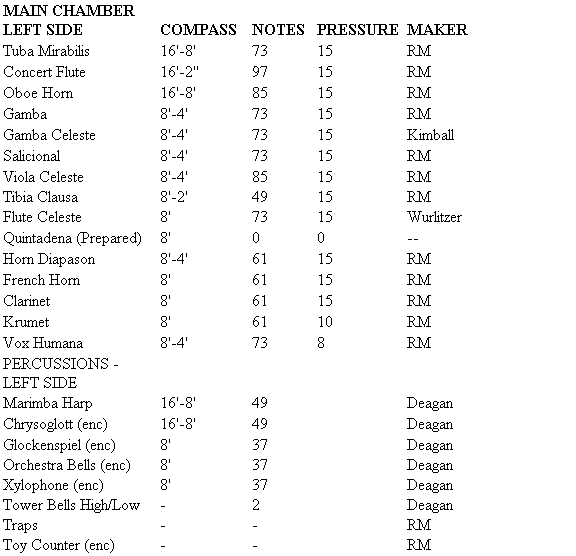 ---
General Information:
Blower:25 HP Spencer Orgoblo
Tremulants: 14 (RM and Wurlitzer)
Reservoirs: 16 (RM and Wurlitzer)
Stops and Controls: 316
Relay: Devtronix Multi-Action
Pipe Count: Solo - 925 pipes, Main - 1022, Total: 1947
---
Tidbits
- The blower is located in the back of the auditorium, and there is 420' of windline to the chambers.
- There is one commercial recording available:
"Renaissance", Scott Foppiano, Organist. Recorded in May of 1996. Executive producers: SBTOS and Scott Foppiano, Producer: Terry Cutshall Available from the Santa Barbara Theatre Organ Society, P.O. Box 60237, Santa Barbara, CA, 93160
---
You are visitor #
Since February 29, 1996

Thanks to Corey Edelman for supplying the picture and information for this organ and to George R. Ferrand, the Photographer.

---
---
Put your Theatre, Pipe or Electronic Organ on line! Email the Webmaster - Jerrell Kautz
---
Return to the Theatre Organ Home Page
This page brought to you by:
VintageHammond.Com - We Buy-Sell-Trade Vintage Hammond Organs
TheatreOrgans.com operates KEZL-FM Culbertson, NE A Non Profit Full Powered Radio Station