The footprint of Jack Darr's living room isn't huge (23 x 26), but the cathedral ceiling peaks at 24 ft making quite alot of air space to fill with sound; speaker enclosures are across the room from each other with wonderful separation of Solo and Main, with a third enclosure for pedal and percussion. 6 Main speakers are at a height of 20-24 ft, 6 Solo speakers are at heights from 12-21 ft, and 4 speakers for pedal-percussion at 14 ft high......nothing in your face!! Playing loud stops is just as wonderful as playing soft stops....Lyn Larsen spent 4-5 hours doing his magic with voicing & balancing, plus setting all trems to perfection!
Club Members Milling About
Forget the club business, Let's Play!
LATOS Pres. Joe McFarland taking a turn
Surprise Party Guest - Lyn
Jack, Lyn, Henry

THE FINAL CONCERT OF THE WURLITZER WEEKEND
The finale of the So Calif Wurlitzer Weekend was the Orange County Theatre Organ Society event at Plummer Auditorium in Fullerton, with Lyn Larsen and Jonas Nordwall swapping back and forth between the 4/36 Wurlitzer and the 4/33 "George Wright Signature" Allen Renaissance organ. The Allen was Jack Darr's personal instrument, loaned for the occasion, with all external audio provided by Henry Hunt of Church Organs, Inc. of Pasadena, who along with Lyn and Jonas did a fantastic job of voicing the GW4 to the theatre and to the Wurlitzer. Many thanks go to OCTOS Pres Don Near and chief technician Bob Trousdale for their planning, personal involvement, and friendly coordination of this important event. The two organs were so well matched that it required close scrutiny as to which artist was playing to know which instrument the sound was coming from - even the 'pipe-bigots' labeled the performance "INCREDIBLE" !!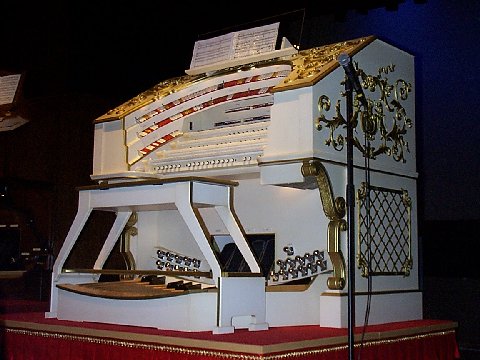 Allen GW4 on stage, Plummer Auditorium
4/36 Wurlitzer on stage, Plummer Auditorium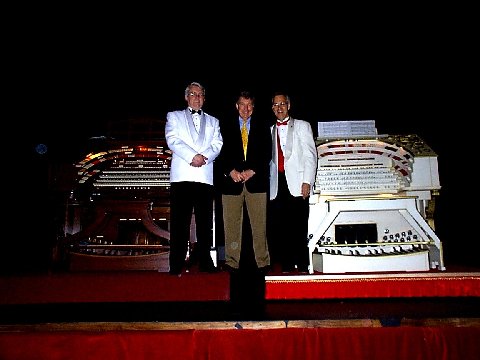 Jonas Nordwall, Henry Hunt, Lyn Larsen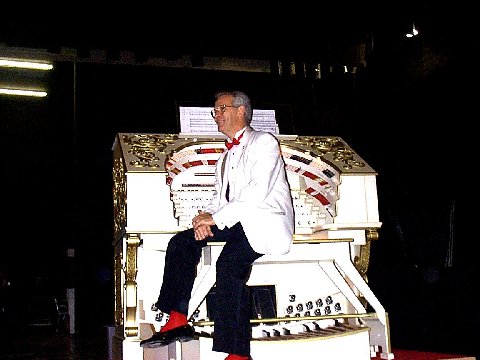 Lyn enjoying kudos after a Fabulous Concert

Visit the Allen Organ Company homepage for details on the organ
Earlier Article on the White & Gold GW4