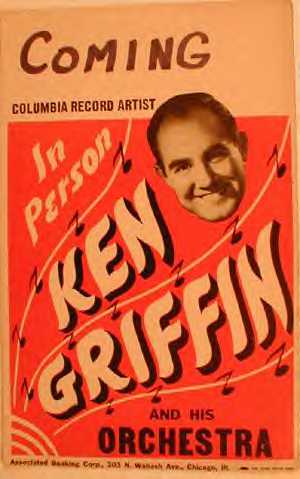 Johnny Costa & Joe Negri News
January 2004:
Back in December I came across a poster for one of Ken's shows, for sale on Ebay.com and was quite intrigued by the statement "Ken Griffin and his orchestra". We know that Ken often played along with other artists but I had never heard of him actually having 'an orchestra'! I put this to Sally and she stated that the poster was a bit 'overstated' and that in the winter months Ken often traveled as a Trio. She believes that the two other artists may well have been Johnny Costa and Joe Negri, who appeared on the 67 Melody Lane film series. I learned from Bob Potts that Johnny Costa went on to be quite famous in the States and was musical director for a long running children's TV show "Mister Roger's Neighbourhood".
I found Johnny on a Google search and sadly Johnny died on the 11th of October 1996. Below I have typed the web address of this web page. You will find it interesting to look through and learn much about Johnny.

There is a picture from around 1985. The caption states Johnny Costa 1922-1996. I couldn't be sure that it was he, but in the Mister Rogers' Neighbourhood page there is a photo of Johnny's 1950's LP that definitely shows this to be the correct Johnny Costa. It is very sad to learn that he has passed on.

The LP "The Amazing Johnny Costa was remastered on CD in 1989 but doesn't appear to be available at the moment.

Johnny recorded four CD's for Chiaroscuro before his death and one Christmas CD on a private label, paid for by Len Meledandri, who played Prince Tuesday on Mister. Roger's Neighbourhood.
http://johnnycosta.com/welcome.htm Mister Rogers' Neighborhood

N.B. 20. 06. 04. Above text corrected and updated with thanks for information from Hugh Glenn, the webmaster of Johnny's web site

(Don't forget to use the back arrow to return to this web site).
I

couldn't find anything on Joe Neglia, but then that isn't surprising seeing that we have had the wrong surname all along!!! I was looking through Johnny's web pages and noticed a name Joe Negri and quickly realised that we had the wrong surname. I did another search on Google and found that Joe has a web site up and running. Joe has been extremely busy over the years and you will find many contacts on a Google.com search.

You can find Joe's web site at:

http://www.joenegri.com
It was a real uplift to find that Joe was still around and looking quite spritely. What a great find, both gentlemen on the same day, after quite a long search. I couldn't find any means, on his web site, of making contact with Joe but perhaps we can do so via the webmaster of Johnny's dedication web site. I shall keep you informed of anything that comes from it. It would be interesting to hear from him and possibly learn of the period that he and Johnny spent with Ken on his shows..
Both Johnny and Joe appeared on the 'Mister Rogers' TV shows and many of you may be surprised that you have been seeing the two young artists on 67 Melody Lane, all these years and not have noticed the connection. We didn't get this programme in the U.K. so I'm afraid it is very much an American experience.
I believe that in spite of Mr. Rogers having passed on, these shows are still repeated regularly on American TV. Johnny was mainly the Musical Director but did play character parts and Joe ran the Music Shop.
03.02.04:
Joe Negri
You can imagine my pleasure on receiving an e-mail from Joe Negri today. There is the disappointment that Joe is unable to help us much in regard to Ken and the 67 Melody Lane series but hearing from him helps bring our search to a conclusion and what Joe has to say is well worthwhile as it adds to how things were at that time. Joe writes:
Hello,

Wow! Was that a " BLAST FROM THE PAST"

It was such a long time ago - but ,I can remember doing those programs.
Both Johnny and I were hired as 'freelance musicians" I remember that it
was quite a nice " gig" . We did a bunch of shows. I don't recall the exact
number , but, it was quite a few.
So, monetarily speaking , it was a good job. In those days -- things like
that rarely came along.
I recall that we did those shows on film. It was before video tape. So, I
seem to recall that they were somewhat expensive to do.
I cant remember much about Ken Griffin. He was nice enough but, we didn't
have that much interaction with him. You have to remember that in those
days, both Johnny and I were young hot shot jazz guys. This music was
rather tame and commercial for both of us. It was a pleasant experience and
gave a much needed monitary boost to a couple of talented but starving
young musicians.
Hope this is of some help to you. Sorry I cant recall much more about
that time.

Joe Negri.
My thanks to Joe for his kind reply and we wish him all the best for now and the future
==================
Re: Mr. Rogers Neighborhood and U.K. TV.
As happens all too often, you no longer open your mouth and you are quickly proved wrong! I also found out that Mr. Rogers Neighbourhood is now being shown on the new digital TV channel BBCi. I shall have to check this out and hope to catch up with the antics of Joe and Johnny.
==================