1933 Möller Opus 6148
Click any image for larger version
The Facade work consists of 45 Non-speaking pipes with original gum wood woodwork.
Another view of the beautiful facade work on the Mighty Möller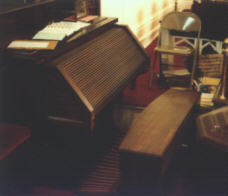 The typical Möller Rolltop console, We're still wondering why we were supplied a closed console image. Hmmmm.
Technical Details of Interest
The organ is well maintained and has been since its installation. Service work for the past 7-8 years has been done by Southeastern Pipe Organ Services of Charlotte, NC.
The size of the present organ chamber is 14' 4" wide x 6' 10" deep x 15' 0" high.
The organ features 8 independent stops, 16 speaking stops, 45 non-speaking facade pipes, has been played weekly since 1933, and was re-leathered in 1978. Other than that, no modifications have been made since the installation.
Specifications

Date: March 21, 1933
A-440  

Pipe Organ #: 6148
Action: Electric
Console: Detached- standard
Motor: Electric
Stop Controls: Tablets
No. Manuals: Two
Decorations: Display pipes- Dull Bronze
Wind Pressure: 5"



** GREAT ORGAN**


1       8'   Open Diapason   42 Scale-17  zinc-C.M	 61 pipes
2       8'   Melodia    Reg. Inverted mouth-Stop.Bass	 85 pipes
3       8'   Dulciana   56 Scale-unit-12  zinc-S.M	 73 notes
4       8'   Salicional    From #9			 73 notes	
5       4'   Flute   From #8				 73 notes
6       4'   Salicet   From #9			    	 73 notes

**SWELL ORGAN**

7      8'   Open Diapason    45 scale-17 zinc-C.M.	73 Pipes
8      8'   Gedeckt   Regular 				85 pipes
9      8'   Salicional   60 Scale-unit-12  zinc-C.M. 	85 pipes
10     8'   Dulciana   From #3				73 notes
11     8'   Flute  From #2				73 notes
12     8'   Dulcet   From #3 				73 notes
13     8'   Oboe  3 1/2"				73 pipes
Tremolo

**PEDAL ORGAN**

14     16'    Bourdon    Reb. Pedal Bdn			 44 pipes
15     16'    Lieblich Gedeckt    Reg. Man  Bdn. -20 from #8   12 pipes
16      8'    Flute  from # 14				 32 notes

**COUPLERS**

17      Great to Pedal
18      Swell to Pedal
19      Swell to Great
20      Swell to Great 4'
21      Swell to Great 16'
22      Great 4'
23      Great 16'
24      Swell 4'
25      Swell 16'
26      Swell Unison Separation

**MECHANICAL**
Crescendo Indicator Lights (4)
Swell Expression Indiator Lights (4)

**ADJUSTABLE COMBINATIONS**
(Operated by pistons placed under the respective manuals)

Pistons No. 1-2-3  Affecting Great and Pedal Stops
Pistons No. 1-2-3   Affecting Swell and Pedal Stops

**PEDAL MOVEMENTS**

1- Great to Pedal Reversible
2-  Balanced Swell Pedal
3-  Grand Crescendo Pedal
4-  Sforzando Pedal & Indicator light

Organ Bench with music shelf
Concave Pedal

View from further back of the facade again.

Many thanks to Bill Bramlett of the Darlington, SC Trinity United Methodist Church for the pictures and information.

Put your Theatre, Pipe or Electronic Organ on line! Email the Webmaster.

You are visitor #
Since February 14, 1996
---
Return to the Theatre Organ Home Page
This page brought to you by:
VintageHammond.Com - We Buy-Sell-Trade Vintage Hammond Organs and Roll or Kari Organ/Vending Machine Moving Dollies Order Roll or Kari Dollies Here