Sounds of British Theatre Organists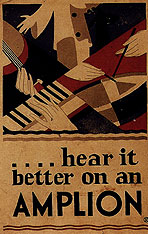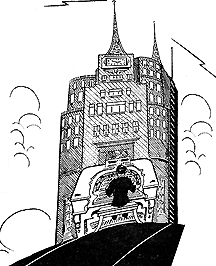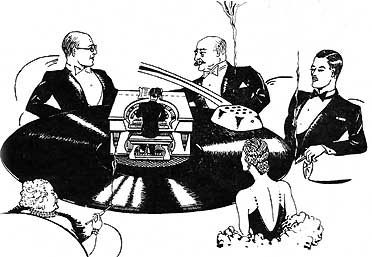 The first recordings of British theatre organs were made in 1926, using the Christie organ at the Elite Theatre, Wimbledon, with Jack Courtnay at the console. These were soon followed by recordings of Reginald Foort at the Wurlitzer organ of the New Gallery Theatre in Regent Street, and Quentin Maclean at the Compton organ at the Pavilion, Shepherd's Bush. Recordings of theatre organs proliferated through the 1930s, and 78s continued to be issued until about 1960.
In the earliest days, the recording equipment was too cumbersome and inflexible to locate in theatres, so a microphone was placed in the theatre, and the sounds were passed through the public telephone system to the recording studio, where the waxes were cut. After a while, mobile recording vans were brought into use.
To read more about the recording process click here for an extract from Reginald Foort's book "The Cinema Organ" (published in 1932) and here for an article by Sydney Gustard from "Cinema Organ Herald" (published in 1933).
Many 78s by Reginald Dixon, Reginald Foort, Quentin Maclean and Sydney Torch are readily available in remastered CD form. Only a few examples are therefore included here.
More 78s will be added to this page in the future, so if your favourite organists are not here already, they probably will be later, if they cut 78s.
Study notes will be added also in due course.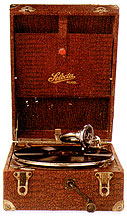 Stuart Barrie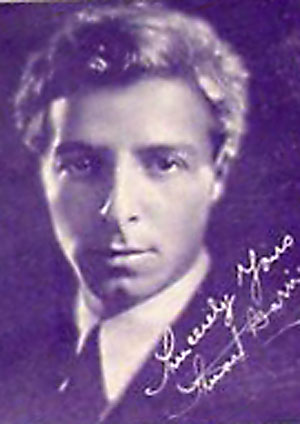 (Eugene) Stuart Barrie was a brilliant but eccentric organist who came to England's Granada circuit from the USA in the late 1930s. Born in Canada, he played for the Paramount and Warner circuits in the USA, and was responsible for designing a pair of interesting and unusual 3/27 Wurlitzer organs. He made two 78 rpm records and one LP at Tooting. He also broadcast regularly.

Granada Theatre, Tooting (Wurlitzer 4/14)

Fifteen-minute "live" broadcast, made during an interlude at the theatre, with audience present, date unknown, probably around 1939. Note the applause at the end, and the odd cough. File size 1.2MB

NEW: Restored version of this 15-minute broadcast. At present I cannot totally eliminate the distortion resulting from the original off-air to acetate disc recording. Hear the restored version(14MB MP3file)

25-Minute broadcast Note that the broadcast overran, and the last item announced at the start ("Let the Rest of the World Go By") was omitted. This was also a live broadcast with audience present. File size 2.0MB

New:

Restored version of this 25-minute broadcast. Regrettably, the opening announcement has become almost unintelligible, but I have left it for the sake of completeness.

Hear the restored version

(24MB MP3 file)

Please bear in mind that the acetate-coated steel discs on which these historic recordings were originally made did not offer the same fidelity of sound as contemporary commercial 78 r.p.m. records.

Prelude in C# Minor 1938 The shout at the end of the recording is one of the classic "noises off" that have unintentionally been recorded for posterity. I have left it unedited as we have all become used to hearing it over the years, and like the grease stains on the packaging of Powdermilk biscuits it signifies authenticity and wholesomeness.

Granada, Tooting
James Bell
Odeon Theatre, Leicester Square, London (Compton 5c/17)
Al Bollington
Paramount Theatre, Tottenham Court Rd., London (Compton 4c/10)
The Paramount organ was equipped with an early version of the Compton "Electrone" attachment (usually referred to by its stopkey name of "Melotone"). The early versions incorporated a "Glide" (portamento) effect that enabled organists to imitate a Hawaiian guitar - this unique effect can be heard in some of these recordings (especially in "Mood Indigo", which forms part of Shades of Blue (at 0':59"). The Irving Berlin Medley features many of the Melotone's varied electrophonic tones (generated by rotating electrostatic discs). The first Melotone attachments appeared in 1935.
Fragments from a broadcast in 1948 - taken from acetate discs recorded off air:
Terance Casey

Tivoli Theatre, London (Wurlitzer 2/9)
Robinson Cleaver


Regal Theatre, Bexleyheath (Compton 3/8)

Listen for the Chinese Gourds in Polly. This organ is typical of the snappy sound of later UK theatre organs designed to entertain in 15-minute intermission features and community singing. Later Wurlitzers (eg Welling, below) followed Compton's lead

Granada Theatre, Welling (Wurlitzer 3/8)
Granada Theatre, Tooting (Wurlitzer 4/14) 1952

The first LP records that were not just reissues of 78s were four LPs made by Robinson Cleaver in 1950-52 at Tooting. The discs were 10" LPs, and also issued as twin 45rpm sets and four-record 78rpm albums. The records were all except one album released only in the USA, including the tracks heard here. I was rather surprsied to find this LP still on sale in a record store in Times Square, New York, on the last day of 1972, twenty years after its release. I paid $2.49 for it.

To those used to Cleaver's pre-war 78s, like those above, although the (slightly) higher fidelity was welcome, the choice of music was unexciting, to say the least. I have included the three most interesting tracks, which were all on the LP "As Time Goes By", issued in 1952. Even the Tooting organ sounds a little weary - the following year it was shut down for a major overahaul after 22 years' intensive use. The very distinctive voice of Tooting's Harmonic Tuba can, however be heard to good effect at 2:30 in "Blue Skies".

In 2002, these pioneer LPs just make it into the half-century league. I have used a lesser degree of compression on these files, which are therefore somewhat larger than the other 3-minute recordings, and will take about twice as long to download. Distortion from excessive gain levels is in the original recordings.
For more of Robinson Cleaver's recordings, scroll down to The Organ, the Dance Band and Me

Jesse Crawford
Empire Theatre, Leicester Square, London (Wurlitzer 4/20) 1933
American organist Jesse Crawford visited England in 1933, playing at the Empire, and also the UK Paramount theatres in Manchester, Leeds and Newcastle. He recorded a handful of sides for His Master's Voice (HMV) at the Empire, the only in-theatre recordings he made, apart from his 1924 session at the Chicago Theatre. The recording quality far exceeds that of his Victor 78s
Harry Davidson
Commodore Theatre, Hammersmith (Standaart 3/10)

A handful of Standaart organs were imported from the Netherlands - this is the only one that was recorded on 78s.
Reginald Dixon
World-famous dance organist who created what has become known as the "Blackpool Style" of theatre organ playing. In my opinion, his best recordings are amongst his hundreds of 78s. He recorded on 78s other organs than the Tower Ballroom; I have included examples of these. There are several CDs available of his recordings, so only a few examples are given, mainly to show the variety of the organs he used.
Tower Ballroom, Blackpool (Wurlitzer 2/10) (1933-34)

Tower Ballroom 2/10

Tower Ballroom, Blackpool (Wurlitzer 3/13) (1939)

Granada Theatre, Clapham Junction (Wurlitzer 3/8) (1938)

Dixon Hits No. 28: Nice People/My Own/Tears on my Pillow/Deep in a Dream/Romany/ The Park Parade

Granada Theatre, Kingston (Wurlitzer 3/10) (1939)

Dixontime No. 2: Wings Over the Navy/Lords of the Air/There'll Always be an England/Run, Rabbit, Run/Washing on the Siegfried Line/Wish Me Luck

Granada, Kingston - Slough was almost identical

Granada Theatre, Welling (Wurlitzer 3/8) (1940)

Granada Theatre, Tooting (Wurlitzer 4/14) (1940)

Dixontime No.4: There's a Boy Coming Home on Leave/In an Old Dutch Garden/Oh, Johnny/You Made Me Care/Time Was/I Wanna Wrap You Up

Granada Theatre, Slough (Wurlitzer 3/8)

Dixontime No. 12: Ma, I Miss Your Apple Pie/What More Can I Say?/I Know Why/White Cliffs of Dover/Papa Niccolini/Sailor with the Navy Blue Eyes

Grand Theatre, Llandudno - BBC Theatre Organ (Möller 5c/27)

EMI Studio 1, St. John's Wood, London (Compton 3/9) 1946

Dixontime No. 17: Mairzy Doats/Don't Ask Me Why/I heard You Cried Last Night/I'm Sending My Blessing/Kiss me (Besame Mucho)/Paper Doll
Horace Finch
Opera House, Blackpool (Wurlitzer 3/13) 1940

The last new Wurlitzer sent to England (in 1939) - it was unusual in having a Tibia Plena as well as the more usual Tibia Clausa. It is still in situ, chambers under the theatre stage, console on lift at left of pit.

Horace Finch was organist principally at the Empress Ballroom, Blackpool

Finch Favourites No. 14: Moon For Sale/Oh Buddy I'm in Love/Johnny Peddler/We Three/You're Breaking My Heart All Over Again/Five O'Clock Whistle

Opera House, Blackpool
Eldon Firmstone
Wordsley Manor, Stourbridge (Christie 3/7)

How am I to Know? A private acetate disc recording made c. 1930 A very rare recording of one of two Christie theatre organs built for private residences.
Reginald Foort
New Gallery Theatre, London (Wurlitzer 2/8) - Style F

Casse-Noisette Suite (Tschaikowski) - Miniature Overture 1927

Foort at the New Gallery: Radio Times 28 April 1929

New Victoria Theatre, London (Compton 3/15)

Regal Theatre, Marble Arch, London (Christie 4/35)

Foort researches train sounds on the footplate prior to recording "Choo-Choo"
"An Organist on the Footplate - To Make Record of Locomotive Music. Mr.Reginald Foort, the noted organist of the Regal Cinema, Marble Arch, who is famous for his broadcasts, is making a record of "Choo Choo" the descriptive train effects fox-trot. In order to obtain the correct local colour and the exact tonal values of the sound of machinery of a train in motion, the Southern Railway arranged for Mr. Foort to travel on the footplate of a locomotive of the Lord Nelson class and he went on the West of England Express for this purpose. The photograph shows Mr. Foort in the cab of the engine at Waterloo commencing to record his impression of the various sounds. His recording apparatus can be seen on the left of the photograph". Southern Railway Magazine, May, 1931
Royal Albert Hall, London (Willis/Harrison 4/142)

Regal Theatre, Kingston (Wurlitzer 3/12)

Paramount Theatre, Tottenham Court Rd., London (Compton 4c/10)

BBC Theatre Organ, St George's Hall, London (Compton 4/25

Möller Concert Organ (Möller 5c/27)

Leslie James
Wyndham Lewis
Theatre de Luxe, Gloucester (Wurlitzer 3/8) - Style F 3Man

The Gloucester organ's console was destroyed by fire - the chamber contents were used to restore war-damaged organs, especially the Granada, Wandsworth Road

Wyndham Lewis at Gloucester

Photo courtesy Gordon Crook
Quentin Maclean
Pavilion, Shepherd's Bush, London (Compton 4/17)

This was the second unit theatre organ built in Britain (in 1923), before the first Wurlitzers arrived in 1924. It originally had virtually no sound effects, which were added later. The organ was rebuilt in 1931 as a 4/19 and provided with a new console. This photograph shows the original console.

Regal Theatre, Marble Arch, London (Christie 4/35)

The Marble Arch Christie was the largest unit theatre organ built outside the USA. Its many unusual features included two octaves of tuned bird whistles - these can be heard in some of the recordings. As far as is known, Christie built three sets of these bird whistles, the others being at the Regal, Edmonton and Regent, Poole. In the USA, a few Robert Morton organs had a similar effect, called "Canaries"

Trocadero Theatre, Elephant & Castle, London (Wurlitzer 4/21)

A Style 270 Wurlitzer, similar, but not identical, to the other three Style 270s that were installed in theatres in Australia. It had an English Horn in place of the others' Oboe Horn, no 32ft Diaphone and no piano.
Sandy Macpherson
Empire Theatre, Leicester Square, London (Wurlitzer 4/20)

BBC Theatre Organ, St George's Hall (Compton 4/25)

From My Postbag: I Shall be Waiting/18th Century Drawing Room/Are You Having Any Fun? 1939

BBC Theatre Organ, Grand Theatre, Llandudno (Möller 5c/27)
Reginald New
Beaufort Theatre, Washwood Heath, Birmingham (Compton 2/8)
Town Hall, Lewisham, London SE (Compton 3/14)

A Bedtime Story (with vocal refrain) 1932. I have now fixed the stuck needle.

The Lewisham Town Hall organ (1932) is a dual-purpose instrument almost identical in specification to (but far better-sounding than) its 1931 twin at Wimbledon Town Hall. It was opened by Reginald New in 1932.


Frank Newman
Lozell's Theatre, Birmingham (Wurlitzer 2/6)
Edward O'Henry
Madame Tussaud's Cinema, London (Wurlitzer 2/8) Style F
Wilson Oliphant (Chuckerbutty)
Café Royal, Regent St., London (Estey 2/14)

Sonny Boy (with Hal Swaine's Band - there is an organ solo passage) 1929
The Organ, the Dance Band and Me
EMI Studio 1, St. John's Wood, London (Compton 3/9)

A studio dance band featuring Billy Thorburn on piano, most frequently Robinson Cleaver on organ (a number of other organists substituted), and various instrumentalists and vocalists. The outfit recorded several hundred sides from 1939 until the early 1950s.
Bobby Pagan
Regal, Glasgow (Compton 3/12)
Foxtrot c.1931
Phil Park
George Pattmann
Astoria Theatre, Charing Cross Rd., London (Compton 3/9)

An early (1927) Compton "Kinestra" organ that was removed by the builders in the early 1950s. The story has it that the cinema's rodent population made their homes in the console, which ended up emitting such a powerful aroma that Compton wouldn't allow it into the factory, and it was burned in the yard. The pipework was used in other organs.
Harold Ramsay
Born in England, but raised in Canada, Harold Ramsbottom, became Harold Ramsay, organist, in Canada and then the USA for Paramount. Joined Granada in England in 1933 as their Chief Organist, and designed several of the circuit's organs. Chief organist for Union Theatres c. 1936, leaving to tour with his own Hammond organ when Union Theatres folded in 1938. Returned to Canada after World War 2. A popular "showman" organist whose real talent lay in presenting lavish stage shows and designing many superb organs; as such he was the major influence in the development of progressive theatre organ design in the UK in the mid-1930s.

Granada Theatre, Tooting (Wurlitzer 4/14)
Regal Theatre, Kingston (Wurlitzer 3/12)

Harold Ramsay at the Regal/Union Theatre, Kingston
Brian Rodwell
Note: These are MP3 stereo files, approx 2MB each, so will take longer to download.
The original discs from which these tracks are taken contain distortion and overloading that makes them unpleasant to listen to. This has been removed as far as possible, with some reduction of upper frequencies. Believe me, you wouldn't want to listen to the originals!
Granada, Clapham Junction (Wurlitzer 3/8) - December 1955
Granada, Tooting (Wurlitzer 4p/14) - December1955
If I Should Fall in Love Again
Children's Overture (6MB file - 9 minutes)

Hubert Selby
Ritz, Richmond (Wurlitzer 3/8)
Charles Smart
Decca Studio, West Hampstead (Wurlitzer 2/5)

Lloyd Thomas
Granada Theatre, Tooting (Wurlitzer 4/14)
Donald Thorne
Granada Theatre, Willesden (Christie 3/9)

Granada Theatre, Clapham Junction (Wurlitzer 3/8)

Granada, Clapham Junction
F Rowland Tims
Capitol Theatre, Haymarket, London (Hill, Norman & Beard 4/--)
Sydney Torch
For a decade, from 1931 to 1941, Sydney Torch revolutionised the way the theatre organ was played. As did Jesse Crawford a decade before in America, he influenced most contemporary and later theatre organists. History will probably record him as the most influential theatre organist of the 1930s in terms of development of playing style. Through his records he was major influence on the young George Wright in America. There are several CDs of his playing available. Listen to these 78 tracks, then buy the CDs. Torch started as a pianist in the orchestra at the Regal, Marble Arch, graduated to the console there in 1932, remained a theatre organist until 1941, then after war service conducted his own orchestra and was a prolific composer of "light" music. He never returned to the console.

Dominion Theatre, Walthamstow (Wurlitzer 3/10)

Probably the first snappy rhythm theatre organ record made - the Walthamstow organ was unusual for its size at that time in having English Horn, Saxophone and Krumet ranks. This record is truly history in the making; both organ and playing set the style for the 1930s in the UK. The instrument can be seen almost as a herald of the Granada 2 Style Wurlitzers of 1937-8 (which were originally designed to be 3/10 instruments).

Regal Theatre, Marble Arch, London (Christie 4/35)

Regal Theatre, Edmonton (Christie 4/15)

Gaumont State Theatre, Kilburn (Wurlitzer 4/16)

Britain's last 4-manual Wurlitzer (op 2215, 1937) and reputedly the most expensive, inflation having kicked in after the larger instruments of 1930 and 1931. The cost was increased by a custom-designed console to fit on a 6ft lift turntable. A bench seat could not be used, as it would not fit within the turntable platform - a Howard seat was always used as the console had to be rotated for the organist to get off it in its pit. Other factors increasing the organ's cost were a concert grand piano attachment and six of the ranks being extended fully to 16ft pitch, more than on any other British Wurlitzer.

Torch Tunes of the Times: I Go for That/Deep Purple/Gotta Get Some 'Shut-Eye'/Hold Tight/I Promise You/ I miss You in the Morning 1939


Gaumont State, Kilburn
Note: the huge number of stops for 16 ranks, the convenient ashtray, the very tight fit on the 6ft turntable and the loudspeaker built into the music desk in an attempt to overcome the time delay as the console was 110ft from the closest pipe.

"Fats" Waller
EMI Studio 1, St John's Wood, London (Compton 3/9)

Waller recorded at EMI on both his tours of the UK in 1938 and 1939. Listen to a very different way of handling a Compton organ, especially the exploitation of its aggressive potential in Go Down Moses and a charming use of the Melotone-derived Vibraphone in Smoke Dreams of You.

Photo courtesy Gordon Crook
Is that "Smoke Dreams of You" on the Music Desk?

EMI Compton c.1940