This is the Nethercutt Collection WurliTzer, now rebuilt.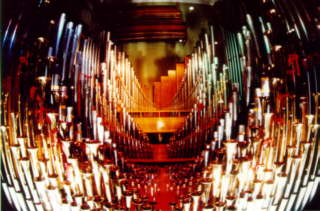 The Solo Chamber

Chamber Photographs courtesy of Peter Beames of Australia
The organ is now a 4/73 soon to be 4/75. The console, originally from the Denver Civic Auditorium was rebuilt by Ken Crome and now has three complete stop rails plus a fourth partial on each side to accomodate the new ranks. Now it holds 361 stopkeys. There are 27 pistons in addition to the 10 divisional ranks for each manual. This organ is in Sylmar,California.



Put your Theatre, Pipe or Electronic Organ on line! Email the Webmaster - Jerrell Kautz

---
Return to the Theatre Organ Home Page
This page brought to you by:
VintageHammond.Com - We Buy-Sell-Trade Vintage Hammond Organs and Roll or Kari Organ/Vending Machine Moving Dollies Order Roll or Kari Dollies Here