The Theatre Organ Home Page
Theatre Organ Wallpaper for WINDOWS!*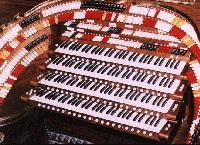 Click the image to download this BMP, (which is ZIPPED) Unzip it then put it in your windows directory and select it in the control panel as your wallpaper. This is John Ledwon's Wurlitzer

Some other wallpaper for Windows of the Cleveland Grays organ. Choose from one of these two bmp files. They are zipped and ready for 640x480 screen settings. just click on the image you want for wallpaper, download the zip file, then unzip into your C:\WINDOWS directory and then select it for your wallpaper.
OR
---
How About Uncle Milt's of Vancouver, WA?
---
Large Size wallpaper for 1024x768 resolution screens:
David Wollaeger's Beautiful Barton, Raleigh, NC (2 meg)
---
For Macs
According to Larry Krupp these BMP images for Windows desktops work just fine on Macintosh's running Mac OS 8.0 or higher. They can easily be converted to the Mac's PICT format and can be displayed with the "Desktop Pictures" control panel (Mac's version of Wallpaper). I tried one on my Power Mac and it displayed just fine. You probably have more than a few Mac users accessing your wonderful Theatre Organ page.

Larry Krupp
Collinsville, IL

If you have questions about this, maybe Larry Krupp will help you if you email him nicely.