The Ethel Smith Memorial Home Page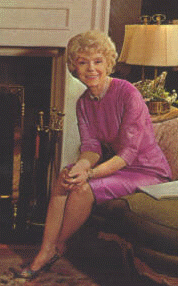 We have created this page in honor of Ethel Smith, who's passing in May of 1996 reminds us of how short life on Earth really is.
Whatever happened to Ethel Smiths White B3? Inquiring minds would like to know.
Email the Webmaster - Jerrell Kautz
Ethel Smith: Weird Organ Lady or Mondo Organista? This article originally appeared in Cool and Strange Music! Magazine
This is a fine mailing list about Ethel Smith for her fans
Ethel Smith playing Tico Tico on the Hammond ogan (From Turner Classics: Bathing Beauty)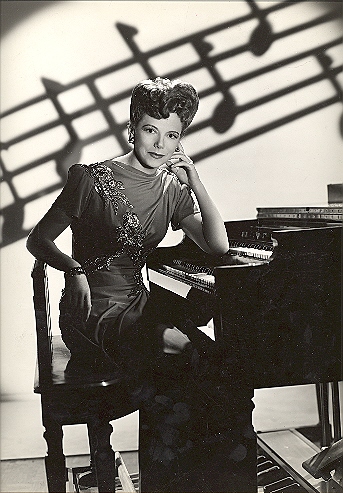 The following obituaries from the Palm Beach Daily News were submitted by
Brian E. McLaughlin
---
Page 2 - Palm Beach Daily News, Saturday, May 18, 1996
OBITUARY
Ethel Smith
Ethel Smith, known for her rendition of Tico, Tico, died at her Palm Beach home Friday May 10, 1996 after a progressive illness. She was 85.

Mrs. Smith, whose trademark was her selection of hats and penchant for costumes and bright colors, traveled the world during her more than 30 years in show business.

She entertained audiences in Milan, Paris and London, as well as the troops during World War II, played at Brazil's Copacabana casino and was an organist at the St. Regis Hotel in New York. It was there that an agent spotted her and encouraged her to use her musical talent in films.

She enjoyed a career that included 26 albums, one-woman shows and movies with stars that included Esther Williams, Lucille Ball and Van Johnson.

Her recording of Tico, Tico was a widely popular hit.

In the 1970s and 1980s, Mrs. Smith, after playing professionally for more than 30 years, continued to perform locally at Palm Beach gatherings.

At Mrs. Smith's request, no memorial service was held.

Cremation was handled by Quattlebaum-Holleman Burse Funeral Home in West Palm Beach.
---
Palm Beach Daily News, Sunday, May 19-Wednesday, May 22, 1996 -A9
Ethel Smith
May 10, 1996
She was known as the "Tico Tico Lady," a woman whose entertainment career spanned more than three decades.
She was easy to spot with her flamboyant style of dress which included radiant colors --always a hat.
Tico, Tico was her most popular recording. She also appeared in films with Esther Williams, Lucille Ball and Van Johnson.
---
Bathing Beauty
Ethel Smith appeared in many movies during her time. One we have found on the net for sale is: Bathing Beauty, 1944,starring Red Skelton , Esther Williams , and Ethel Smith . Ethel plays the Hammond a couple of times in this one. Including Tico Tico.
---
Remember the Cartoon with the Exploding Hammond?
There is, presently for sale in every neighborhood Target, K-Mart, Walgreens, Etc. a Disney cartoon movie called "Melody Time" where Ethel Smith playing a Hammond is featured. The Ethel plays the organ faster and faster in Ethel Smith style until some little rascally furry animal sticks a stick of dynamite under the expression pedal and the organ blows to smithereens and keys fly everywhere. The name is Melody Time, first released in 1948 and just re-released in 1998 this Walt Disney Animated film contains a substantial piece with Ethel Smith playing the Hammond Organ. Organ blown up by cartoon characters using TNT. A must have for any Hammond Lover.
---
Ethel Smith!
Edited FROM: Whatever Became Of....? , Third Series by Richard Lamparski, (c)1970 Crown Publishers, Inc., NYC

ETHEL SMITH

The organist whose recording of "Tico-Tico" sold over one million records was born in Pittsburgh in 1910. Ethel Goldsmith (her real name) was graduated from Carnegie Tech, where she majored in music and language. (She spoke French, Portuguese, Spanish, Italian, and German.) Her instrument was the piano; her first job, the pit of the local legitimate theatre.

Then a Shubert show that was playing Pittsburgh took Ethel with it on a twenty-eight-week tour of the United States. While in California, she was offered a job playing the organ, accompanying a singer at a movie studio, and to gain practice went to a local music store and offered to demonstrate theirs. Within a few days customers were gathering around her to listen, so proficient had she become. From then on she was booked as an organist.

Ethel's star rose in 1940. She had been working a four-week booking in Rio de Janeiro, paying one hundred clollars weekly, then her top salary. She had gone over well, and the management kept extending her engagement. But one night, while roaming around a tough section of Rio, she heard an interesting beat. It came from a combo that was playing in the back room of a "cheap dance hall." She entered and mixed with the musicians during their break and asked what they were playing. No one knew the name or the composer but they explained that the song had been played for many years in Argentina. From then on Ethel began playing it in her act in the arrangement she had made of it for the organ. Her audiences, mostly wealthy Argentinians and tourists, had never heard the tune and acclaimed it. If it hadn't been for Pearl Harbor, says Ethel, she might still be there. But when the war broke out everyone advised her to return. In no time after coming to New York "Tico-Tico" was a smash hit and Ethel was besieged with offers to play her hit recording. Ethel, a strong personality on and off stage, and with a flair for showmanship, remained a name in show business even after "Tico-Tico" was no longer hot. She commanded large sums to appear at presentation houses and in such films as Bathing Beauty (1944) with Esther- Williams, George White's Scandals (1945), and Cuban Pete (1946) with Desi Arnaz.

In 1945 Ethel married Ralph Bellamy, who at the time was appearing on Broadway in State of the Union, and the couple lived in Ethel's Park Vendome apartment. In 1947 Bellamy walked out, stating that he had no intention of paying his wife alimony. Ethel charged abandonment and claimed that he drank heavily, that he was moody, and would lock himself in his room. The organist said her husband became jealous when at their parties she received most of the attention. Bellamy contended that she had advised him to be home fifteen minutes after his final curtain or he would find the door locked.

Ethel never remarried and had no children. She lived alone amidst neighbors columnist Louis Sobol and singer Arthur Tracy. She still practicesd her organ and a piano a good deal and became quite proficient on the guitar. She hated interviews and people who would bring up "Tico-Tico" whenever her name was mentioned, but often lamented that had she copyrighted the song, how very rich she would have become. However, Ethel made enough to live very well and concentrate on acting she seemed to prefer. In the late 1960's she accepted several small parts in plays that would showcase her talent for character acting. Her work in a Franchot Tone-Theatre Four production received some favorable attention, and in about 1969 she had a brief run in an off-Broadway musical version of Tom Jones.

---
On 10/3/98 t15@webtv.net writes us:

I would like to add a comment about Ethel Smith. I dont know how many know this, but her recording of " MONKEY ON A STRING" was used as the theme song for a childrens show in Chicago called "GARFIELD GOOSE AND FRIENDS" which ran from 1952 to 1976. I grew up watching this show and often wondered what the name of the theme song was, so I wrote a letter to the shows host , and he wrote back saying it was "MONKEY ON A STRING" part of ETHEL SMITHS LP BRIGHT AND BREEZY, which I now have a copy of.

Ethel studied with Caspar Koch, the Carnegie Hall, North Side organist, Pittsburgh. He was organist there for 50 years. One of his arrangements of a Bach pedal exercise is dedicated to her. She must have been able to play with both feet in her early career.
---
On 4/3/2003 Fred Blackburn writes in:

RE: ETHEL SMITH with the National Symphony, summer 1954

I attended the concert in the Carter Barron Amphitheater in Washington, D.C. Ethel Smith came out onto the stage in a beautiful cocktail-length chiffon gown, about which she made a big to-do mashing it down to be out of the way on the bench, - and her trade-mark high heels. She was beautiful.

The organ was a B-3 especially made for her, and evidently the first time she had performed on it. It was WHITE, and the left leg had been moved forward so that she could get on and off the bench without bumping her knee. [A neat design-why wasn't it adopted by Hammond??] She used two tall Leslie speakers and two Hammond speakers - - the speakers designed to recess into a wall, one of each on either side of the stage. I describe this for those interested in such matters. This gave excellent coverage for the outdoor theater.

Incidently, it was a hot, humid night, and the organ keys were wet with dew. She played the first half of the concert on wet keys. They were wiped off during intermission.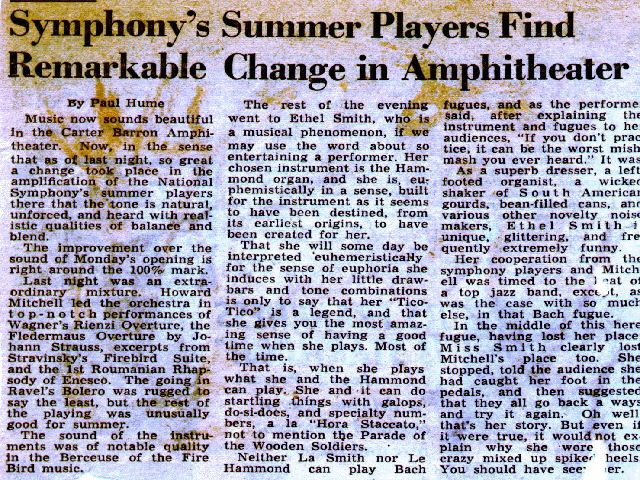 ((c) Washington Post, Paul Hume, critic)
She announced her numbers and as the clipping states, warned that a Bach fugue could be messy. It was, but who cares. They went back a ways to start over and ended together. That worked.
Mid stage was a cart of exotic percussion instruments associated with the Latin American music she was so expert in playing. In the midst of her act, she demonstrated each of them and made some jokes, one of which, the cabazza she said was covered with Lima [leema (city) beans]. [Laughter] One of the shaker instruments was demonstrated with suggestive hip movements in rhythm with the playing of it, and spontaneously, a horn player sitting not far behind her shouted, "Olay!" It caught her so obviously by surprise, she turned to see who had shouted. She giggled, then the orchestra giggled, the conductor covered his face, the horn player turned red as a beet, and then they all broke up. The audience responded likewise in unconstrained applause and enjoyment. The show stopped. It was one of those moments everyone would remember.
She briefly played the guitar, and I was surprised by her facility on that instrument, too. However, the interesting thing was that when she lifted her leg to support the guitar, her dress was seen to not be a dress at all, but culottes! The pant-legs were very fluffy and full, and gathered tightly about the legs at the bottom of the fabric, and then slid up her leg to about the knee. It gave the impression of a very full cocktail-length dress. She was famous for wearing designer outfits, and this one was stunning.
A highlight for me was to see and hear her play Anderson's Fiddle-Faddle with the orchestra. I play it on the marimba, and while learning the piece in high school, worked toward playing it up to the tempo of Ethel's recording. No recording tricks, just perfect performance. She exceeded my expectations!
The second time I saw Ethel Smith in Washington, D.C., she performed in a hotel restaurant. Again, she was spectacular, and the band backed her up very well. She bantered with the audience admirably, and always seemed to have fun performing.
I was most intrigued by the sound of the organ that night. I looked all over for the speakers, for the sound seemed to come from everywhere, but nowhere in particular. I could not find the source! Finally I noticed tall Leslie speakers in diagonal corners of the room. The sound was so spread out and enveloping that a listener could not determine the source.
As usual, she wowed the audience.
-FRED
---
From: Ros V. Davis vroom@adelphia.net

Subject: ETHEL SMITH

My name's Ros Davis. Growing up, the local church I attended had a Hammond "Home Model." My dad (who'd played piano with the big bands of the early 40's) was the church organist. I'd started playing piano at age 5. I would watch dad closely as he'd start up the organ (with those 2 switches,) as well as paying close attention to his foot pedal work. At age 8, I had Ethel Smith's 78 r.p.m recording of "Tico-Tico." I played the record over and over and over, listening closely to each and every note and that incredible chord progression in the middle of the recording.

I started sneaking into the church, turning on the organ, spending forever attempting to obtain the same drawbar configuration sounds Ethel used — and then the next year learning how to play "Tico-Tico." Needless to say, my tempo was perhaps 35% that of Ethel's. I continued practicing piano for the next several years, and in college majored in piano and minored in organ. While in college, I started playing jazz and found out that in many of the gigs I played, if there was a B3 available, I'd be lured to it and play it rather than the piano. I immediately moved to Los Angeles upon graduating from college because of the music scene. I bought a B3 and Leslie System. I played mainly the B3 and let my beautiful Steinway D just sit there! (my career, however, ending up in fiim & TV and also working with comedian, George Carlin.)

In the early 80's, a good friend of mine from Palm Beach came to L.A. for a visit. He looked at my B3 and said, "have you ever heard of Ethel Smith?" I said, "Of course. She's responsible for my having that Hammond Organ you're looking at!" And he said, "well, Ethel lives right down the street from me in Palm Beach." About a year later, I called Palm Beach Information and asked if there was a listing for Ethel Smith, thinking this is so very stupid because any well-known person is unlisted. Palm Beach Info said: "here's the number!" Fearfully, I picked up the phone and called. Ethel answered. I had the wonderful experience of letting her know how she had impacted my life as a musician. I kept trying to keep the conversation short but she was now on a roll, talking to a complete stranger. She asked about me and when I told her I worked with George Carlin, she replied: "Oh, my dear, I just love his work."

Thank you for letting me share my "ETHEL SMITH" experience with you.

Ros Davis
---
On August 18, 2004 Debra Erickson Jay, debrajay@lovefirst.net sent us these comments:

I met Ethel Smith in Newport, R.I. in the summer of 1975. Ms. Smith and I were both house guests of artist Richard Banks who then lived in a renovated church on Division Street. Every morning, Ethel would be up early and dressed for breakfast in an entire ensemble - including a hat and jewelry. Shawn Avery, a dancer for the original Les Ballets Trocadero do Monte Carlo, was also a house guest, and he and I once peaked into Ethel's room when she was out - there was talcum powder all over the floor with little foot prints throughout. We imagined her with a huge powder puff in a cloud of talcum each morning. Hammond Organ delivered an organ to the church for her to play while she was there (evidently, they did this wherever she went)and one day for lunch, Doris Duke joined us, requesting a private organ lesson from Ethel Smith (which Ethel granted her). Ethel had a dynamic, outgoing personality and wasn't the least bit reserved. One evening, all dressed up for the theatre, she hiked up her floor length gown to the top of her thighs, showing off her legs, and said: "Not bad for an old girl!" She was quirky, smart and very likable.

Debra Erickson Jay
---
ON January 3, 2005 we were honored to have this photo and story submitted: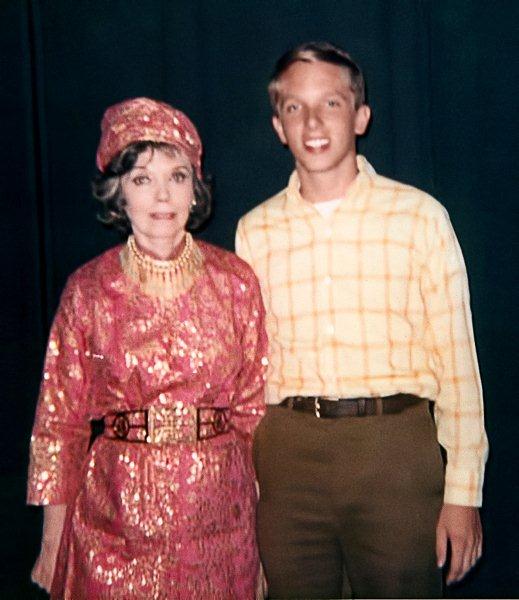 You may do what you want with the picture. It is a very small gift to you in her memory. It was taken with an instamatic.
Here is a short story of that night.
Ethel Smith was to open a show at the Mosque in Scranton Pennsylvania for Julius LaRosa.
A neighbor boy, Patrick Boylan, who grew up with my mother and remained friends with her through her adult life. Started selling pianos and organs. After a few small shops , he started with a Pennsylvania piano & organ chain store named "Fulton Piano & Organ Company" and eventually moved up in position to Store Manager. He mananged several of Fulton's stores for them and found his way to the Scranton Store around the time this event took place.
At fifteen years of age, I was in love with the Hammond organ and hounded my mother until she gave in and called Pat. Then purchased an A-100 from him. Three years later in one of his phone calls to us. We live in Pittsburgh, he said that Ethel Smith was playing in Scranton and if I wanted to meet her I was more than welcomed to come along.
I arrived in Scranton two days before the show. Pat had ordered an X -66 for her to play. We set about making the connections and testing it to make sure everything was in working condition.
When Ethel came in, she looked at the X-66, then at Pat, and me. With a look of disdain, she said,"what is that doing here? I'm not playing that. I specifically told you I wanted a B-3. you do have one , don't you?"Pat looked at her and said, " yes Maim, we certainly do" it will be here with in the hour".
There was no B-3. after we got in the van , I said to him , what are you going to do? I can't repeat what he said after that, but I can tell you sweat was pouring off of him like an open faucet. As we drove away, the light came on, he drove straight to a lounge where a friend of his was playing, yes , a lounge! and took the B-3 right out from under her. In record time, that B-3 was set up on the stage of the mosque with almost two dozen Leslie's hooked to it. I was amazed how quickly he achieved this.
It was show time. Ethel never sat at it until the curtain opened. I was impressed.
She talked a little to the audience, describing the organ and how it worked. when she got the explaining the pedals, she promptly sat down and with both feet flawlessly played the darktown strutters ball. She is the only pop organist I have ever seen use both feet on the pedals. She performed so effortlessly that it was beauty in motion watching her.
As she talked to the audience, it struck me funny that she had a voice similar to Marjorie Main of Ma Kettle fame. when she was on stage for her performance, the place was packed full, when she left, so did half of the audience . I didn't understand why until she told me about the Auther Godfrey incident. all of us went to dinner after wards and she took a liking to me , I on the other hand idolized her from that point on. Some one at the table mentioned that I played Tico-Tico trying to imitate her. I was totally embarrassed, but she insisted on hearing me play it. I thought I would die, and was looking for any way I could to get out of it. I couldn't , she insisted. before we parted that evening. I played it for her, and it was the X-66 that I played it on.She did not like that organ. but she gave me a mini lesson on it , and some fingering tips to make Tico-Tico play better in my hands.
What a great lady and what a superior musician she was. She gave me a memory that has remained vivid for life. She was the best there was! This picture of us was taken right after her last curtain call as we were leaving the building. She was stopping me here because she didn't want the person with the camera to take any pictures, Pat told her it was a friend of his and she looked at me and said Smile! gritting her teeth! lol Then she took me by the hand , with Pat on the other side , she led us swiftly out of the mosque!
To this day , I am so thankful she allowed the picture.
I see you have the shoes that match this outfit she had on at the bottom of the page!
---
W4MSW@charter.net reports:

In 1978, I was involved in a project to renovate and install an organ in a theater in Dayton, Ohio. A crew of about fifteen had been working weekends for a year and needed a break. We traveled to Columbus to the Ohio Theater for show of their organ concert series. Initially, we were disappointed, as Ms Smith was the featured artist and a Hammond installation had been assembled on stage. Ms Smith, who may have been seventy by that time, played a flawless two hour concert and we were enchanted with the music and her playing. At the end of the show, for her encores, she mounted the bench of the Robert Morton console and played several flawless encores. She was really good on pipes. She saved "Tico" for the Morton!
---
Anyone having any additional information or comments concerning Ethel Smith, copies of other obituaries or other information, please Email the Webmaster - Jerrell Kautz
---
This page brought to you by:
VintageHammond.Com - We Buy-Sell-Trade Vintage Hammond Organs