IMMORTAL HAMMOND SOLOS 1



Dear Hammond Lovers, here you will find some remarkable, touching and sometimes outrageous music played on Hammond organs, or on something that sounds like one. Following is a list with all the tracks available, you can find more details under the table

click for Download streaming (RealAudio) download (RealAudio) streaming (RealAudio)

PLEASE SUPPORT THE MUSICIANS OR THEIR FAMILIES, IF YOU LIKE THEIR STUFF, BUY IT!



#1 A track from the very first LP that I ever bought in my life, according to what
is written on the remnants of the inner sleeve.
It's called very appropriately: "HAMMOND SINGS THE BLUES" and it's performed by the American Blues piano player (doing very well on organ here) "EDDIE BOYD".
He is accompanied by one of the first blues bands in Holland, "Cuby & Blizzards", surprisingly coming from the remote rural North of the country. As the liner notes say:
"Since 1966 Cuby lives the country-life of his neighbors at the farm in Grollo. During three days of rehearsing there (Eddie Boyd slept in the cupboard-bed) they had to stop at 7 p.m. because the little children of the village had to sleep then.
Track from: LP (mono) Philips XPL 655033
Cuby + Blizzards & Eddy Boyd "PRAISE THE BLUES"




#2 A track called: "I May Be Wrong, But I Won't Be Wrong Always" (well, that's sounds fair enough) by the British group "TEN YEARS AFTER" (mind you, this was 30 years ago!)
As it says on the cover:"Ten Years After "Live", It's loud and though-but honest"
"CHICK CHURCHILL" behind the organ here and of course Alvin Lee playing guitar.
Track from: LP Deram SML 1023
Ten Years After "UNDEAD"




#3 "JAMES BROWN", technically he may not be the greatest, but it suuuuure is FUNKY in "Ain't It Funky Now" !

Track from: CD Polydor 314 517 845-2
James Brown, "Soul Pride, The instrumentals 1960-1969"




#4 "CHARLES EARLAND", A converted saxophonist who switched to organ in 1963". Here playing the organ solo in Groover Washington's "Mr. Magic".




#5Now we are coming to my special area of interest:
"The Hammond Organ in Latin-American & African Music"
If you have no idea how African music sounds,have a listen to **Musique d'Afrique** at: http://people.zeelandnet.nl/rufus/

This is one of the 10.000 versions of "EL MANICERO" or "The Peanut Vendor".




#6"La Hija de Lola". Listening to the crazy organ solo in this song I must come to the conclusion that "LOLA's Daughter" is AMAZING !




#7A very laid-back Reggae track. Well, what else do you expect of a track called "GANJA SPECIAL"? It's played by "SONNY BINS& THE ETHNIC FIGHT BAND".
It seems these spicy herbs encourage the use of percussion and Leslie on the Hammond.
Track from: LP Ethnic Fight EF4422S
Sonny Bins & The Ethnic Fight Band "Gold Dust"




#8Former Mystery track 1 has been identified as "DOWN AT ARTS" by a band from Leeds in the UK called "THE 3 DEUCES"
It comes from an album called "Keep on it- Live at the Yardbird Suite" on
Yardbird Suite Records(YRB005)

It should be able to order a copy from Soulbrother Records in the UK on
http://www.Soulbrother.com




#9Something completely different is this meditative track "A LOVE SUPREME" whereby "LARRY YOUNG" aka "KHALID YASIN" is playing the Hammond through different electronic devices. I know that a clip in RealAudio is not exactly the right way to listen to this kind of music, but at least it can give you an impression of how it sounds.
Please note that I did not delete the guitars because I don't like them, but just to save space. However my advice is: don't listen to this impressive guitar battle between Mahavishnu John McLaughlin and Carlos Santana before your first cup of coffee in the morning!

Track from the LP: CBS S69037
"LOVE, DEVOTION, SURRENDER",
Carlos Santana & Mahavishnu John McLaughlin.




#10 This track is one of the versions of the Bob Dylan song "It Takes A Lot To Laugh, It Takes A train To Cry". This version comes from an old (real) bootleg LP from Italy and here it's called " IT TAKES A LOT TO LAUGH, KILLING ME ALIVE..."
I prefer this version over the one on the "official" Bob Dylan "the bootleg series volume 1-3" because it sounds a bit "meaner", it's a bit slower and they didn't cut the last seconds of the track, in which you can hear a rather uncertain ending to this song.
It's "AL KOOPER" behind the Hammond here playing a rather straightforward blues. According to some urban legends he had never played the organ before (?) while playing on this session; MIKE BLOOMFIELD on guitar.
Track from LP: JOKER "Bob Dylan No.3"




#11"DR.LONNIE SMITH" playing the B3 solo here in "HOT DOG" with LOU DONALDSON on sax. This was during a live performance on the Dutch TROS TV-channel in the program "Sesjun".
Unfortunately I caught this program just in the middle, right when the impressive "Dr." Lonnie Smith with his long white beard and white turban finishes his solo by playing the pedals with his hands and finally playing the upper keyboard with his nose!
At the end of this clip you hear the happy birthday tune being played while an enormous birthday cake is being carried on stage for Lou Donaldson, who just happened to celebrate his 70th birthday then!




#12This track is an example of a Hammond (clone?) in African music. As the boasting liner notes say:
MAXIMUM JIVE!! Romping stomping township beats from the maestros of mbaqanga with honey-dripping vocals and harmonies, deep pumping bass and irresistible rhythms, rich swirling Hammond organ, raunchy guitar riffs and those wonderful distinctive South African slipping and sliding searing saxes!
Well, what more should I add to this? Just the name of the group:
" THE SOUL BROTHERS" and the name of the song "MKHWENYANA"
They sure have the FATTEST organ in Africa!

Track from CD: EarthWorks (from Stern's of London) STEW33CD
"JUMP & JIVE"




#13It's quite rare that an organ is featured so prominently in African music, but you can hear one in this track of "Soukous" music, although this is not from Congo, but from the neighbouring country Zambia. You hear the band "DISTRO KUOMBOKA" playing "CHINDIKA", meaning "Respect".
Last summer they were touring in Europe and recorded their new album in Holland, to be released next spring. More about this band and some clips on my Zambian music site
From CD "TWALEBANA" STEMRA DKB 1997




#14Strictly spoken this is not a Hammond Solo, but the way "BILLY PRESTON" is accompanying King Curtis here in "SOUL SERENADE" is really so amazing and subtle that it becomes a solo in it's own right.
Track from: LP "King Curtis live at Fillmore West"
Atlantic ATL 40214




#15 Do YOU know who is playing this powerful Hammond blues solo? I would like to know the name of the group and the title of the track.(It seems my my cassettes are always just finished while taping something interesting from the radio).





#16 It is indeed quite controversial to put this "Wurlitzer" solo on this page, but yes, it seems to be possible to play a cool hip hop organ solo on a "Wurlitzer" as "D'ANGELO" proves in this instrumental version of "BROWN SUGAR". On the other hand, just imagine how this would sound, played on a Hammond......
This track comes from a Japanese CD, featuring 4 different versions of D'Angelo's 1995 hit record "Brown Sugar"
from CD: EMI TOCP-3381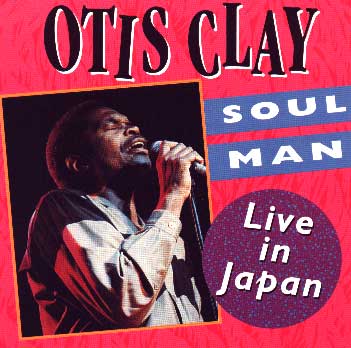 #17 Another great (Rhythm &) Blues hammond solo is this one by "CHARLES HODGES", who is the Hammond player in the band of "Soul Man" OTIS CLAY. This solo in the track "PRECIOUS, PRECIOUS" becomes quite outrageous towards the end when he gets carried away, all the time having a solid backing by his brothers Leroy & Mabon "Teenie" on bass & guitar.
From CD: SOUL MAN, LIVE IN JAPAN by OTIS CLAY
#18 This is one of the most famous B-3 players of our time, "JOEY DEFRANCESCO" (thank you, Ben Weistra for thetip!) who is playing with John McLaughlin's "FREE SPIRITS" in "MOTHER TONGUE" at a performance during the Montreux Jazz Festival. After a while he gets pretty wild on the B-3, that belongs to the "Swiss Cheese & Chocolate Co.", according to what is written on it. However the music he plays is definitely not "cheesy" !
#19 & #20GEORGIE FAME has been around for a long time already in the British pop scene and is now considered one of the best allround keyboard players in Europe.
He doesn't force himself to be on the forefront always, but as you can hear in these clips he is always right at the spot with a few well-chosen chords.
These tracks were recorded live at the presentation of the "Mercury Music Prize" award to Van Morrison (recorded from the BBC). Georgie appears to be in a very jovial mood, being the band leader, jumping up and down, shouting his directions and hugging all the band members. After receiving the prize "Van the Man" mumbles something like "thanks to the man upstairs" and runs away quickly from the stage.
You can hear two clips from this concert, "MOONDANCE" and "THAT'S LIFE".
#21& #22CARLO D'WYS is considered one of Holland's leading Hammond players at he moment and on his CD's he gives a very lively, Hammond-centered performance, not only in one style, but playing blues, jazz, rock, gospel, rap and ballads.
In his band are two soulful vocalists, an excellent guitarist and a funky drummer.
Carlo is playing a well-used, I can even say battered B-3 with "midied footbass". I was amazed to watch him playing the pedals with his "rubber feet" while at the same time really freaking out on the keyboards.
His website can be found at: http://home-1.worldonline.nl/~dwys/welcnl.html

You can hear two clips from his CD "O-BEAT"
"SOMETHING GOING ON" and "BEATSTREET"
(Move Records MR 3041)
#23
Another Hammond player from the Netherlands is PROF. FRANKENSTEIN who is the organ player in the Dutch Bluesband "THE JR BAND", here heard playing "TROUBLED BLUES". Unfortunately thequality of the recording is not very good, so it sounds a bit "muddy".
The touring-schedule of the JR BAND can be found on their site: http://www.jrband.com/
#24
Rather more subtle is LARRY GOLDINGS here gently handling his Hammond when playing with master guitarist John Scofield on the CD "HAND JIVE" in the track "GOLDEN DAZE"
From CD: Blue Note 7243 8 27327 23
#25
A steaming Salsa track from Colombia, played by "LA SONORA CARRUSELES"
It seems that in Salsa music the organ is only used for one solo and cannot be heard anymore in the rest of the track, which is a pity I would say...
This track "AL SON DE LOS CUEROS" comes from the CD with the same name released by
MUSICA LATINA Europe SPCD-043
#26 JIMMY MCGRIFF playing a remarkable version of "SUMMERTIME" here on the XB-3, with Wayne Boyd on guitar and Bernard "Pretty" Purdie on drums. I would say it's a pity he is not playing the B-3 here, as the sound of the XB-3 is a bit too "clean", but fortunately the RealAudio conversion gives it a bit more "dirty" (or dusty) sound.
From Milestone CD: "Road Tested" by Hank Crawford & Jimmy McGriff.
#27
BRUCE KATZ, a heavy Blues Organist, here playing with guitarist Ronnie Earl in his band "THE BROADCASTERS", with Rod Carey - Fender bass and Per Hanson - drums, "Live in Europe", recorded in Germany.
The title of the CD is: "BLUES AND FORGIVENESS".
This first track is named "AKOS", which sometimes sounds strangely enough like "Moondance" and "Summertime" being played at the same time....
#28
BRUCE KATZ playing a slow blues here, "REGO PARK BLUES"
#29
I couldn't resist to add this version of the classic "MOANIN' " here.
#30
TONY Z ( for Tony Zamagni) as the liner notes say "double-handedly sets out to rekindle the glory days of Hammond B-3 organ blues" once again confirming the prominent place that Italian-Americans occupy in the "wonderful world of Hammond music".
Accompanied by no lesser musicians than Cornell Dupree on guitar, Lenny Pickett on sax, Chuck Rainey on bass, Bernard "Pretty" Purdie on drums and Kim Wilson on harmonica he is playing "ALL ALONE" here from the CD "KISS MY BLUES"
(TONE-COOL CD TC 1161)
#31
As in the last track TONY Z puts a lot of show in his Hammond playing, this one
is called "VOODOOTIZE ME BABY"
#32
Something completely different is this music in the "HOT CLUB DE FRANCE" style with the French violinist STEPHANE GRAPPELLI, who died last year, aged well in his eighties and EDDIE LOUISS playing the B-3 in his own way, with Pierre Michelot on bass and Daniel Humair on drums in
"ALL GOD'S CHILDREN GOT RHYTHM"
#33
This is how they play "STORMY WEATHER".
#34
Also this third track "SONG FOR YOUR SUPPER" comes from this LP, that I was lucky to find recently in a recycling store:
On the FESTIVAL label, FLD 673
This site is strictly educational, it serves no commercial aim, it just gives you the chance to enter the:
Wonderful World Of Hammond Music

last updated: february 2003