WurliTzer 4/40 . . . page 1 . . . of 1, 2, 3, 4
Click on Pictures for more detailed images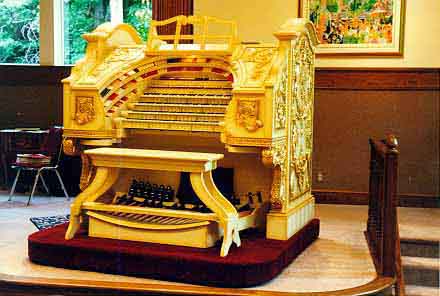 4 manual Ken Crome Replica WurliTzer /40
(to be 46) ranks
Moving from Private home in Cleveland, Ohio
to Owner's new home being built in an eastern suburb of Cleveland
This organ started out as a 3/11 Balabon 1-A style Wurlitzer and was installed in the Paramount Theatre of Glenn Falls, New York in December, 1931.
According to the shipment list, this organ was the third to last instrument shipped from N. Tonawanda to a theatre in the U.S. (Radio City studio and auditorium organs were a few months after this one - in 1932!).
The original 11 ranks are all primary-less chests. While there has been some controversy over whether or not this design was as speedy as the more sophisticated chests with primaries, the owner can tell you from personal experience that properly regulated (and they do need attention) they are extremely fast chests. Without this attention, they can be slow on the release and this gives them a bit of a muddy response time. However, he thinks they work just fine!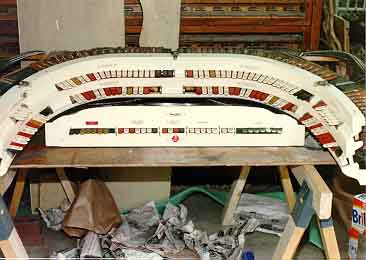 It eventually made its way to a suburb of Cleveland, Ohio in a private installation as a 3/15. The added four ranks were all pretty lame, so they were replaced and the organ given a more thorough refurbishing.


It then lived on as a 3/16.




Added were a new Trivo/Bizak brass trumpet, English post horn, oboe horn, a quintadena, (Wurli replica) an original Wurli brass sax, a piano, and a few choice cymbals, etc. The console got a complete rebuild, and refinishing, and the original Wurlitzer relay had been augmented with Reisner switches to accomodate the added ranks.
The owner decided to build a Grande Music Parlor

onto the back of his house where his collection of self-playing musical instruments (you know, band organs, orchestrions, Hupfelds, self-playing violins, reproducing grands, and the like). So onto the ''parts bin'' they went...


where the organ grew to a 3/23.

A couple of years, nationwide searches,


lots-o-help from a terrific work crew,
and a beautiful Music Room all later...
It became a 3/27!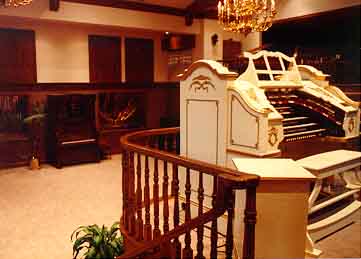 Besides having brought the organ up to 27 ranks, at that time the relays and
the electronics of the Peterson combination action systems

-- shown here as Doug Powers works on the back of the console --
were replaced with a Peterson solid state system.
However, that wasn't quite the end of it.
And....
Click here to see

4/40 History
4/40 Console
Solo Chamber
Main Chamber
If you have any questions about this organ, please feel free to email:
Doug Powers at NFexec@aol.com
Layout design © 2000 jen 0111 . . . . . . . . . . . . . . Photos and Text © Doug Powers . . .
Theatreorgans.com ''No Place Like Home''