WurliTzer 4/40 . . . page 2 . . . of 1, 3, 4
The decision was later made to keep going... to create a one-of-a-kind gem. So, out came the tape measure, the ''if I could do anything wish list''.

Two years later,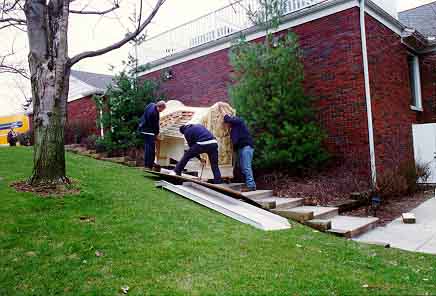 we ended up with 40 ranks,


more percussions and traps,
a Uniflex 2000 computerized organ control system, and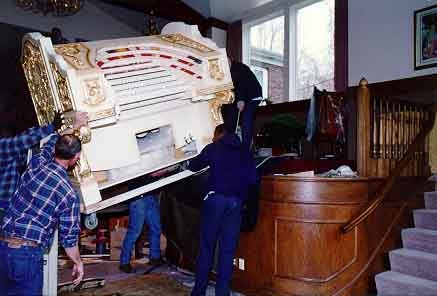 a brand-new 4 manual Wurlitzer replica console.


Kenny Crome did an incredibly gorgeous job


of copying the Brooklyn Paramount (now L.I.U.. gymnasium) console


just from xeroxed photos!!
The Owner originally drew up the specifications, and they were polished up by
Scott Smith and Walt Strony.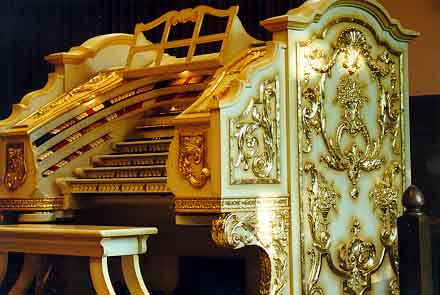 After the organ was all playing, the task of regulation and tonal finishing went to
Walt and Ed Zollman, who created a truly wonderful sounding organ.
It is currently the largest theatre pipe organ in the state of Ohio.

Over a period of about 10 years Doug Powers has been crew chief and in charge of growing this organ from a 3/11 to a 3/23, then a 3/27, and to the current 4/40 instrument. Throughout that time, and with the help of a crew of anywhere from 4 to 6, Mr. Powers either directly rebuilt or had help with the rebuilding, restoration, installation etcetera of the organ.
He collected all the components, mostly WurliTzer -- some new, some replica -- and also some other makes from across the country.
Mr. Powers also is the photographer of the photos in this web page.
''I currently am not at all involved in this move ... as my business needs my time,'' he wrote in a letter dated October 6, 1999. ''However, ... I am looking forward to having some minor role before it's all re-installed.''
Ed Zollman is now the crew chief.
Walt Strony has been the tonal consultant for over 5 years, and will continue in that role.
Over the years, this organ has had numerous visits by professional theatre organists who have recorded hours and hours of top rated music on the computer's recording/playback system. Walt Strony made a compact disc recording of this organ called By Request (WSOC-2N). It was reviewed in the American Theatre Organ Society Journal earlier in 1999.
Is the project finished? Ha! As of October, 1999, this instrument is being packed up and readied for a move into another home. There will be 6 more ranks (echo division) added. While the current installation has been a wonderful space for this organ, the new home will be even more glorious. A dedication is planned for July, 2000.
If you have any questions about this organ, please feel free to email
Doug Powers at NFexec@aol.com
Click here to see

4/40 History
4/40 Console
Solo Chamber
Main Chamber
Layout design © 2000 jen 0111 . . . . . . . . . . . . . . Photos and Text © Doug Powers . . .
There's No Place Like Home