Back To Home Page Page 1 Page 1 Page 2 Page 3 Page 4 Page 5 Page 6 Page 7 Page 8 Page 9 Page 10 Page 11 Page 12 Page 13 Page 14 Page 15 Page 16 Page 17 Page 18 Page 19 (Video Clip) Page 20 (Palace Dundee) Page 22 (Bill Rowson)
Tivoli Doors Open Days 2006, 2007 & 2008 Index Scottish Music Hall Society Dedications Index SMH&VTS Exhibition & Show 2007 Tivoli & Area Improvements (Oct. 2013)
TIVOLI MEMORIES
By
Bill Reid
(Please respect the copyright of these photographs)

Myself at the Grand Master Stage Lighting Panal (1962) Fifty Years later (1st. October 2013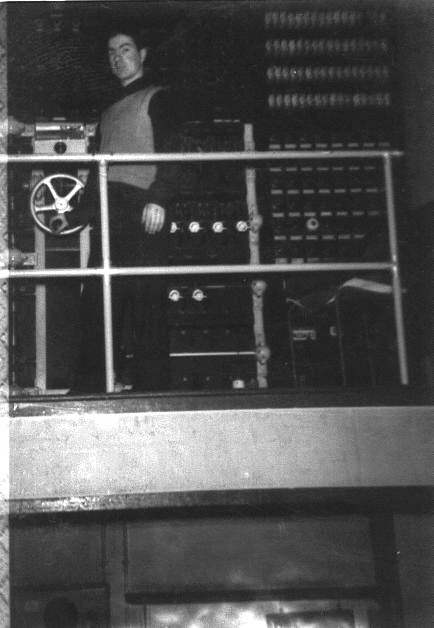 1962
It was late Summer in 1961 that quite by accident I got myself employed at the Tivoli Theatre as Stage Lighting Operator. The Alex Findley Show was in it's last two weeks and the outgoing Lighting Operator (A New Zealand chap)
showed me the ropes during that period. My first solo show starred Aly Wilson. It ran for three weeks and I was just starting to enjoy the work when the show was terminated and the theater closed for some weeks. It was quite a
let-down, but I was seeing the start of the end of the Tivoli as a regular Variety Theatre. It would soldier on with some high moments but eventually closed in 1966, almost three years after I had moved on.
Other shows that I worked with were, Alex Findley, Jack Milroy, Lex McLean, Johnny Victory, Clark & Murry, Calum Kennedy, Scout Show and Christmas Pantomime (Dick Whittington 1962).
I had been a regular theatergoer since first being taken to the Tivoli by my Auntie Maggie around 1946/7. I knew of most of the regular and top artists who appeared there and it was really nice to actually be working on their shows.
However, while the Alex Findley Show had been packing them in over the Summer of 1961 I was soon made aware that the Ally Wilson Show that followed had entered the autumn season and audiences, especially during the week
were very thin. We were handing out more free tickets than paying audiences. Likewise, the 1962/3 winter was on it's way and turned out to be the coldest and one of the longest winters since 1947. I recall walking over pavements
of deep frozen snow for weeks and often had to walk into work as it was impossible to cycle or take the bus into town. When this miserable winter ended, one of the cartoons in the local newspaper I always remember is of a woman
pushing her child in it's pram, with the child screaming in terror, and the mother explaining ''It's all right dear, it's only the Sun'. Which really says everything about that winter.
Back To Home Page Page 1 Page 1 Page 2 Page 3 Page 4 Page 5 Page 6 Page 7 Page 8 Page 9 Page 10 Page 11 Page 12 Page 13 Page 14 Page 15 Page 16 Page 17 Page 18 Page 19 (Video Clip) Page 20 (Palace Dundee) Page 22 (Bill Rowson)
Tivoli Doors Open Days 2006, 2007 & 2008 Index Scottish Music Hall Society Dedications Index SMH&VTS Exhibition & Show 2007 Tivoli & Area Improvements (Oct. 2013)