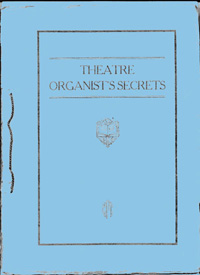 Here is an interesting oldie from 1928 or so written by C. Roy Carter.
"A Collection of Successful Immitations, Tricks and Effects for Motion Picture Accompaniment on the Pipe Organ"
We posted this work in page by page format or you can download the entire work at one time.
Simply click on the appropriate link below:

Cover
Introduction
Table of Contents
Inside Cover
Page 1
Page 2
Page 3
Page 4
Page 5
Page 6
Page 7
Page 8
Page 9
Page 10
Page 11
Page 12
Page 13
Page 14
Page 15
Page 16
Page 17
Page 18
Page 19

Entire Work For those with fast connections. Aprox 6 megs in size
Original scanning before compression- Aprox 36megs in size
Special Thanks to Ray Thursby who provided this ancient work for us to share with the world.

This page brought to you by:
VintageHammond.Com - We Buy-Sell-Trade Vintage Hammond Organs
TheatreOrgans.com operates KEZL-FM Culbertson, NE A Non Profit Full Powered Radio Station